NHL Trade Rumors: Brandon Saad and 5 names to watch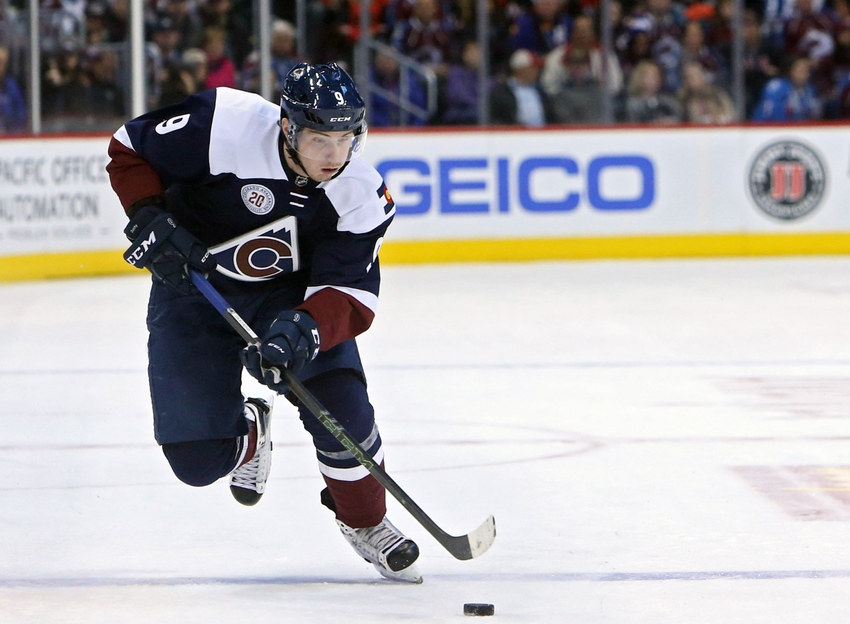 Could Dougie Hamilton be heading to the Red Wings? Evander Kane to the Canucks or Wild? Matt Duchene to the Islanders? Here are five NHL trade rumors to keep an eye on. 
After an NHL team's first 15 games, they start realizing their needs and whether they're going to be buyers or sellers. Even with a relatively weak free agency class coming in 2017, thanks to some salary cap mismanagement and the expansion draft, trade rumors are starting to heat up.
The New York Islanders are reportedly looking to add a forward. They've been linked to a Colorado Avalanche forward who is no stranger to trade rumors. Are the Buffalo Sabres really going to trade Evander Kane? And are the Vancouver Canucks and Minnesota Wild good fits for him? Could Dougie Hamilton be heading back east? What does the future hold for Martin Hanzal? Might Brandon Saad already be on his way out of Columbus?
5. Dougie Hamilton to Detroit Red Wings?
Nope, the Dougie Hamilton trade rumors aren't going to go away. This might follow a similar route of the P.K. Subban trade rumors. Sure, the Calgary Flames aren't actively trying to trade Hamilton. However, they're at least listening because teams are offering.
One of the recent teams to express interest in Hamilton? The Detroit Red Wings, according to Elliotte Friedman.
Wonder if Detroit, having struck out so far on Cam Fowler and Jacob Trouba, would have interest [in Hamilton].
The Red Wings covet young defensemen who can move the puck. This should come as a surprise as no one, as Detroit reportedly tried to trade for Jacob Trouba, Cam Fowler, and Kevin Shattenkirk during the offseason. While the Red Wings would love to have Hamilton, his price tag might be a bit high. Detroit is not in good shape as far as cap space, nor are they in a position to offer more than one top prospect. About the only way it could work is if the Flames take on Danny DeKeyser.
4. Where Will Martin Hanzal Be Traded?
It's a foregone conclusion Martin Hanzal will not finish the 2016-17 NHL season with the Arizona Coyotes. He will be an unrestricted free agent after this season and the Coyotes aren't showing too much interest in re-signing him. They're going young and Hanzal simply isn't a fit in Arizona anymore.
The Coyotes reportedly want a young NHL player for him, which fits into their strategy. Hanzal has a $3.1 million cap hit, which will go down once it gets prorated from the time of his trade. Which teams need him the most? The St. Louis Blues are all in to win a Stanley Cup under the tutelage of Ken Hitchcock. Hanzal's style of play fits in well with what the Blues like to do. But which young player would the Coyotes ask in exchange for Hanzal?
Another possibility could be the Washington Capitals. They won't be able to provide precisely what Arizona wants, but general manager Brian MacLellan has a knack for making things work. Perhaps they send center Lars Eller and a top prospect? The Capitals have a tight cap situation so they'll likely have to send over some salary to make the logistics work. Don't sleep on the San Jose Sharks or the Florida Panthers either.
3. Evander Kane On The Move Again?
Hamilton is not the only recently traded player to face the possibility of getting traded again. Evander Kane knows that feeling. The Buffalo Sabres traded for the Winnipeg Jets forward at the 2014-15 NHL trade deadline. So far this season, Kane and head coach Dan Bylsma have not gotten along. More importantly, he's not being productive, with zero points in five games.
Even with his issues, Kane is an undeniably talented forward. He can still show flashes of brilliance. Perhaps in a different environment, Kane could flourish. There are at least two teams interested in him. Both the Vancouver Canucks and Minnesota Wild have expressed interest in him. It wouldn't be surprising if someone like the New York Islanders kicked the tires on Kane as well.
But will Buffalo trade Kane? It all depends on how much they can get for him. They'd love to shore up their blue line, but will anyone bite? The Canucks are actively searching for some scoring as they hope to rebound from a brutal start. But his off the ice issues make it hard to justify giving up that much for him. This could turn into a game of chicken, with the Sabres seeing who moves first.
2. Brandon Saad On The Market?
This week has been one heck of a week for NHL players who have been traded. Brandon Saad got traded to the Columbus Blue Jackets from the Chicago Blackhawks during the 2015 offseason. He has been anything but a disappointment. However, according to Elliotte Friedman, the Blue Jackets are open to trading him.
Speaking of forwards, very curious to see where things go with Columbus and Brandon Saad. He's fifth on the Blue Jackets in scoring, fifth in time-on-ice among forwards. But he was almost a healthy scratch last week and, somewhere, the team wants to ease its cap crunch.
Being scratched by John Tortorella is a good sign you're probably going to be traded soon. Columbus has a terrible cap situation and it won't be getting better any time soon. With so many bad contracts, they might have no other option than to trade Saad. It would very sad if Columbus has to trade him. Having to trade him would serve as nothing less than an indictment of their front office.
Ironically, the Blackhawks also expressed interest in Saad last season, but couldn't make things work. One has to think they'd love to have him back though. But on the flip side, a lot of NHL teams would love to have him.
1. Matt Duchene To The Islanders?
Colorado Avalanche forward Matt Duchene had to survive most of the offseason being thrown around in trade rumors. He thought he was done with those rumors once Patrick Roy resigned. But guess what? He's back. This time, the New York Islanders are reportedly interested in him. They're looking for offense and they've scouted the Avalanche lately.
The Islanders and Avalanche have been scouting one another in recent days and Colorado is sinking in the West as the Isles are sinking in the East, but swinging a roster-changing deal for the likes of Matt Duchene seems like a long shot.
This is one way for the Islanders to try to make sure they keep John Tavares. Tavares is going to be mighty tempted to leave for Toronto or Buffalo after the 2017-18 NHL season. He's good friends with Duchene, so having his good buddy around might persuade him to stick around.
Duchene would be an excellent addition to the Islanders. However, he wouldn't solve everything wrong with them. Sure, Duchene would give the Islanders a lethal first line, arguably one of the best in the NHL. However, they would have to give up at least one of their promising prospects for him, possibly two. That said, general manager Garth Snow might be desperate enough to make it happen.
This article originally appeared on