Nazem Kadri Hit On Sedin Was Greasy, But It Wasn't Illegal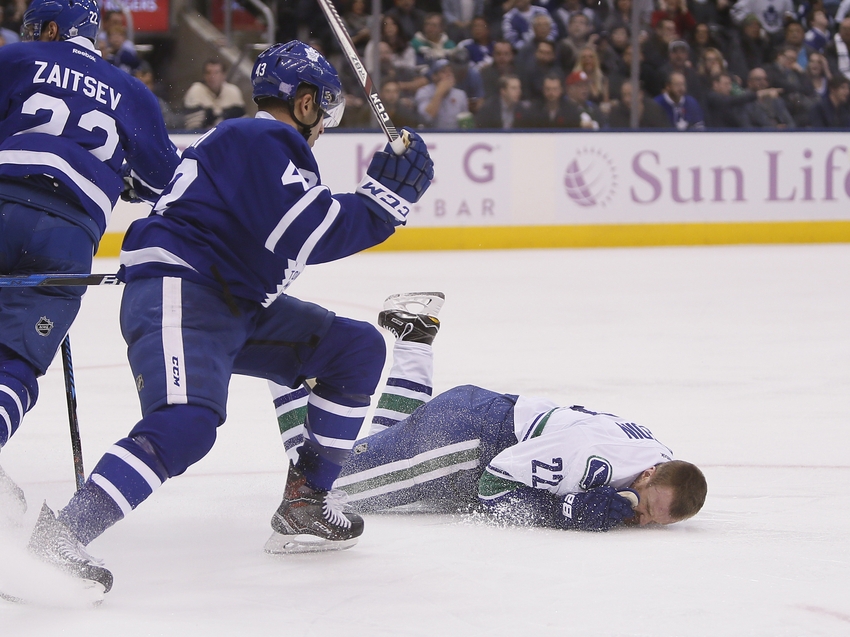 Toronto Maple Leafs forward Nazem Kadri won't be facing any discipline beyond his penalty minutes in last night's game, and it's the right call.
Nazem Kadri went hunting and found his target in the third period against the Canucks, but there's nothing the league can do about it – and they've said so themselves.
Here's the hit:
Nazem Kadri received a charging major for this hit on Daniel Sedin. #RGCL pic.twitter.com/FuUV6B5Ofa

— Rogers NHL GCL (@RogersNHLGCL) November 6, 2016
There are other angles of the hit that make it look like Kadri got Sedin's head first, but that wasn't actually the case.
Here's a freeze frame of the initial contact.
Interesting angle on the Kadri hit that I hadn't seen before: pic.twitter.com/M5M188ZY0C

— Alec Brownscombe (@MapleLeafsHS) November 6, 2016
Case closed.
Kadri came across looking to demolish Sedin and he got what he wanted. It was a blindside hit that Sedin never saw coming, that's the greasy part. Kadri didn't have to do what he did, how he did it, but hitting is a part of the game.
Sedin's bucket came off as he fell to the ice, which is the most dangerous part of the play.
Any desire to have Kadri suspended is a bias witch-hunt filled with nonsense and a splash of hatred towards the Leafs and their star annoyance.
Kadri plays on the edge, not unlike Gallagher, Marchand and others who you love to hate unless they're on your team. That's Kadri's game and he's embracing the role.
Everything that happened afterward was a consequence of the Leafs being better than the Canucks and Vancouver's frustration of losing eight games in a row.
Unfortunately for Vancouver, anger and biased opinion doesn't convict players of wrongdoing where wrongdoing never occurred.
The league could have easily given Kadri a game and pleased the public opinion, but they made the right call. The December 3rd game should feature more anger from a bad team, but I'd wager Kadri isn't going to change how he operates.
This article originally appeared on