Nashville Predators: Fantasy Hockey Favorites Part 1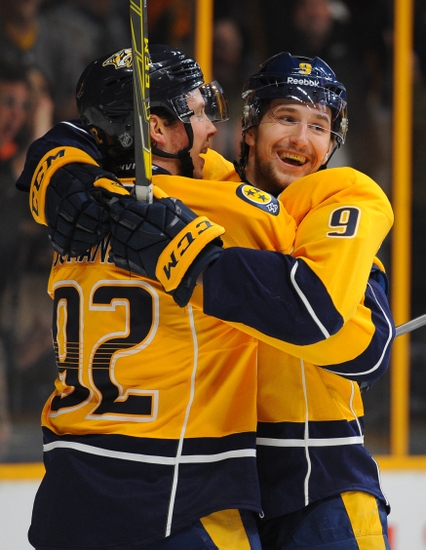 The Nashville Predators are chock full of players who could give your fantasy hockey team the edge it needs to be a champion- but who to draft first?
The Nashville Predators Fantasy Hockey Favorites Part I will address the team's forwards- tune in for Part II as we cover the defense and goalies.
When it comes to fantasy sports, drafting too heavily from your favorite team is often the downfall of many players who inevitably lose out to the less unbiased among us. Fortunately for Predators fans, this year there are plenty of opportunities to round out your fantasy squad with quality players from the hometown team.
So if you're in it to win it but still can't pass up on having a few of the Predators on your team, these are the players you need on go for on draft day:
Filip Forsberg: Left Wing – Yahoo Rank 50th
2016 Stats: 33 Goals, 31 Assists, 23 Powerplay Points, 114 hits. 
Forsberg managed to escape the dreaded sophomore slump in his second full year with the Nashville Predators despite a slow start to the season- and even managed to clear the 30 goal mark for the first time in his career.
Still just 22 years old, the young phenom hasn't even entered his prime yet and figures to be one of the Predators top scorers for years to come. Factor in a strong showing with Team Sweden at the World Cup of Hockey Tournament and it would seem that Forsberg is poised for a monstrous season with the Predators.
The Swede brings a little bit of everything to the table for fantasy owners with strong offensive numbers in all categories and is even more valuable in leagues that use 'Hits' as a category. Thanks to a high upside for this coming season, a flood of talented centers that makes his left wing eligibility even more valuable to owners, and a strong supporting cast in Nashville, Forsberg is a must have
Thanks to a high upside for this coming season, a flood of talented centers that makes his left wing eligibility even more valuable to owners, and a strong supporting cast in Nashville, Forsberg is a must have player in all fantasy formats. Don't sleep on taking Forsberg after the first three or four rounds of your draft.
2017 Projection: 35 Goals, 40 Assists, 75+ points, 25+ Powerplay Points, 100+ hits.
Ryan Johansen: Center – Yahoo Rank 61st
2016 Stats: 14 Goals, 46 Assists, 22 Powerplay Points, 115 Hits.
You have got to hand it to Dave Poile. The Predators were in dire need of a franchise center and they found what they were looking for in Ryan Johansen.
While his 60 points were good enough for third most on the Predators roster, it was still a significant step backwards in production for Johansen after a career best 71 point season (26g,45a,) in 2015.
Now entering his first full season in Nashville, completely healthy and unhindered by a difficult relationship with the coaching staff, I'm looking at you John Tortorella, Johansen should be primed for yet another career season, this time with the Predators.
For fantasy owners, Johansen, much like Forsberg, will produce excellent offensive numbers across the board, especially on the powerplay, while still padding your numbers in the hits department as an extra bonus.
While I fully expect Johansen to be the Predators leading scorer by the end of this season, he still manages to drop below Filip Forsberg on the fantasy depth chart thanks to a glut of centers available at each and every round of the draft this year.
That being said, Johansen is a safe grab as early as the sixth or seventh round of your draft but could fall to even lower rounds as other players draft by positional needs first. Pass on him at your own risk beyond the eighth round.
2017 Projection: 27 Goals, 55 Assists, 80+ Points, 29+ Powerplay Points, 120+ hits. 
James Neal: Right Wing – Yahoo Rank 33rd
2016 Stats: 31 Goals, 27 Assists, 14 Powerplay Points, 113 Hits
Yahoo was rather generous with James Neal's 33rd overall ranking for the coming season- but a quick look at the overall quality of available right wingers, or lack thereof in most fantasy formats, justifies his rather high projection.
That's not saying Neal isn't capable of another excellent year. After netting 31 goals for the Predators last season, expectations will be high once again for the veteran sniper. Bear in mind that Neal's 4 powerplay goals were the least he's scored in a season since 2010, minus an injury plagued 2015, and with a revamped powerplay coming to Nashville thanks to the blockbuster Shea Weber and P.K. Subban trade, it is a fair expectation for Neal to return to double digits in powerplay goals.
High potential for great offensive numbers, legitimate top line production from a right winger, and natural chemistry with Ryan Johansen- there's a lot of upside with James Neal going into this season.
However, temper your expectations. It's highly unlikely he'll ever have a 40+ goal season again, and be patient during the inevitable cold spells all goal scorers go through, though you could find yourself with one of the highest scoring wingers in the league next season.
Don't jump the gun too early on Neal unless you absolutely need to address your RW needs, he's a much safer pick at or beyond the fourth round of most drafts.
2017 Projection: 30 Goals, 30 Assists, 20+ Powerplay Points, 100+ Hits.
Part 2 of our Predators fantasy hockey feature will be out soon so make sure to check back for our defenseman and goalies edition in the next few days.
This article originally appeared on