Montreal Canadiens Should Hire Gerard Gallant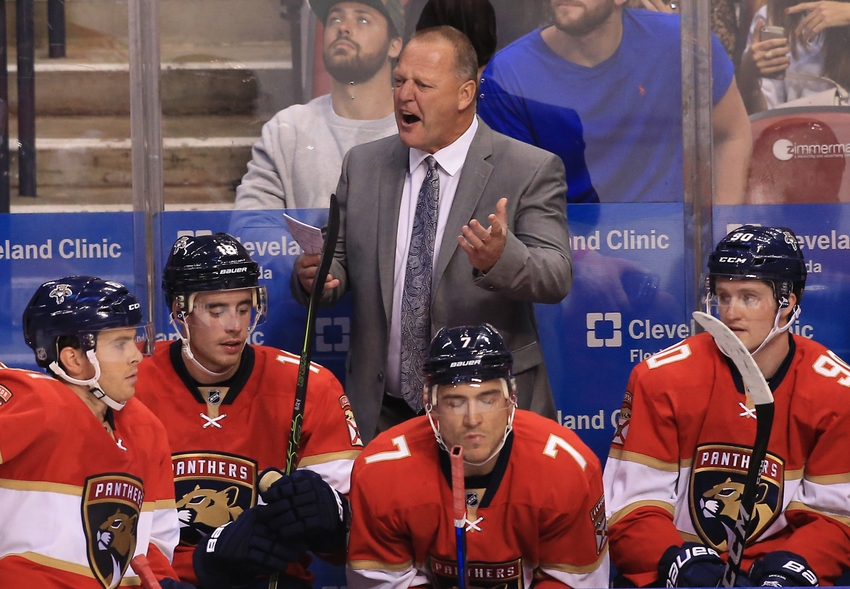 The Montreal Canadiens are on top of the NHL standings but have a chance to upgrade their team. Hiring Gerard Gallant would improve the coaching staff and make the Habs a better team.
The Montreal Canadiens are at the top of the National Hockey League standings. That's fantastic news for Habs fans, but doesn't mean the team should not be looking for upgrades. Those upgrades will typically come on the ice, but the Canadiens could upgrade their coaching staff by hiring Gerard Gallant.
With many teams so close to the salary cap, it can be difficult for teams to make trades. Trying to make your team better is difficult if you can't take on salary. Well, there is no salary cap for management so why wouldn't the deep pocketed Canadiens use that to their advantage?
Gallant, a native of Prince Edward Island, was previously an assistant coach with the Canadiens. He held that position in the 2012-13 and 2013-14 seasons. He was very well liked and respected by his players and earned himself a promotion to head coach of the Florida Panthers.
Gallant was surprisingly let go by the Panthers yesterday. The organization had missed the playoffs 13 of the previous 14 seasons before Gallant arrived. He led them to a 38-29-5-10 record in his first year with the team. Their 91 points missed the postseason by five, but it was a 25 point improvement from the previous year.
Many reasons for Panthers middling start to season
In his second season with the team, Gallant guided the Panthers to the postseason with a 47-26-6-3 record. Their 103 point season was the best in franchise history. It meant the team had climbed 37 points in the standings in his two years with the team.
Want your voice heard? Join the A Winning Habit team!
This season, the Panthers are a middling team with a 11-10-1 record in 22 games. This has them tenth in the Eastern Conference but just two points out of a playoff spot. Sure, it's a bit of a step backward for the franchise, but there are many reasonable explanations.
First of all, Jonathan Huberdeau is the Panthers best forward and he is yet to play a game. Huberdeau was injured in the preseason and leaves the team without one of their highest scorers. He was locked in to be their first line left winger and leaves a huge gap in the lineup.
Nick Bjugstad was also penciled into a big role for this team. He would in all likelihood have been the team's second line center, but he has suited up for just three of 22 games so far. Jussi Jokinen was second in scoring on the team last year and has missed ten games with injury.
That's three of the team's top six forwards out long term with injury. How can you expect a team not to tumble in the standings a bit when they are missing a first line winger and two second line forwards?
Someone will benefit from Panthers decision, why not the Habs?
To fire Gallant right now makes little to no sense. Take three team's top scorers out of their lineup and you can bet they would be on the outside of the playoff picture as well. However, it is now time for another team to benefit from the Panthers short-sightedness.
Why shouldn't that team be the Habs? Sure, they are in first place, but how good do you have to be before you stop looking to improve?
Familiarity would lead to success for Gallant
Gallant knows this team inside and out. He coached almost every player for two seasons very recently. It would be a little unorthodox to hire an assistant coach midseason, but his familiarity with the players and city would make it a seamless transition.
He was one of the first hires Marc Bergevin made after he became general manager. Bergevin spoke very highly of Gallant when he was hired away by the Panthers, and that relationship would lead you to believe Bergevin would be open to a reunion.
The Canadiens are a team with a great record, but not a team without flaws. When Gallant was in town he helped them become a team that was great in the more detailed aspects of the game. They had a great power play, were a fantastic defensive team and among the best in the league while shorthanded.
It may make for a crowded bench, or maybe it even leads to J.J. Daigneault's departure from the team. However, any negatives from sour grapes or unhappy coaches would be far outweighed by the positives Gallant would bring back to the Canadiens.
The Canadiens will have a hard time making a trade to upgrade their team this early in the year. They have a chance to make their team better off the ice and should jump on that opportunity immediately.
More from A Winning Habit
This article originally appeared on