Montreal Canadiens: Max Pacioretty Responds on First Line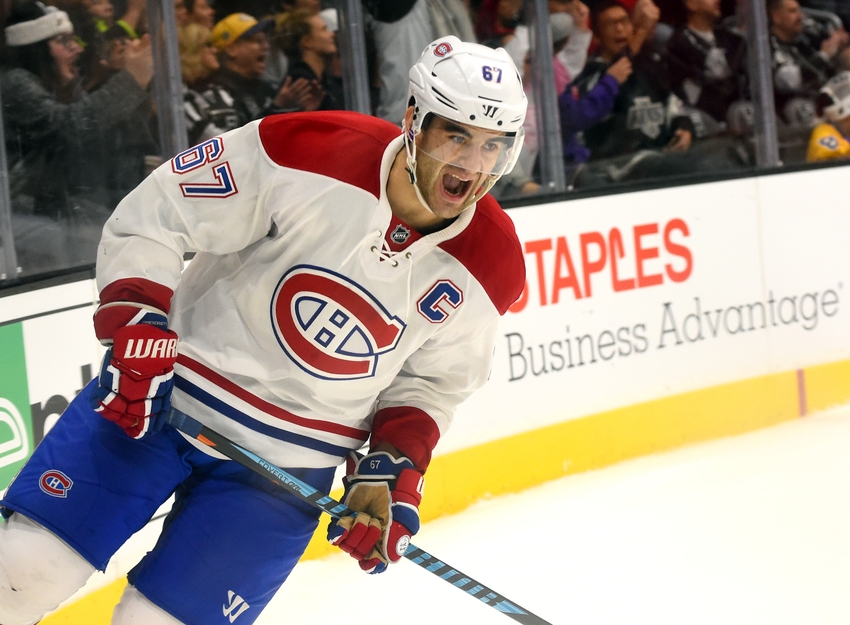 Montreal Canadiens Forward Max Pacioretty had his best game of the season vs the Los Angeles Kings. This was because Therrien moved him up to the First Line.
The Montreal Canadiens were able to salvage some of their California road trip and came away with a big win. The Habs had only scored six goals in their previous four games but exploded offensively and scored four verse the Kings. The Canadiens eventually went to a shootout where Paul Byron scored game winner.
Pacioretty Struggling
Canadiens Forwards were starting to take some heat for not being able to score. The player that has probably been criticized the most was Captain Max Pacioretty as he had been struggling to produce all season. However, Max was able to break out against the Kings, as he scored two goals and added an assist.
Going into the game verse the Kings, Pacioretty had only been able to score two goals in the previous 16 games. In fact Nick Kypreos, Sportsnet Insider, hinted that there could be some friction between Max and Head Coach Michel Therrien. Here is what Kypreos said:
"But it's clear from a few other teams that they want to watch this situation closely. There seems to be some friction between Pacioretty and Therrien."
Kypreos was reffering to the way that Pacioretty was being used by Therrien. Max had been bounced around the second and third lines, with a revolving door of centers to play with. Pacioretty had been centered by Tomas Plekanec, Andrew Shaw, and David Desharnais, because of the constant movement Max looked out of place.
Pacioretty on First Line vs Kings
However, Therrien moved Max up to the first line during the third period against the Anaheim Ducks on Friday night. The Canadiens eventually lost the game, but it was unclear if Therrien would leave Pacioretty on the top line. Therrien kept Max on the top line and it worked wonders for the Habs.
Max seemed to gel with top line forwards Alexander Radulov and Alex Galchenyuk. The trio had great chemistry and like previously mentioned Pacioretty had three points. Unfortunately, Galchenyuk hurt his knee and left the game and didn't return.
Pacioretty Belongs on Top Line
Clearly, Michel Therrien was trying to get balanced scoring throughout the lineup, but it didn't work. Forward Paul Byron was doing well on the top line, but it was very predictable that he would eventually slow down in production. Byron is a bottom six forward and shouldn't have been eating up Pacioretty's opportunity.
Max has four seasons of 30 plus goals and should be consistently played with great play makers. Radulov and Galchenyuk are highly skilled passers who can complement Pacioretty's scoring ability. Max's wrist shot is deadly accurate and he has one of the quickest releases in the NHL.
Hopefully, Galchenyuk's knee injury won't be anything major, and won't miss much time. This trio of Pacioretty, Radulov, and Galchenyuk should be one of the most deadly scoring lines in the league.
More from A Winning Habit
This article originally appeared on