Minnesota Wild: Tonight's Game at Penn State Will be Special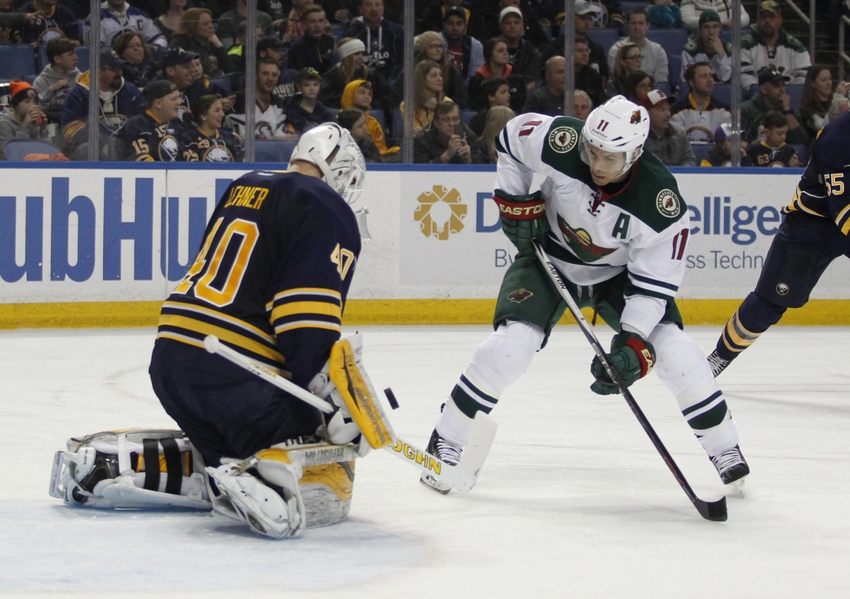 The Wild are about to make history tonight in their first preseason game of the 2016-17 season.  Tonight they'll be playing in the first NHL contest at Penn State University's Pegula Arena, and that should make for a great story line in addition to just watching Bruce Boudreau's first game as Wild Head Coach.
Tonight's game will be special for so many reasons.  First and foremost, it's the preseason opener for the Minnesota Wild and marks the first true NHL game action after the exhausting summer that has seemed to drag on.  Still while that might be the number one narrative deep in the hearts of the citizens of the State of Hockey, the other narrative here is the fact that this game will mark the first time an NHL game has been played on the campus of Penn State University.  It might seem a bit trivial, but it's really a great thing the Wild are going to be very happy to be a part of.
The hockey program at Penn State has only been in existence for six years, but this is a hockey program and hockey area on the rise.  The main reason there is Penn State hockey is due to the efforts of Sabres owner and Penn State alum Terry Pegula.  The arena bears the Pegula name and this contest between the Wild and the Sabres is his doing and actually is a bit of a charity case as it moves the Sabres home opener away from Buffalo.
This will be a special game for new Wild Head Coach Bruce Boudreau.  Boudreau makes his offseason home in Hersey, PA only two hours down the road.  He's always talked about how he loves living in Hersey and has felt very at home in Pennsylvania.  This should be something special for him to coach this game.
Not to mention he's ready to see what his team can do of course.  As he explained to Michael Russo yesterday he's looking forward to seeing if what he's been doing in practice is working.  He said "They've worked hard for three days, it's exciting to see if they have actually got it or how much work we have to do. … I want to see the concepts of what we're trying to do and to see if that's working a little bit."
Also Boudreau is anxious to see how his coaching staff will be.  John Anderson and Scott Stevens have never coached behind the bench with Boudreau in a real game, so he's looking forward to seeing how they interact and what needs to be done to make the bench cohesive.  He just wants to see how his assistants react and who needs to play what role.
The lineup was also announced by Boudreau and reported by Russo.  As expected a lot of the big names are not in the lineup, but there's going to be a good chance to see some of the younger players and more minor role players.  Along with starting netminder Alex Stalock, here's the lineup that will start tonight:
Jason Zucker-Charlie Coyle-Chris Stewart
Ryan Carter-Tyler Graovac-Alex Tuch
Mario Lucia-Pat Cannone-Christoph Bertschy
Kurtis Gabriel-Grayson Downing-Pavel Jenys
:
Marco Scandella-Nate Prosser
Nick Seeler-Matt Dumba
Mike Reilly-Hunter Warner
Personally I'm going to be watching Tyler Graovac very closely to see if he is ready to step back in after his injury.  He's penciled in for a big spot on this lineup and I just want to see if he's ready to go.  Next I'm really curious to see if Christoph Bertschy and Alex Tuch are going to continue to ride their momentum from the Traverse City tourney, because if they do I think both of them can make the Minnesota roster.  Also, I'm ready to see if Mike Reilly can start to build that strong case to make the roster that could see radical moves like putting Prosser on waivers to play in Iowa, because Reilly is too good not to play in Minnesota.
Most of all I just want to see the young players like Seeler and Lucia make their first appearances in NHL preseason action.  It'll also be a very good gauge of where they are at and when we might see them in a regular season tilt.
So long story short…it's gonna be a lot of fun to watch this one.  Sabres coach Dan Byslma perhaps puts the best spin on this when asked about the game he said "I'm gassed up to see an NHL game in that arena. I'm looking forward to the student end zone, how the fans fit in there, I'm excited to be able to bring the NHL there and to coach in that building."  I'm sure this Wild team will play well in PA, but as I've been saying all week just enjoy it because Wild hockey is finally back!
This article originally appeared on