Islanders Rumors: No Teams Interested in Jaroslav Halak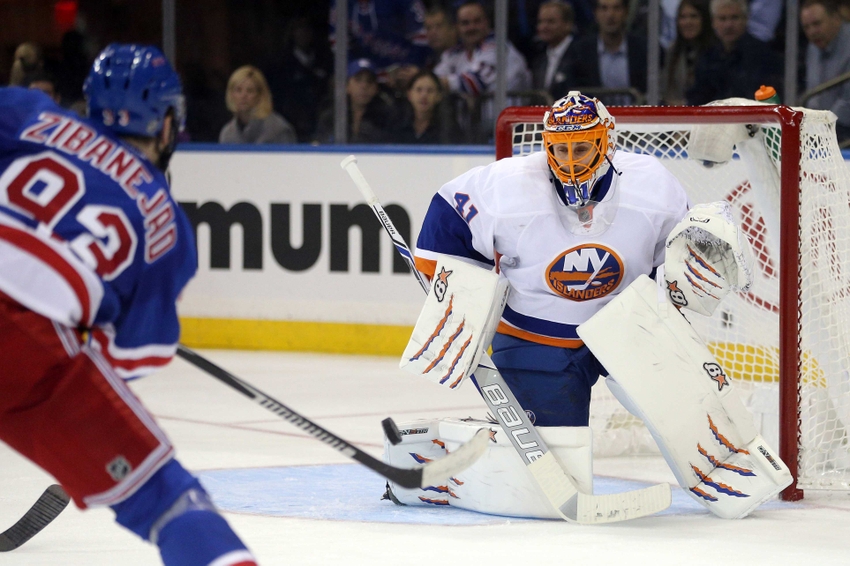 Recent New York Islanders rumors have been about goalie Jaroslav Halak. Are any teams interested in him since the team made him available?
There have been plenty of New York Islanders rumors in recent days about goalie Jaroslav Halak. After his agent tweeted about the Islanders handling their goalie situation poorly, general manager Garth Snow sent out an email to the league saying that Halak was available to be traded for according to Newsday.com.
Newsday also reports that none of the three goalies have ever asked for a trade either this season or last season, but that no team has responded with interest in Halak yet.
It is a bit surprising that no team has expressed interest in Halak yet, but he is making $4.5 million this season and the same next season, which make things a bit tricky. For the Islanders this season, Halak hasn't played all that well, as he has totaled a 2-3 record and 3.04 GAA.
So far this season, Halak has been outplayed by Thomas Greiss, who appears to be the new starting goalie for the Islanders. Greiss has started in three of the last four games, and the Islanders are 2-1 in those games. Having trade talk surrounding Halak can be a distraction for the team, but John Tavares says the team will be focused on winning games.
"There's enough to worry about getting ready to play games," John Tavares said when asked if this could be a distraction to Arthur Staple. "The [goaltender] situation is what it is. Everyone has to be prepared to play and do what they can to be ready. We need everybody in this room if we're going to accomplish what we want to this season."
Even though Tavares says it won't be a distraction for the team, the longer Halak is on the team the more of a distraction it will become. It will be interesting to see what the Islanders end up doing with Halak, but he has still yet to play since he became available to be traded for.
More from Empire Writes Back
This article originally appeared on