Hurricanes vs. Canadiens Thanksgiving live stream: Watch online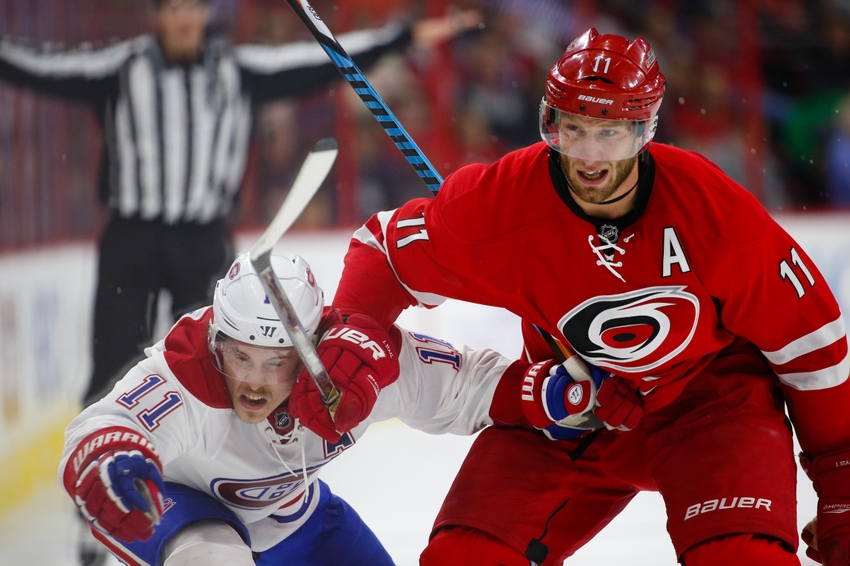 On Thanksgiving, the Carolina Hurricanes will visit the Montreal Canadiens for a 7:30 p.m. faceoff. Here's how to watch this NHL game online via live streaming.
The Carolina Hurricanes (8-6-4) will visit the Montreal Canadiens (14-4-2) at the Bell Centre for a Thanksgiving showdown starting at 7:30 p.m. faceoff. In case you don't want to watch football, the NHL has an option for its fans. This game will be shown on NHL Network in the United States, as well as SN360 and RDS in Canada. For Hurricanes fans, you can watch the game on Fox Sports Carolina.
Carolina has been one of the hottest teams in the NHL as of late, winning each of their last five games. With a Thanksgiving win, they'll advance to sixth in the Metropolitan Division. The Hurricanes score 2.56 goals per game (19th in the league) and allow 2.72 goals (20th in the NHL). However, goaltender Cam Ward has been playing extremely well as of late.
With eight goals and 16 points, forward Jeff Skinner leads their offense. Victor Rask has eight goals and 15 points. Moreover, newcomers Teuvo Teravainen, Lee Stempniak, and Sebastian Aho each have 10 points.
On the other side of the ice, the Canadiens have cooled off after a hot start. They have a 5-4-1 record over their last 10 games. However, they have an 11-1-1 record at home this season. Montreal is led by goaltender Carey Price, who allows a mere 1.77 goals per game. Shea Weber, Alex Galchenyuk, Alex Radulov, Brendan Gallagher, and Max Pacioretty lead a very balanced offense.
Date: Thursday, Nov. 24
Time: 7:30 p.m. ET
Location: Montreal, Quebec, Canada
Venue: Bell Centre
TV Info: NHL Network, Fox Sports, RDS, SN360
Live Stream: Fox Sports
Expect a great game between two of the best teams in the NHL. Should be interesting to see the hot Hurricanes take on Montreal on Thanksgiving.
More from FanSided
This article originally appeared on