Future, Present and Former St. Louis Blues Are On Display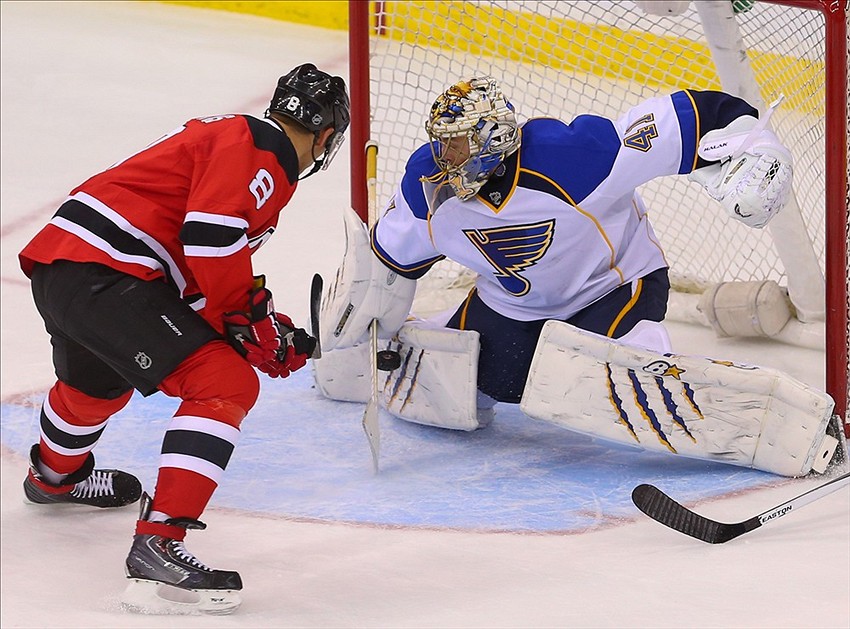 The St. Louis Blues got to see the good the bad and the ugly on a busy day of hockey. They were fortunate that the bad and the ugly did not impact them too much.
Hockey is in full swing right now even though the St. Louis Blues have not touched a puck. Their prospects have and their current international players have as well.
World Cup
The World Cup of Hockey began on Saturday with some surprising results. Everyone had a good feeling that Team Canada was going to take their first game against the Czech Republic.
Few could have predicted how badly they laid a whooping down though. A 6-0 drubbing of a team that is always a dark horse to win these sorts of tournaments was quite impressive.
Even more impressive were the performances by Blues members, Jay Bouwmeester and Alex Pietrangelo. Bouwmeester didn't do anything jaw dropping, but that's fine.
He was on the ice for over 18 minutes. He was a plus-2, he took a couple shots on goal and even threw a hit.
Conver, his Blues linemate, Pietrangelo did do quite a bit. He blocked five shots, was on the ice for almost 20 minutes and scored a nifty goal toward the end of the game.
With the good, you have the bad though. Prior to Petro scoring, one of his blocked shots came when a shot from the Czechs hit his hand. Needless to say, Blues Nation was holding their breath.
Great…….. #STLBlues RT @myregularface: Pietrangelo takes a shot off the hand pic.twitter.com/cweoJmsM3j

— Jeremy Boyer (@JABsMusic) September 18, 2016
In true captain like fashion, Pietrangelo shrugged it off. He came back and scored the goal to show there was no ill effects.
Of course, there could always be swelling after the fact. His ice time could be limited or maybe he even sits out a game. Unlikely, but when it is not your hand, you don't know.
It was a rather mixed bag when it came to the performances by former St. Louis Blues on Saturday though.
Team USA failed to show up in a shocking 3-0 decision against Team Europe. This was the same team Europe that got tossed around by a bunch of 23 and under players in the exhibitions.
Ex-Blues fan whipping boy, Jaroslav Halak got the shutout. Halak was not overly tested in terms of quality, but he saw much more quality than his American counterpart.
Halak turned aside all 35 Team USA shots and his teammates scored three goals on 17 shots against Jonathan Quick. Team USA looked quite lost in all aspects and it was disheartening.
It was a day to forget for the Americans, including former Blues like David Backes and T.J. Oshie. Oshie played over 18 minutes but didn't do much.
Backes' day was even more forgettable. He was the only player on the team to not play double digit minutes. He only saw 6:35 of ice time.
Regardless of team affiliation, the U.S. was very underwhelming. They allowed too many odd-man breaks and did not do enough defensively to help out Quick, who was a bit shaky despite some big saves.
Team USA will have to turn things around quickly. It was almost assumed Team Europe would provide a win and now the Americans have the Czechs and Canadians up next.
Prospects
On the brighter side, the Blues own prospects continued their action on Saturday. Unfortunately, they followed up a solid 3-2 win over Chicago with a listless 4-1 defeat to Columbus' prospects.
It should be noted that Columbus' AHL affiliate just won their championship. So, it goes without saying that the Blue Jackets know how to stock their system.
Fans who were there were not underwhelmed by the performance.
Columbus up 3-0 after two. Can't really say the Blues have played terrible.Cbj just snuck in two quick goals. #stlblues

— Josh Epstein (@joshyhockey_) September 18, 2016
It's simply one of those things that you have to see to know how the game actually played out.
4-1 is not a good result on the surface. However, it only takes one bad play or two for goals to pile up and then the fourth was an empty netter.
On the negative side, the defenders played better but still not giving their goaltender a ton of help. Ville Husso turned away 23 of 26, but was facing good quality.
On the positive side, after a slow start, the Blues prospects got some shots on target. They got 28 shots on goal, but could only beat Jeremy Broduer, Martin's son, once.
Again, coaches are looking more at individuals than results. However, it is difficult to project a good performance when the result is not there.
In the end, it's just fun to have actual hockey back. The future will take care of itself, whether it's this current crop of prospects or the next. The present is in good hands (no pun intended).
The past is the past. We all have former players we still root for and it's ok to take solace in their personal success.
As fans, at least the ice is down and the games are beginning. Soon enough, we'll be focusing on the note flying up and down the rink.
This article originally appeared on