Colorado Avalanche Need to Hop Plateaus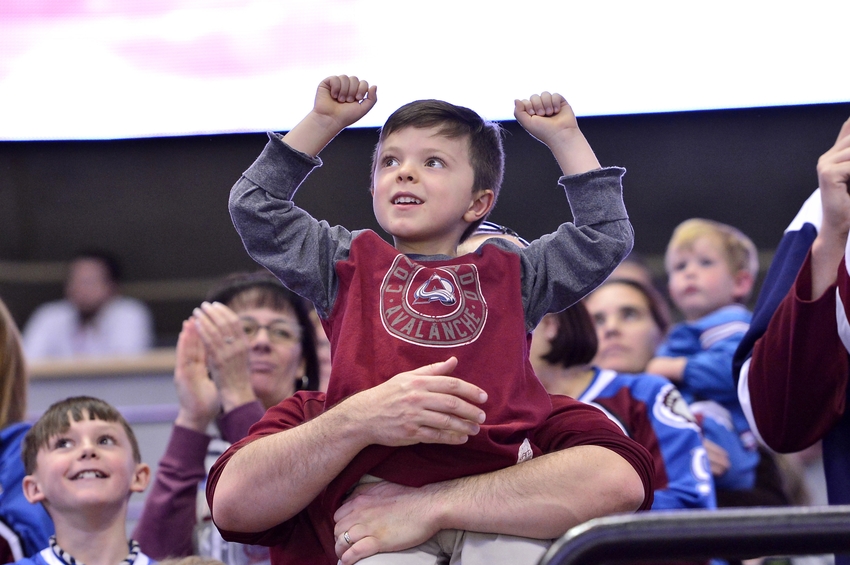 The Colorado Avalanche are currently in a state of stagnancy predicated by the competition of their division, and the only way out is to hop plateaus.
The Colorado Avalanche are currently stuck on a plateau — or, a state of little or no change following a period of activity or progress — otherwise known as the 2013-14 season.
I know what you're thinking, to hop plateaus would imply hopping from one level ground to another level ground. In other words, hopping plateaus would be redundant.
Another issue with the theory is that the Colorado Avalanche have regressed the past two seasons, which would imply that they have descended from one plateau and gone to another.
In other words, they have gone from a division winning team, to a playoff bubble team more often outside the picture than in the picture.
Nonetheless, professional sports are really just a series of plateaus — the perpetual state of consistent practice eventually leading to some sort of incremental increase in skill that you don't even notice. In fact, most professions could be haphazardly thrown into the plateau realm; in that incessant practice will eventually lead to an increase in skill.
More From Mile High Sticking: Will Nathan MacKinnon Have a Career Year?
In laymen's terms, practice makes perfect. And, when you feel stuck on your current plateau — that there is no conceivable means of moving past this current state — you must just practice more. With more practice, you'll either discover that you were never up to snuff to begin with, or you'll find that next Zone, the next place where it all begins.
Ok, if you've stuck with me this far, then I understand you might be a little vexed that none of this has really had anything to do with the Colorado Avalanche. For that, I have no apology — other than to bring the Avs back into focus.
The Colorado Avalanche Plateau
I mentioned the 2013-14 season earlier — which many would argue is an aberration of luck and not skill, and should accordingly be discounted entirely. However, that season happened, it really did, and several players had career years without insanely high shooting percentages, or second-hand assists.
The current regime of core players reached a plateau that season.
I should note here that all players within the NHL have reached The Show — the Big Time — thus they have reached a plateau worthy of professionalism. However, there are still plateaus to be reached within that professionalism (the Stanley Cup, a rock-solid faceoff percentage, etc…). And, players must still practice incessantly to achieve those incremental plateaus.
More from Mile High Sticking
So, the players knew what it was like to win a division, play in a playoff series and feel the sting of defeat. That sting of defeat is coupled with a desire to get back, and have a chance at the Big Dance (The Cup) all over again.
However, the next two seasons were dismal. Slow starts, third period collapses and poor team chemistry lead to two seasons without the playoffs. Which is why a new script must be written now. The Colorado Avalanche players know what plateau they want to reach — the same plateau every NHL player wants to reach. And, even though they've made it to the Big Leagues, it's time to make a different mark.
Division Competition
Another state of the plateau is the level of competition surrounding the subject entrenched on said plateau.
The Colorado Avalanche play in the most difficult division in the NHL — possibly sports — and thus they are inevitably influenced by the state of play around them.
It is difficult to establish yourself as the best, or as one of the bests, when all the best teams easily dispense of your efforts like getting ride of something stuck in their teeth.
The plateau then becomes a state of questioning whether or not these hooligans are the only thing standing in the way of your success. And, maybe if you were just in the Eastern Conference you really wouldn't have to worry about it all.
But you see, that's an issue through and through because if you really are up to snuff then said hooligans really shouldn't stand in the way of your next plateau.
It's a vicious cycle, and it really comes down to whether or not the Avalanche are going to bare teeth, grit jaw and ferally impose will, or if they'll turn belly up in the third.
Maybe I'm stepping bounds, but I want nothing to do with the events of last season. I'm hoping that Jared Bednar's systems will facilitate the expulsion of last season's events from my memory, but some of the onus has to fall on the players.
Conclusion
Plateau-hopping. A perpetual state of constant attention to practice. Then, all of the sudden you're just there, at the next plateau, and you don't even really know how it happened.
The Colorado Avalanche need to hop plateaus, and perhaps structure will help them do that. Or perhaps it's all just to Play, just to Play the Game.
I don't really think that's what it is for though, these boys have made it to The Big Time, and there's only one step left from there.
Obviously I'm alluding to the Stanley Cup, that's the final plateau. Once you get there, getting back is just about more plateau hopping.
Ultimately, It's about that search for the perfect barometric contingencies — the atmosphere man — those small incremental things that just eventually lead to success.
This article originally appeared on