Carolina Hurricanes: Analytics Shouldn't Be Everything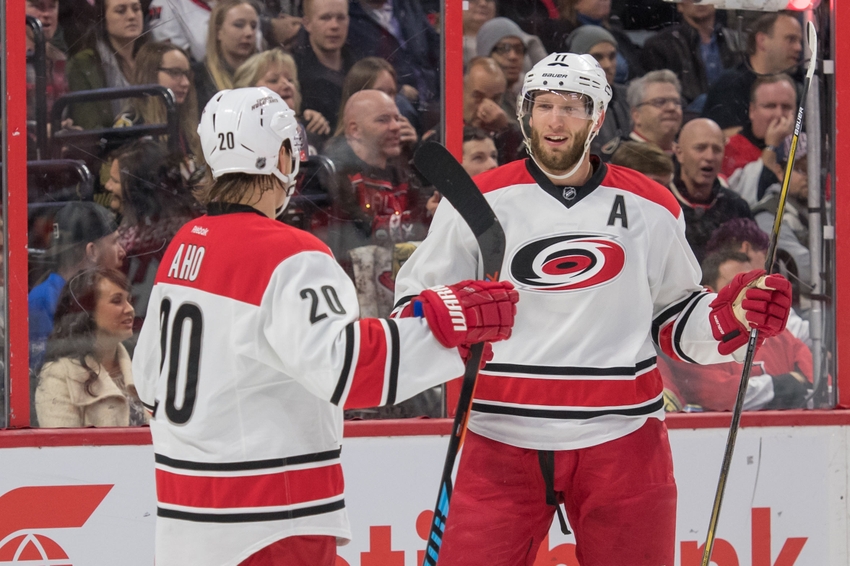 On a nightly basis, the Carolina Hurricanes are statistically dominant team. However, the analytics revolution in Carolina has some bad side effects.
Let's preface this article by saying that analytics are the reason the Hurricanes have turned their fortunes around. Ron Francis' reliance on it has revolutionized the franchise. He has used it in all facets of the organization. Head Coach Bill Peters focuses significantly on those metrics to decide line combinations and defensive pairings. Eric Tulsky, the Hurricanes full-time hockey analyst, has proved to be invaluable in scouting and developing players. The Canes are a far better team for using it and even the league is taking notice.
Using numbers to project goals and wins is certainly helpful. In doing so, the Hurricanes have drastically cut down their goals and shots against in the past couple seasons. Since Bill Peters has come into the league, only the LA Kings have out shot their opponents more frequently than the Hurricanes have. The difference is the Kings convert those into wins while the Hurricanes do not.
Here are some examples of what I am talking about from a few of the Canes recent losses.
at Ottawa on Nov 26th
at Montreal on Nov 24th
vs New Jersey on Nov 6th
Each loss brought with it a different scenario. Against New Jersey, the Canes were riddled with defensive breakdowns. In Montreal, the Hurricanes lost off a tough bounce off the boards in what was a very even game. Finally, last night in Ottawa, Carolina looked in control most of the night, but couldn't get on the powerplay, eventually losing on two beautiful goals from Dion Phaneuf and Kyle Turris.
The constant? In all three losses, the Hurricanes won the Corsi and shot differential battle handily, but registered only a single goal in all 3 contests. Combined that with no power plays goals conceded, the Canes should be winning according to all meaningful metrics. So what gives?
Well, numbers can exactly predict for everything. For all of Carolina's possession number exploits, every team, especially a young team like Carolina, is prone to the occasional defensive lapse. That explains the New Jersey game. Against the Habs, its impossible to predict an unlucky bounce and Jeff Skinner ringing the post late in the 3rd period. The same goes against the Senators. Kyle Turris' game winner was an unstoppable, world class goal that would have bamboozled any defense.
There are also other hockey intangibles that don't show up on Corsi or SAT charts. Numbers will never substitute raw ability. Even with the injection of skill into the Hurricanes roster, the team as a whole lacks pure offensive capability. Not including last night's match-up, Carolina has an ugly 6.9% shooting percentage. That is even including inflated percentages from players like Victor Rask.
From a purely qualitative point of view, the flaws are even more clear. The Hurricanes cycle game is a joy to watch. There is constant movement from the forwards and the puck is frequently stuck in the opposition's end. However, too many times it ends in one chance that goalie has a clear view at or no chance at all.
Just look at the Hurricanes last two goals. Neither were off sustained offensive zone time. Rather, one was an 1 and 100 snipe from Elias Lindholm and the other was a Sebastian Aho tally on the rush that deflected maybe three times before going in off the defender and into his own net. That's just 2 goals in the last 120 minutes, neither of which were the result of dominant puck possession.
You can teach a system that looks good on paper, but you cannot teach natural offensive instincts. Bill Peters system is perfectly designed to give the Hurricanes as much possession as possible, but that doesn't mean much if no one can't convert. It might be time to throw aside some analytical analysis in favor of doing it the old fashioned way. That means crowding the crease and shooting more pucks towards goal.
This article originally appeared on