Calgary Flames: Where Would They Be If Special Teams Were Better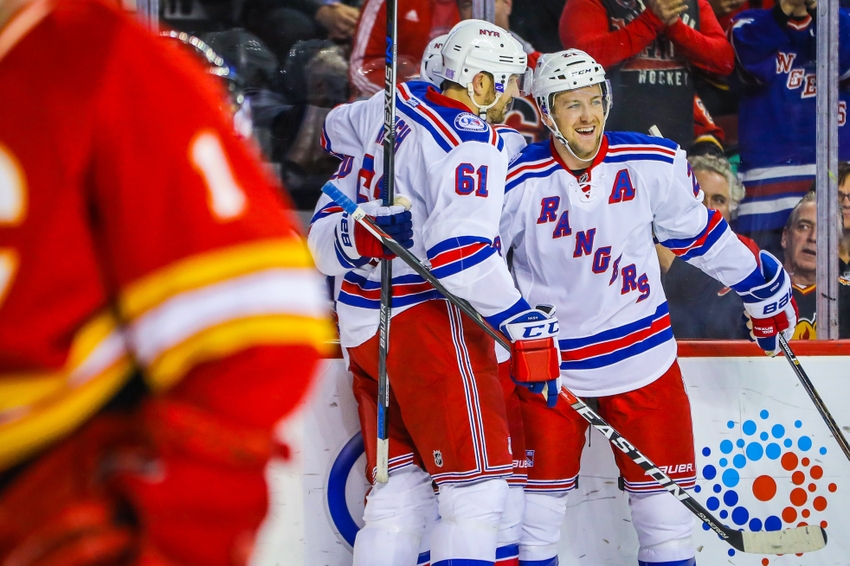 The Calgary Flames are in the bottom of the standings. Their awful special teams aren't exactly helping their situation either.
The Calgary Flames are currently in the bottom five in the standings. In their last six games, they've been doing pretty decent. However, in the game against the Buffalo Sabres on November 21st, you can truly see how much their special teams affect them. Thankfully, their special teams weren't a disappointing factor in their latest game against the Columbus Blue Jackets on November 23rd. However, those special teams continue to be frustrating factors in their losses, especially in one-goal losses.
The Flames are currently last in the standings on the power-play with a painful 9.4%. They're second last on the penalty kill with 74.1%.
How does this affect their game? Well, let's take a look at some of their games and see what would have happened if their special teams had been just a little bit better.
Let's start with their most recent loss against the Sabres, like I mentioned earlier.
CGY @ BUF NOV. 21
Man, the things I can say about this game. Let me tell you, my emotional state was not good after this game. After twenty minutes of play, the Calgary Flames were leading 1-0. Okay great, they'll just have to maintain this lead, right?
Unfortunately, they had a different plan.
They got too many consecutive penalties and at one point they were at a two man disadvantage. This unfortunately led to three goals in a minute and 41 seconds in the second period. So now the Flames were down 3-1, and they ended up losing the game 4-2.
The Flames were only at a man advantage twice in the game and they failed to take advantage both times. The Sabres on the other hand, like we saw, were 3/6 on the man advantage. If the Flames managed to either get their discipline in check or you know, not let them get a 50% pp, this would have been a much different game. Who's to say who would have won this game, but it could have gone either way.
Now, let's look at the game that really should have gone the Flames way.
CGY vs CHI NOV. 18
This game. It's been almost a week and I'm still bitter about this game. The Calgary Flames lost 3-2 to the Chicago Blackhawks on November 18. Blackhawks veteran Marian Hossa gets a late game goal with only 2:23 left in the game that put them up 3-2. Now, many argue that that goal shouldn't have been counted because there was a high stick and some interference with the goaltender, but the Flames had already used up their timeout and they couldn't challenge the goal. That's a whole other story and I'll just cry if I continue to talk about it so read this if you'd like to know more about that frustrating late goal:
However, the point isn't about that particular goal. It's about what could have happened if their special teams were just a little bit better. The Blackhawks went 1/1 on the power play and the Flames were 0/5. If the Flames had managed to kill off the one time they were shorthanded, they could have had this game. Or if they managed to, you know, score on just one of the five times they had the man advantage, against the worst penalty killing team in the NHL might I add, they also would have had this game. That would have turned this game around and who's to say if Hossa would have had that late chance. Or if Flames didn't take that timeout if they were leading and they could have challenged that goal if Hossa still managed to get that chance.
There are way too many what-ifs that my brain hurts. But like I said, if their special teams were even just slightly better, That's an extra two points for Calgary and two points less for Chicago.
CGY vs STL OCT. 22
The Calgary Flames lost 6-4 to the St. Louis Blues on October 22nd. The blues managed to get 40 shots on goal which like, come on Calgary.
However, even with those 40 shots, let's look at what could have happened.
Want your voice heard? Join the Flame for Thought team!
The Blues in that game went 2/4 on the pp and the Flames were 0/3. If the Flames didn't let their opponent go 50% on their pp and the Flames managed to convert on one of their power-play chances, there we go, the Flames would be up 5-4, since that last goal by the Blues was an empty netter. The Flames would have at least gotten a point out of this game, if they wouldn't win it in regulation. But there we go, if they won in regulation, that's another two points for Calgary and two points less for St. Louis.
CGY vs CAR OCT. 20
The Calgary Flames lost 4-2 against the Carolina Hurricanes on October 20th. Now, the pk wasn't that bad (in comparison), but they managed to kill off six of their eight penalties they had. Now, why I think special teams could have affected this game is because the Hurricanes got a power play late in the game that they scored on with only 34 seconds left. However, and this is a big however, the Flames were 0/6 on the power play. Even if they managed to convert on just one of those chances, The game at that point would have been tied 3-3. If the game was tied at 3-3, the Flames wouldn't have had that big push in the dying minutes, thus they may have not gotten a penalty, and they could have gone to OT and gotten at least a point.
Boom, that's at least one more point for the Flames (since Carolina is in the Eastern Division, it doesn't really matter to the Flames how many points they have).
How would the standings look?
Well, if the Calgary Flames had those five extra points, they would have 24 points in the league right now. Like I mentioned, Chicago and St. Louis would each have two points less. Chicago would be sitting at 26 points and St. Louis would be sitting at 23 points. As a result, this means that as of now, the Flames would be third in the Western conference and would be second in the Pacific division. And these 24 points aren't including if they would have gotten an extra point out of the game against Carolina or if they would have gotten any points in the game against the Sabres. This only occurred to me right now as I finished typing this and now there are real tears on my keyboard.
Can you believe this, though? If their special teams have been even just slightly better, better by just a tiny smidgen, their position in the standings would look completely different.
I need a few days to process this. I hope the Flames are looking into this and know some change needs to happen because so many more wins will come their way if their special teams improve by just a hair.
More from Flame for Thought
This article originally appeared on