Boston Bruins: B's Prepare For Red Wings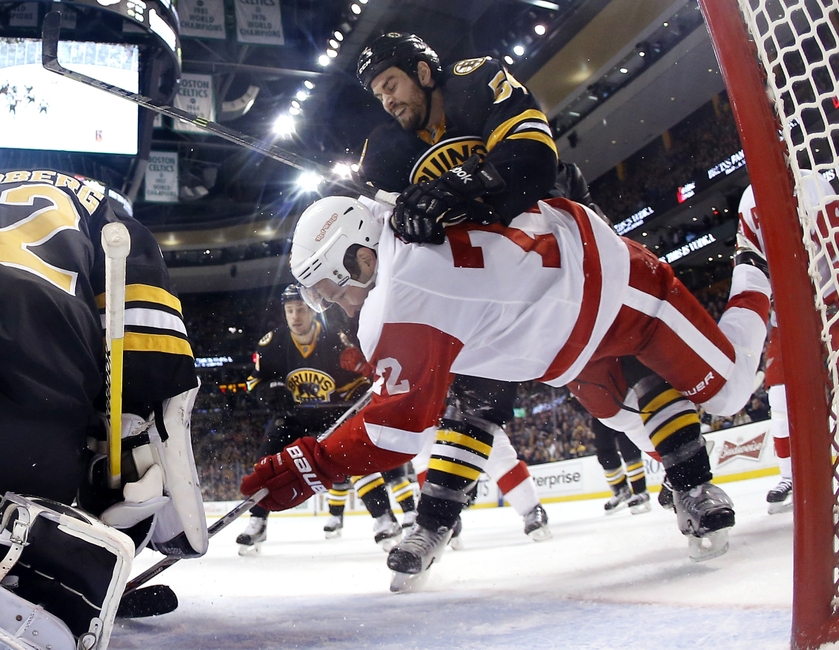 Tonight, the Boston Bruins invite the Detroit Red Wings to the TD Garden for their second preseason game.

The Boston Bruins are looking for their first preseason win tonight as the Detroit Red Wings come to the TD Garden. Tonight's roster for the Black and Gold has a few more veteran faces in it than the players who wore the Black and Gold on Monday, where the B's dropped a 3-2 game against the Columbus Blue Jackets in a shootout.
FORWARDS: Noel Acciari, Matt Beleskey, Anton Blidh, Austin Czarnik, Brian Ferlin, Jesse Gabrielle, Justin Hickman, Sean Kuraly, Dominic Moore, Peter Mueller, Zach Senyshyn, Ryan Spooner.
There are a few Bruins players and candidates to look at among the forwards tonight. The fans will get to see how Ryan Spooner (whose eventual placement as a top-six wing or third line center has yet to be determined) is looking. The B's will also give Peter Mueller (who is here on a PTO) another look to see if he's ready to come back to the NHL. The Bruins will also showcase Dominic Moore who was signed to a deal during the summer.
Zach Senyshyn has had a very unfortunate summer. He missed the Bruins development camp in July due to mono. He then had to have an appendectomy at the start of the month.  The Bruins medical staff cleared him to play just a few days ago, and it will be interesting to see how far he's come.
DEFENSEMEN: Linus Arnesson, Chris Casto, Matt Grzelcyk, Jeremy Lauzon, Adam McQuaid, Colin Miller.
Colin Miller is fighting to prove he's ready to be a NHL defenseman. Adam McQuaid is fighting to prove he's still relevant (big contract aside) as a NHL defenseman. Arnesson, Casto, and Lauzon are pushing hard to show they can play NHL-level hockey, and Matt Grzelcyk is trying to surprise people and earn a slot on the roster this year.
GOALIES: Malcolm Subban, Daniel Vladar.
This is a big night for Subban and Vladar. With Anton Khudobin's sub-.900 game against a pool of mostly prospects, there is the potential for someone to sweep in and win the number two job in Boston.  (Granted, it's unlikely.) If Subban has a good game against the Wings, it pushes his candidacy for the job. Vladar is most likely Providence bound at the start of the season.
This article originally appeared on