Arizona Coyotes: Domi and Duclair Should Play on Same Line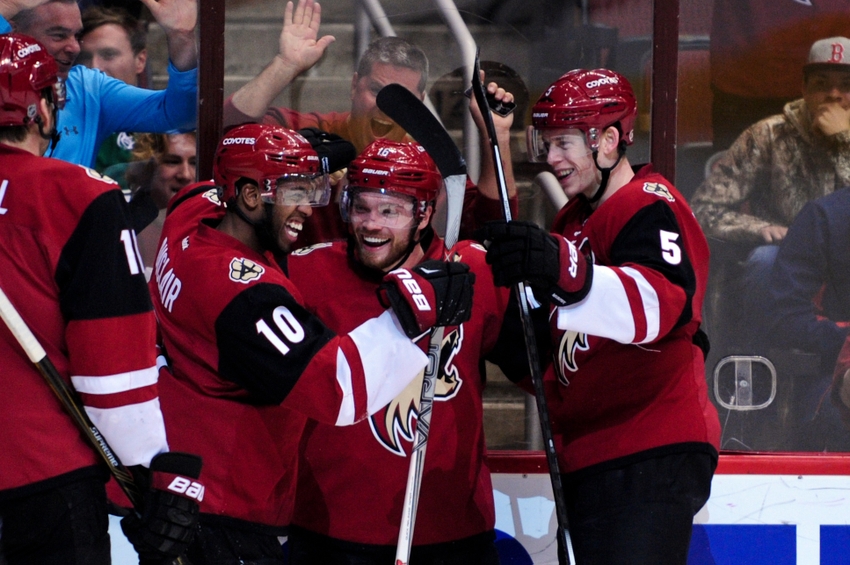 Last season Arizona Coyotes fans were treated to a show by two of the organization's brightest prospects. Now heading into their sophomore seasons, Max Domi and Anthony Duclair have proven that they should be playing on the same line from game one.
The Arizona Coyotes were onto something when they acquired Anthony Duclair at the 2015 trade deadline.
A highly gifted scorer in junior, the Coyotes hoped that he and Max Domi could replicate the magic they made at the World Juniors on the NHL stage.
Needless to say, they did just that.
Domi and Duclair combined for 38 goals and 96 points last season, injecting life into a team that improved 22 points in the standings from the season before. And, as many Coyotes fans will tell you, they are at their best when they are together.
There's a reason they are called the Killer D's, after all.
Despite their chemistry, however, Domi and Duclair spent most of their time on separate lines last season. In fact, of Domi's 1,000 minutes of 5-on-5 ice time last season, he spent only 320 playing with Duclair.
That needs to change, and there are three key stats to prove it.
Duclair Scores More
Reaching 20 goals is an excellent milestone for a rookie, but Anthony Duclair would not have reached it without Max Domi.
Despite such limited time together, Domi assisted on half of Duclair's tallies, including eight primary assists.
One of the few improvements Duclair needs to make next year is increasing his aggression. That means shooting more, which he clearly doesn't hesitate to do when it's Domi who's making the pass.
Domi Plays Better Defensively
Domi's greatest weaknesses last season were his shot suppression and possession.
Duclair is an excellent possession driver and shot suppressor, and he makes Domi better by association. Playing alongside Duclair, Domi's shot suppression improved greatly, his shots against per 60 minutes dropping from 65.7 to 55.32.
His possession improved as well, going from 43.93% without Duclair to a very strong 51.94% with Duclair.
The Team Scores More
Last year, Dave Tippett started Domi on a line with Antoine Vermette and Mikkel Boedker. That line managed only 1.97 goals per 60 minutes together.
Meanwhile, Duclair started on a line with Martin Hanzal and Tobias Rieder. That line was much better, scoring at a rate of 3.09 goals per 60 minutes.
When Rieder was swapped out for Domi, however, the line got even better, improving to 3.57 goals per 60 minutes. That was good enough to rank as the 10th highest scoring line in the league.
Bonus: They Are Really Fun To Watch!
I put together some of The Killer D's best moments from last season. Enjoy!
The Killer D's had us on the edge of our seats all season, and together they will continue to score highlight-reel goals for years to come.
Only 10 days until rookie training camp.
This article originally appeared on