Adam Clendening must be freed by the New York Rangers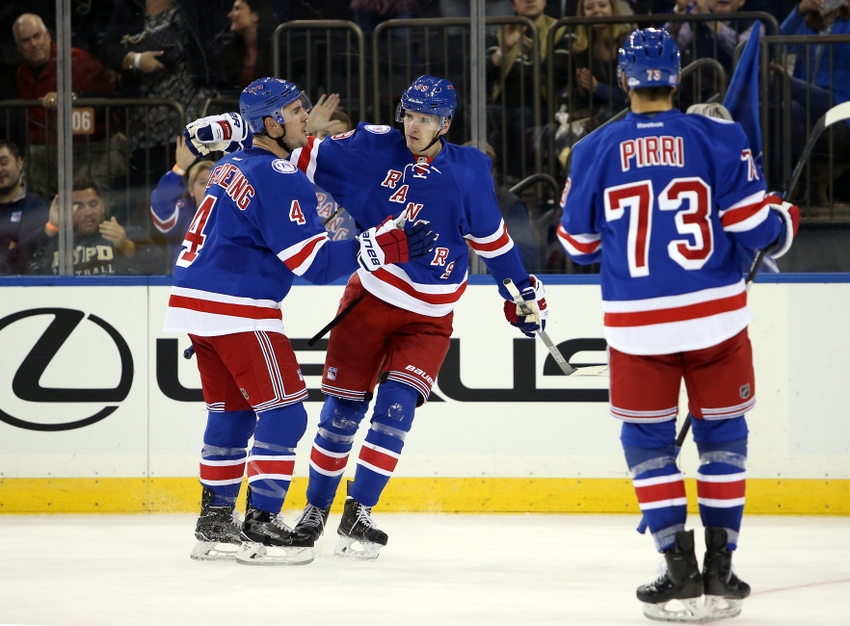 Adam Clendening was a bright spot early in the New York Rangers season. He was subsequently labeled a consistent healthy scratch, as New York's defense worsened. Alain Vigneault previously said Clendening would play one half of back to back games. It is time Vigneault follows through on his words.
The New York Rangers are regularly icing one of the best forward corps in the NHL. The depth is unheard of, all four lines can score at any moment, and defensively there is no weak line as well. Considering that truth and Henrik Lundqvist in net, the Rangers should be exactly where they are.
At 14-5-1, it is difficult for anyone to complain about the Rangers. Still, the possession stats have been consistently worrisome for the second consecutive season. Last year the Rangers jumped off to a terrific start, only to fall as regression inevitably hit. This season New York has a weapon against regression sitting in the press box. His name is Adam Clendening.
Adam Clendening has played for five different organizations in the past three seasons. He has never been looked at as a top four defenseman, nor as a savior for any team. Clendening's skill-set is unique in that he is with no uncertainty an offensive defenseman.
Keith Yandle was an offensive defenseman, but also a penalty killing option. The evidence points against using Clendening outside of even strength and the power-play. Still, the Rangers need a Keith Yandle replacement to maintain their torrid offensive production. Yandle was a possession savant as well, an area that Clendening excels in.
More from Blue Line Station
With Dan Girardi, Kevin Klein, and Marc Staal all on the roster, the Rangers have three defensive defensemen. Ryan McDonagh and Brady Skjei are all-around defensemen, leaving New York with zero offense-first defensemen. It is key for teams to carry a player of the ilk to use on the power-play and when trailing at even strength.
Additionally, Clendening can improve the Rangers putrid possession numbers. In limited time this season Clendening owns a league best 63.4 Corsi For Percentage. Clendening's 50.4 career CF% playing primarily on third pairs speaks volumes about his individual ability. Clendening can assist the Rangers in their greatest area of need, the right side.
Both Dan Girardi and Kevin Klein have had disastrous seasons. Girardi's rapid decline has continued, while Klein has shown last season was more of a fluke than an indication of talent. Alain Vigneault previously stated that he would give Dan Girardi days off for back to backs.
Clendening will start in place of Girardi. AV said when Girardi was injured it was decided he'd not play back-to-backs to start. #NYR

— New York Rangers (@NYRangers) November 6, 2016
Vigneault has not stuck to his word. Girardi played in each of the last two back to backs despite the comments, while Clendening has not played since November 6th. If the goal is to win and consistently improve the team, the Rangers must put their players in the best position to succeed. Clendening must be afforded the opportunity to contribute to the cause.
Clendening deserves to be in the lineup on a consistent basis, but that does not have to be how it starts. Vigneault only spoke of plug-ins for Girardi, so the beginning can be there. If Clendening thrives in those spots, the organization owes it to themselves to continue to play him. The Rangers forwards are tremendous, the goaltender is elite, but the defense is a problem.
Simultaneously solving a problem, improving the possession game, pushing the pace of play, and resting aging defensemen is a no-brainer for the New York Rangers. Adam Clendening must be freed.
This article originally appeared on