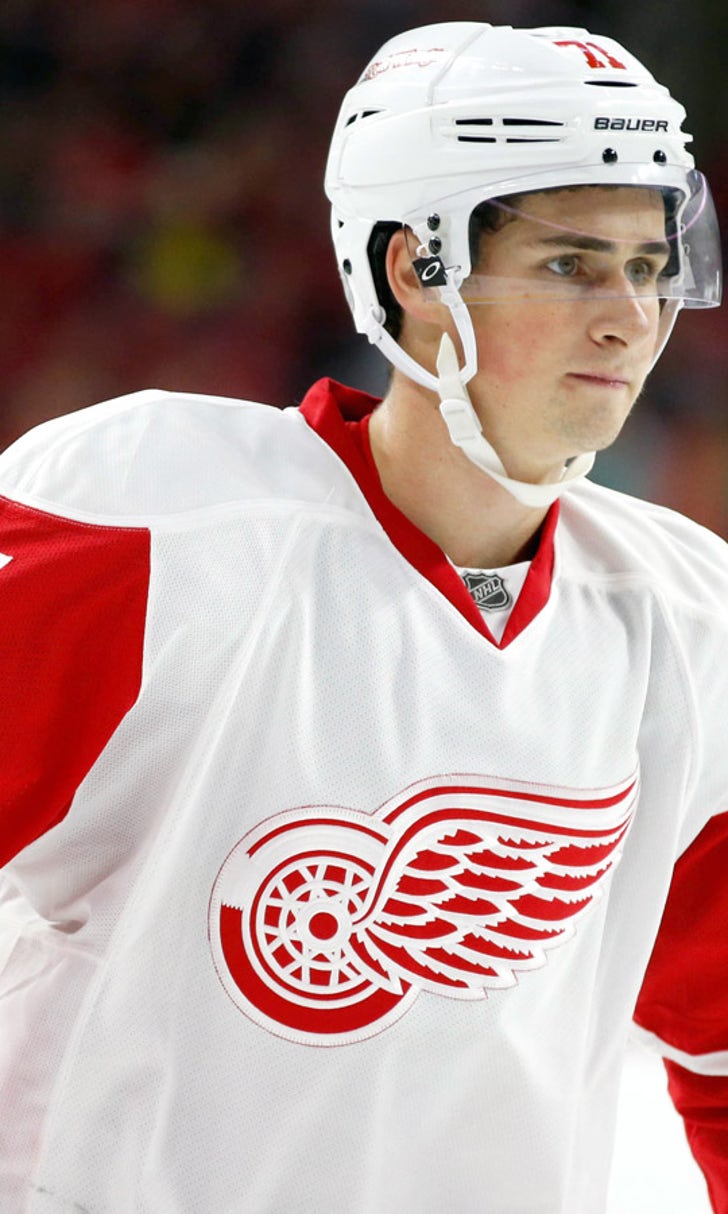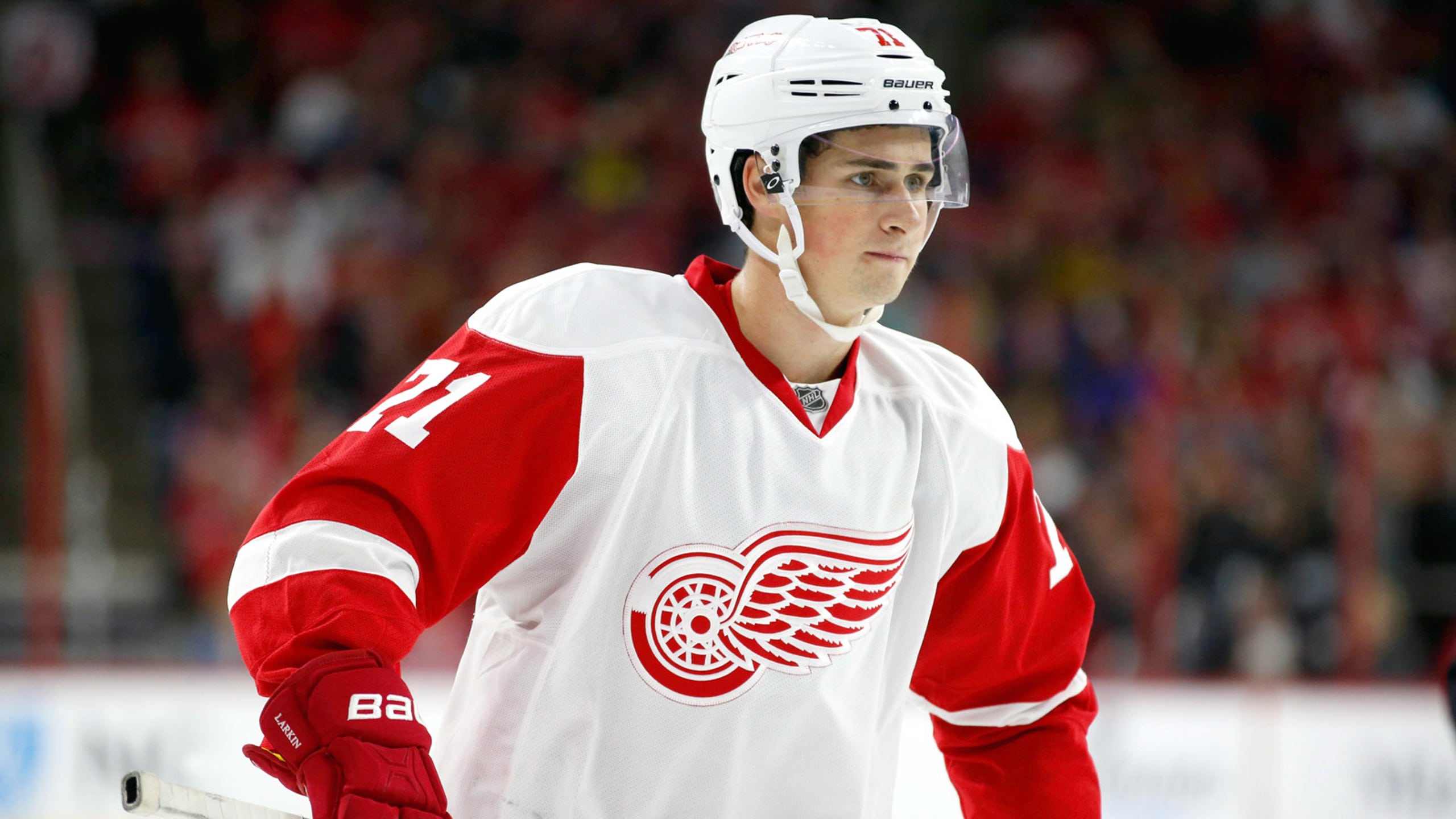 Detroit's Dylan Larkin steps out of Jack Eichel's shadow and into the spotlight
BY foxsports • November 18, 2015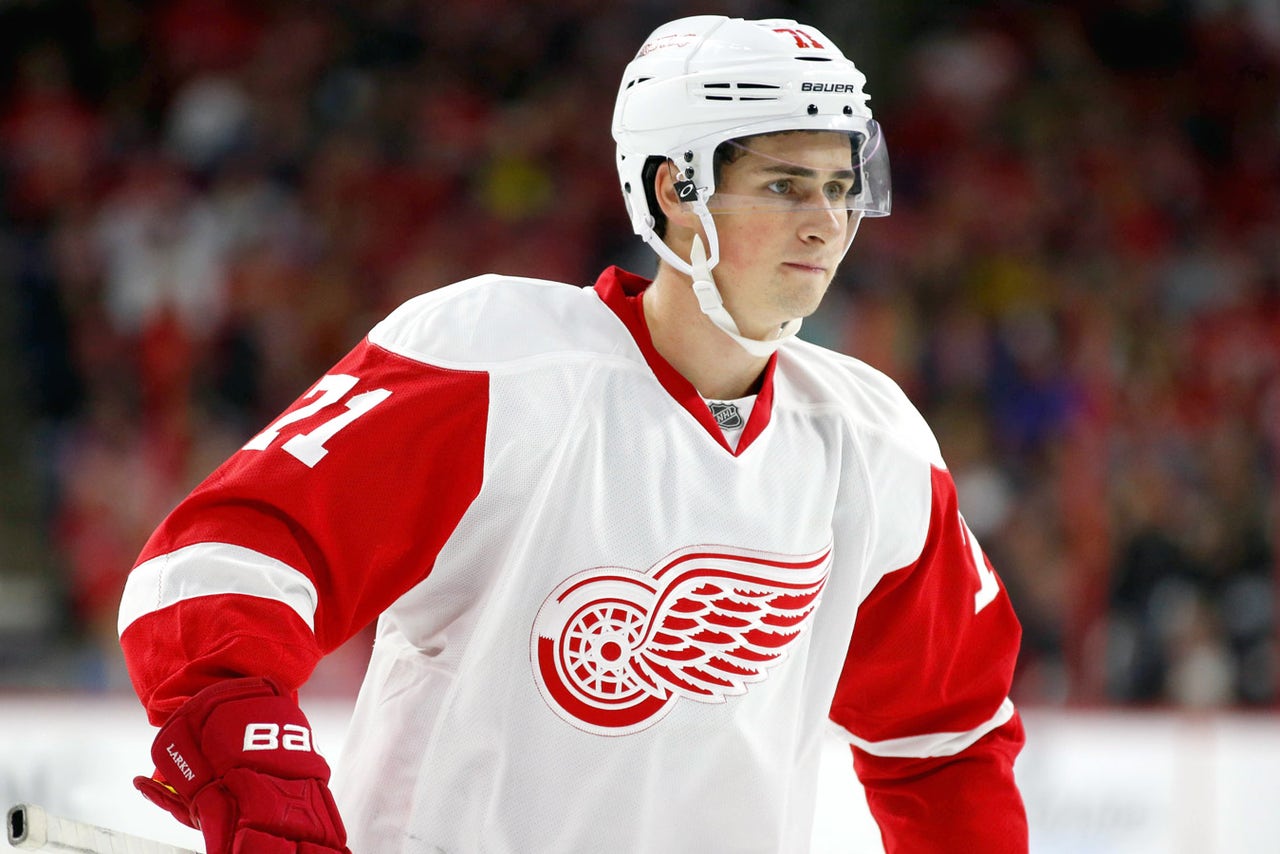 At the start of training camp, Dylan Larkin's goal was to simply make the Detroit Red Wings' roster. There was no fan frenzy, no national conversation about what number he would wear, no crowds clamoring to see him play. Instead, the 19-year-old Michigan native entered his first training camp as a promising prospect known almost exclusively to Detroit fans.
Dylan Larkin is not, after all, the generational talent that Jack Eichel is, but Larkin is much closer to being that type of elite player than the casual NHL fan might expect.
Like Eichel, Larkin enters the NHL on the heels of an impressive freshman season. At the University of Michigan last year, Larkin finished second in the NCAA for scoring by a rookie with a gaudy 47 points (15 goals, 32 assists) in 35 games. Eichel, of course, was first in scoring with 71 points in 40 games. But Larkin's 47 points would have been the most by a freshman had he just been in the rookie class of 2013-14, or 2012-13, or even 2011-12, when Johnny Gaudreau (now of the Calgary Flames) was a freshman at Boston College and recorded 44 points in 44 games for the Eagles.
And while Eichel dominated any conversation about NCAA rookies last season, Larkin, who was chosen 15th overall by the Red Wings in 2014, said there's no competition between the two who played high school hockey together for two years with the United States National Team Development Program in Ann Arbor, Mich.
"I don't see it that way," Larkin said of the idea that Eichel had stolen the spotlight. "We're pretty good friends so I'm just pretty happy for him."
The pair joined forces in the U20 World Junior Championships last season on a United States team captained by Eichel. Larkin led in scoring with seven points (five goals, two assists) in five games. Eichel finished with four points (one goal, three assists) in five games.
The two also made the men's national team for World Championships in May alongside multiple NHLers. It was a major achievement for both considering Eichel and Larkin were the lone 18-year-olds on a USA team that won bronze. Eichel got the best of Larkin stats-wise that time, however, notching seven points (two goals, five assists) in 10 games while Larkin managed one point (an assist) in 10 games.
As fall approached, their paths diverged. Eichel went to training camp for the Sabres as the second overall choice in the 2015 Draft and an immediate fan favorite while Larkin simply hoped to make an impression in Detroit.
Larkin did not need long to achieve his goal; Larkin essentially forced the Red Wings to keep him on the Opening Day roster after he tied for the team lead in shots (15) in the preseason with Andreas Athansiou, a prospect who already had two years of professional hockey in the AHL under his belt. Larkin also finished fourth in preseason points on the Red Wings roster with three goals and an assist in five games. It seemed like Larkin was not at all phased by the transition to professional hockey, and indeed the soft-spoken teen downplayed his jump from college to the NHL.
"It's something I've worked for my whole life," Larkin said in a recent interview with FOX Sports. "Leaving college, I thought I was ready for it so it's been ups and downs but I learn new things every day and I'm just trying to have fun, so it's been a pretty easy jump."
The stats in the regular season back up Larkin's claim of an easy transition. Larkin has 12 points (five goals, seven assists) through 18 games, the third-most points of any rookie in the league behind Artemi Panarin and Max Domi. The 19-year-old is tied for second on the team in scoring along with Gustav Nyquist and Tomas Tatar.
"[Larkin is] an elite talent who has got a real motor to be great," Red Wings coach Jeff Blashill said. "He has great inner drive. I think he just needs to make sure he continues to grow in his game."
Larkin will have to grow with as few mistakes as possible given that he plays a significant role for the Red Wings, most frequently as a center on a line featuring Henrik Zetterberg and Justin Abdelkader, and he regularly handles top-line minutes. Larkin was especially valuable for the Red Wings early this season as the team had to play a stretch without star center Pavel Datsyuk.
Now that Datsyuk is back, Larkin's role is likely to diminish slightly, but he won't be knocked out of the lineup. Instead, Larkin is receiving some playing time alongside Datsyuk on a power play unit. He also played on Datsyuk's wing in a 4-3 win over Ottawa Monday and made the most of a memorable night by notching a highlight-reel goal in the first period to put the Red Wings up, 1-0.
So far, Larkin's NHL experience has to be a dream come true for the boy who has always called Michigan home. And while it's still early, Larkin has a three-point lead over Eichel in scoring this season.
It looks like the next competition between the two of them could be for the Calder Trophy.
---
---