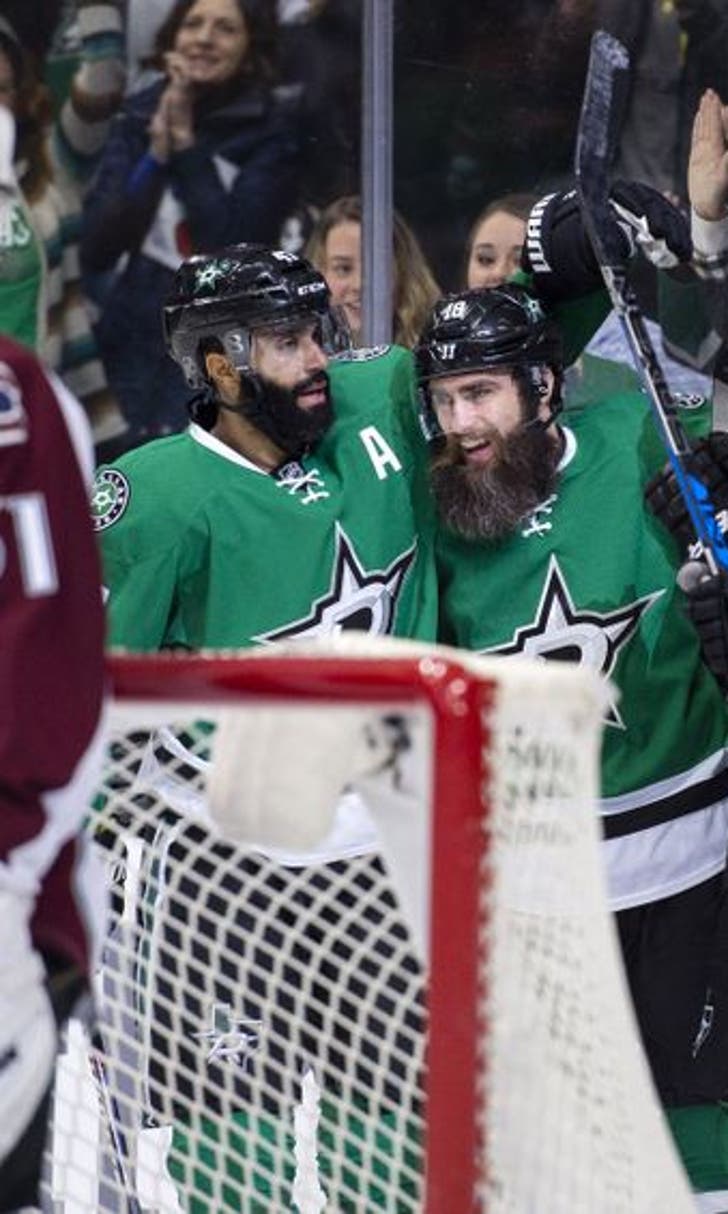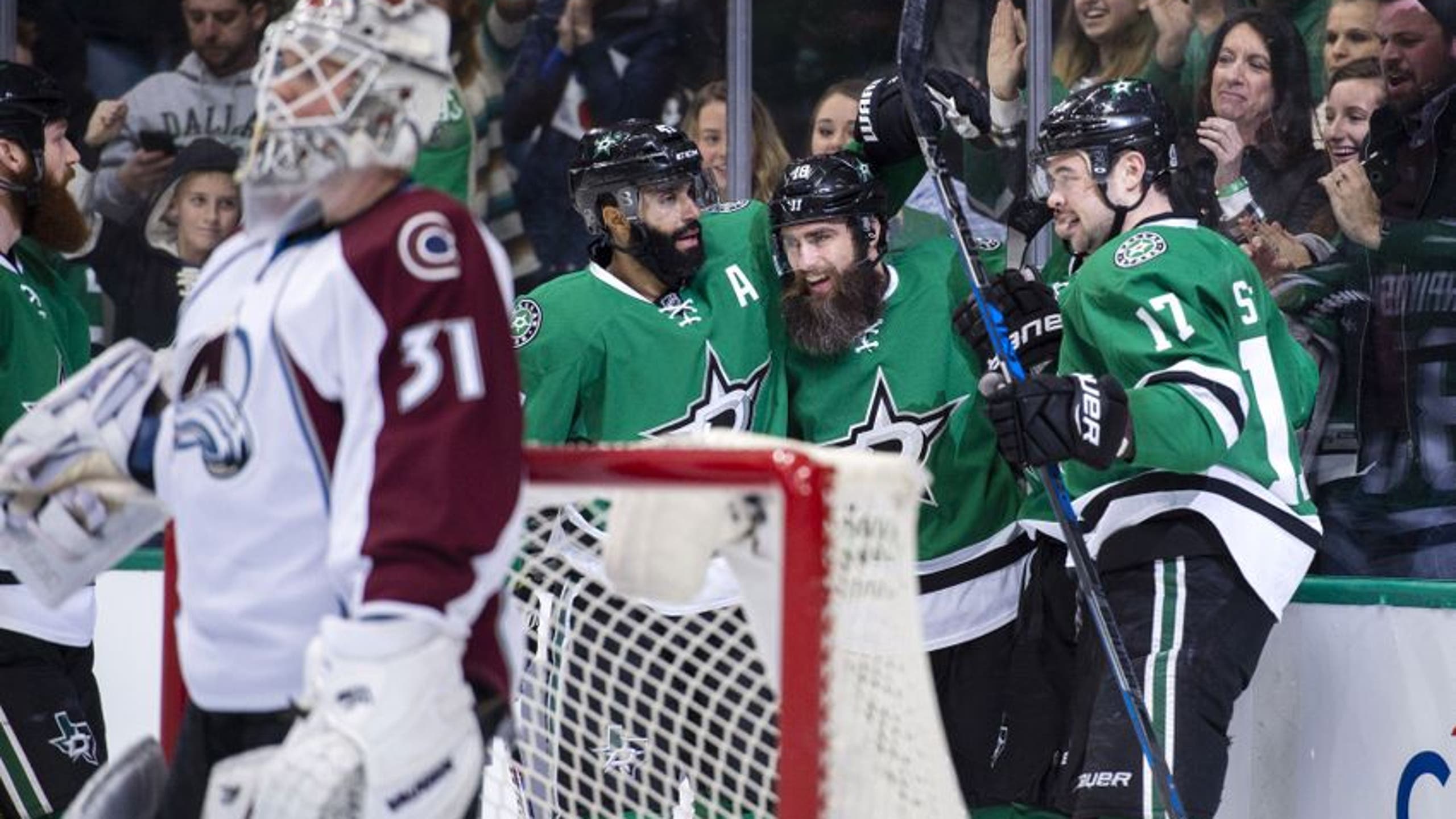 Dallas Stars Top Avalanche, Up Win Streak to 3
BY Fansided and Micaela Hamid/FanSided via Blackout Dallas • December 30, 2016
With an even three period effort and smart scoring, the Dallas Stars soared past their opponent to begin their homestand with a victory and extend their win streak to 3.
Game Recap
The Dallas Stars clearly drew momentum from their last two wins, and came out early in this one ready to do the same. Devin Shore struck early within the first six minutes, followed up by Tyler Seguin within the next six minutes to make it 2-0 Stars.
The Stars were capitalizing on smart, fluid shots and were forcing the Avalanche into turnovers instead of turning the puck over themselves. Colorado did get one back before the end of the first, with a rebound follow-up from Matt Duchene.
The second period's sole scorer was Jamie Oleksiak, who put the puck in high to settle the Stars in at 3-1. Before the third period saw a goal, Kari Lehtonen left the game after goalie interference from Jarome Iginla.
Although it appeared later that perhaps there were no serious injuries, Antti Niemi took his place and then surrendered a goal to Grigorenko to lessen the gap. With a 3-2 score, Tyler Seguin's empty netter in the last minute pushed the Stars on through to a 4-2 victory.
stars
Blackout Dallas 22hDallas Stars' Cody Eakin's Return from Suspension is Important
More headlines around FanSided:
1 d - Dallas Stars Have Golden Opportunity To Close Out 20161 d - Dallas Stars Center Devin Shore Sees Wild Year Wind Down2d - Dallas Stars Begin Winning Streak for Second Time this Season2d - Dallas Stars Meeting Back Up With Alex Goligoski For First Time2d - Dallas Stars Return from Christmas Break, Head to ArizonaMore News at Blackout Dallas

Thoughts and Observations
Still powerful play
The Stars went 0-6 on their power play tonight, the Colorado Avalanche likewise were 0-4. Despite the lack of conversion, the Stars still managed to put forth some strong power play efforts centered mostly around their first unit.
In the end, total shots on goal were 34-19 Dallas, and this seems representative of the Stars' power play efforts as well. Attempts seemed much more organized and purposeful than some of the ramshackle, lifeless PP runs we've seen from the Stars in the past.
And obviously, the Stars' penalty kill is doing something right, too.
Incentives
It is becoming increasingly clear that we have a paradox on our hands. The Stars fail in an epic way when they can't shoulder the pressure of high expectations, the Stars go above and beyond and rise to the challenge when things seem not in their favor. These are the two versions of the Stars that are on opposite ends of the same spectrum.
However, I think it's also clear that the Stars have started to have some faith in themselves. It was Devin Shore who opened up scoring, and that goal seemed to bring some vigor to the attempts of the other seasoned forwards. Later in the game, we have Seguin scoring twice, and Oleksiak, a defenseman, yet again stepping up to the scoring plate.
Keep calm and Kari on
Although it's not entirely clear what Kari Lehtonen's status will be after leaving the ice in what appeared to be a painful collision with Iginla, he was back at the bench and ready to celebrate at the end of the game. This was Lehtonen's third start in a row; coincidentally the Stars' third win in a row? I'll let you decide that for yourself.
But either way, Lehtonen is still on a bit of a hot streak of his own. The Stars currently have a reliable save percentage to be proud of, and Lehtonen's mental toughness has helped make that possible. If Lehtonen has to take some time out for injury, issues could possibly follow from a jarring change to goaltending rhythm the Stars have carved out for themselves. But only time will tell if this is indeed a true concern.
The Stars will return to play in the AAC on New Years' Eve in a year-ending tilt against the Panthers. We'll see very shortly if this winning streak is one they will ride all the way into next year.
More from Blackout Dallas
This article originally appeared on
---
---