LeBron James explains his 'great respect' for horror movie villains on Friday the 13th
BY Andrew Lynch • January 13, 2017
LeBron James is a lot of things: The best basketball player in the world. A father to some astonishing young basketball players in their own right. Mentor to thousands of kids in the greater Ohio area. And an avid horror movie fan, as evidenced by his "Horror Flick" LeBron 13s from last year.

The King is not superstitious, however, so he's not particularly worried about the Cleveland Cavaliers taking on the Sacramento Kings on Friday the 13th. Instead, when asked about playing on this very spooky day, LeBron took the opportunity to shout out some of the "greatest slashers" in history.

(And no, he wasn't talking about Dwyane Wade's ability to knife into the paint for an easy bucket.)

Via ESPN.com:

"Superstitions? No," James said. "But I'm a huge horror fan. I love horror movies. Obviously Friday the 13th being Jason Voorhees day, I think it's cool. I remember as a kid on Friday the 13th right when I got home from school, my mother and I we would just watch horror movie after horror movie after horror movie. It's crazy because now my kids love horror movies too. My two boys love them. When I come home they be wanting to watch horror movies.
But no superstitions besides just having a great respect for some of the great slashers of all time, some of the greatest ones of all time. And Freddy (Krueger), Michael Myers and Jason Voorhees and Chucky and a couple more." Nike actually designed a pair of his LeBron 13 sneakers to reflect his love of the horror genre, with flecks of red paint on the shoe resembling blood.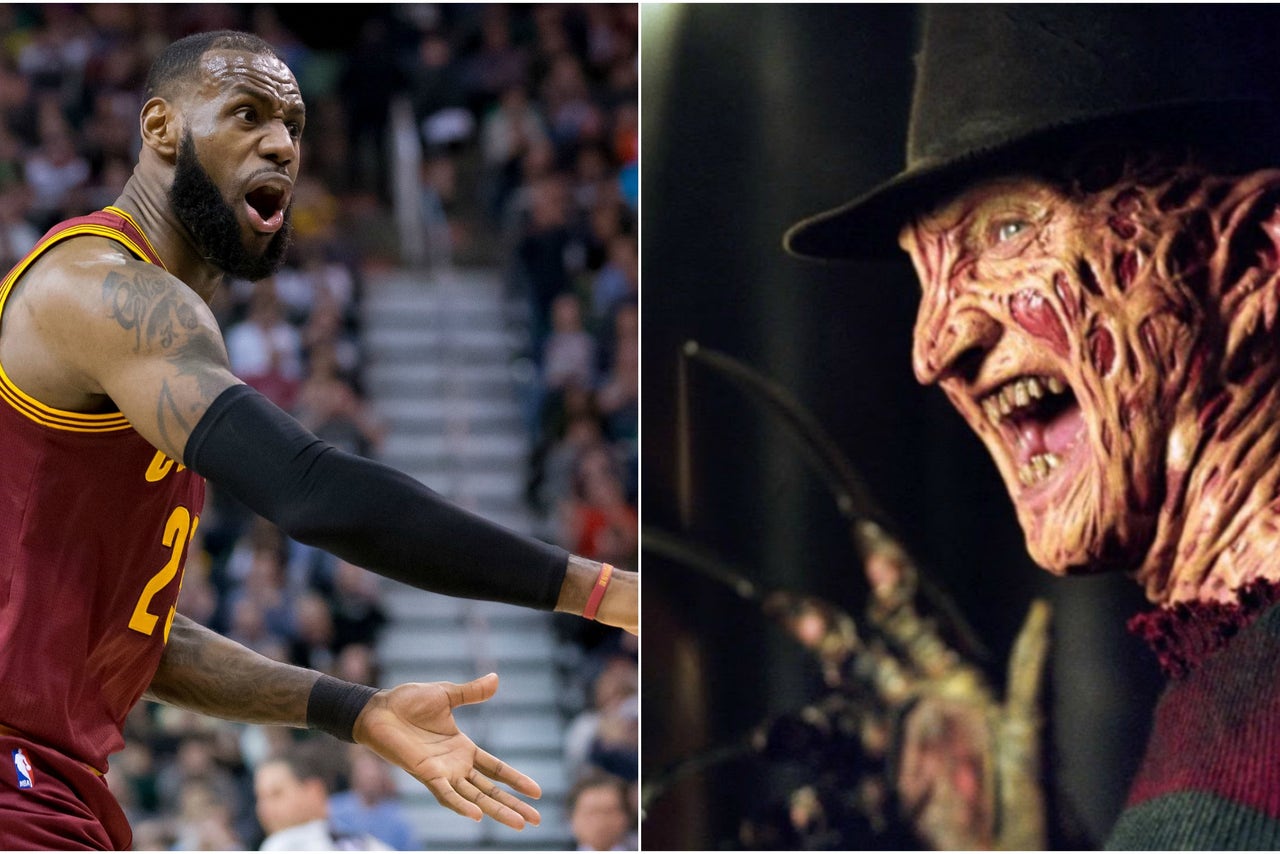 Sure. Sure. Who hasn't voiced their "great respect" for horror villains to the world before?

Sometimes, you have to wonder if LeBron just kind of stops paying attention when he's talking to the media. After going through scrums on a daily basis, could you blame him? Just imagine LeBron reminiscing about good times as a kid with his mom, reflecting on his love for horror movies, before remembering that he's actually answering a reporter's question.

I'm not saying that's what happened here. I am saying that if LeBron wanted to act as such, no one could hold it against him — not even a fictional dream-hopping maniac with knives on his fingers.

Truly, it's good to be the king.


---
---