What's next for Thunder after another season without title?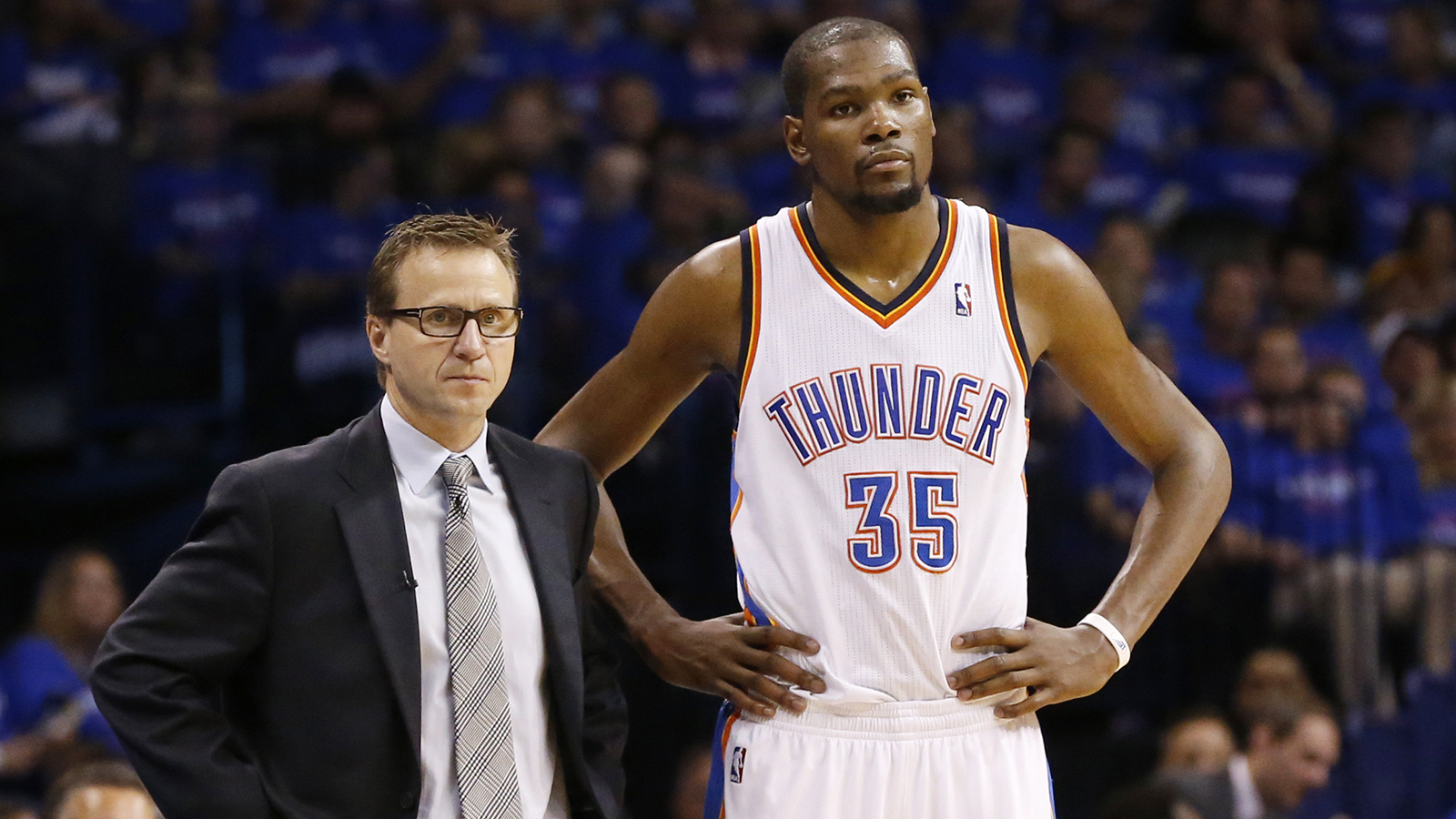 Scott Brooks isn't going anywhere, neither is Reggie Jackson or Kendrick Perkins.
But the Thunder's two first-round draft picks might be as are Kevin Durant's minutes.
That's according to Oklahoma City general manager Sam Presti, who visited with the media Thursday to wrap up the Thunder's season.
"Scotty, I think did an excellent job," Presti told The Oklahoman Thursday, all but assuring the Thunder's head coach would be back next season.
There was some concern Brooks might not be retiring as the Thunder missed out on getting to the NBA Finals. However, Serge Ibaka's injury at the beginning of the Western Conference Finals put the Thunder in a hole that wasn't Brooks' doing.
Meanwhile, for the second-consecutive season, it appears Perkins will not be amnestied. "It's not something that has been considered to this point," Presti said to The Oklahoman.
Perkins is set to make $9 million next season coming after he averaged only 19.5 minutes per game and it's well-documented Perkins has a stunted offensive game. He will be in the last year of his five-year deal with the Thunder. However, his value to the team comes behind the scenes. Durant spoke glowingly about Perkins in Durant's MVP speech, so letting him go could lead to a situation similar to when Perkins left Boston where it affected the play of guard Rajon Rondo.
In addition to Perkins, Jackson will also be heading into the final year of his deal. Presti said, while Jackson wouldn't likely be signing anything new in the next few months, the team was not considering trading Jackson. Jackson stepped in for the injured Russell Westbrook this season and also was a starter in the Western Conference Finals. He said in his exit interview he would prefer to be a starter, so it remains to be seen if Jackson will use that as a negotiating piece when the time comes.
As for Durant, who averaged more than 43 minutes per game in the playoffs and more than 38 minutes per game in the regular season, Presti said Durant's minute management is "something that we look at."
Westbrook was put on a minutes restriction at the end of the regular season when he returned from knee surgery and by the time the playoffs came around, Westbrook was healthy and rested. It looked like Durant was tired during the playoffs. He struggled in the first round against Memphis and didn't have a "Big" game against the Spurs, outside of Game 4, one the Thunder won.
The Thunder have picks No. 21 and No. 29 in the first round of the upcoming draft. Presti said he, "wasn't ruling anything out," and that includes trading both picks.
"We have to figure out where the value is," Presti said.
Follow Andrew Gilman on Twitter: @andrewgilmanOK