NBA power rankings: Week 15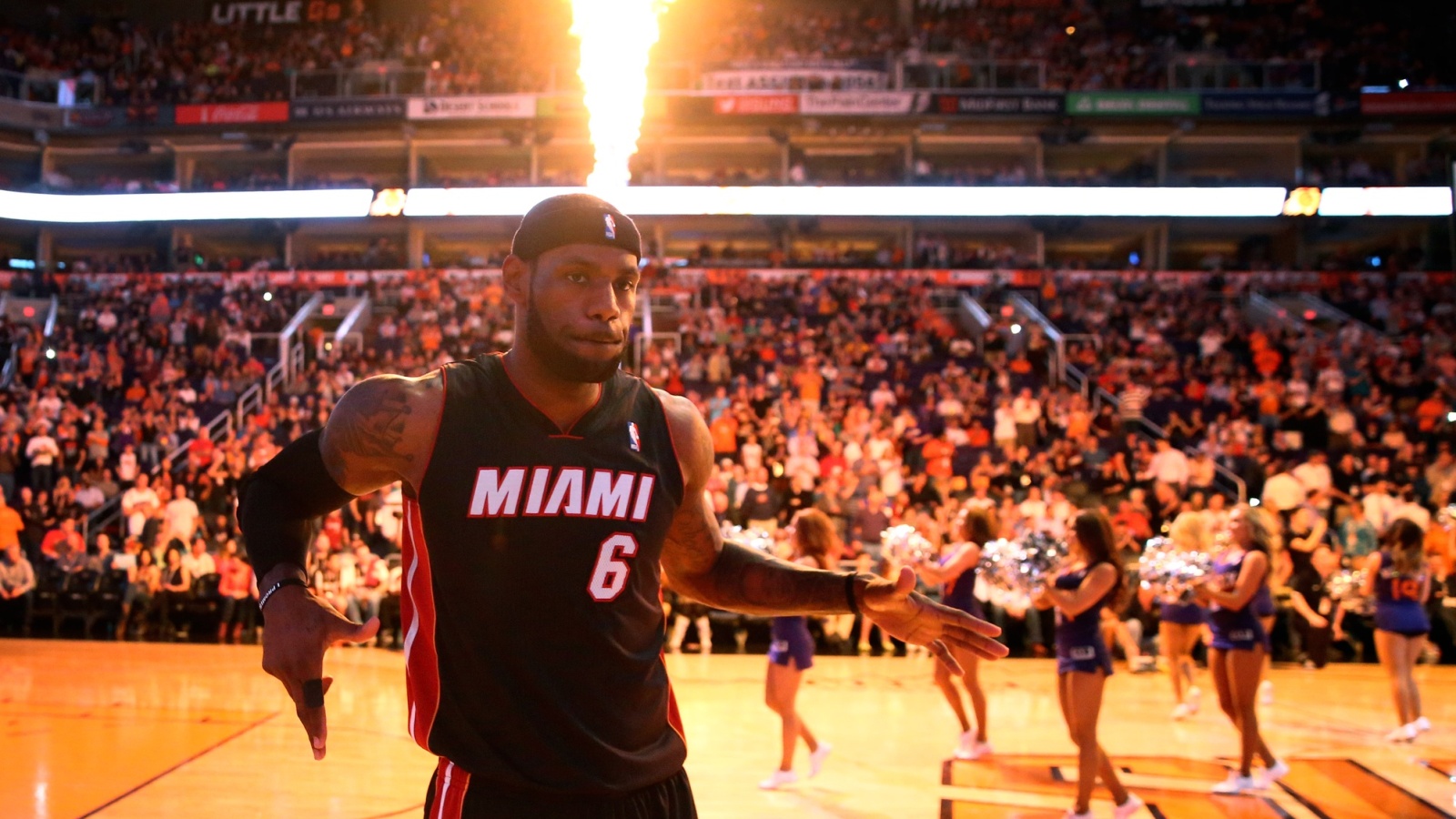 Want to know why Oklahoma City should be considered the clear favorites to win the Western Conference? They have the conference's best record — by four games ahead of the San Antonio Spurs — and the league's MVP in Kevin Durant. And, annnnnd, they still are playing without superstar Russell Westbrook. With Westbrook, OKC was 21-4. The Thunder are dangerous and this might be their year.
But moving through the West doesn't guarantee anything other than a meeting against the Pacers or Heat. Indiana — which oh, by the way, is also a small-market team — is No. 2 in the rankings, but may as well be No. 1b. How incredible does a Thunder-Pacers NBA Finals sound?
Note: NBA rankings are updated each week before Wednesday's games.
Follow the NBA season through the lens of Jimmy Spencer on Twitter at @JimmySpencerNBA.
1. Thunder 42-12
In the past, Kevin Durant has been the unlucky guy at the blackjack table, the one sitting pretty with a 20 only to see dealer King James get blackjack after blackjack. With roughly 30 games left though, It appears this season may finally be Durant's turn to win MVP — unless, of course, LeBron hits on 19 and draws a 2.
2. Pacers 40-11
Indiana will enter the All-Star break with the league's best record/win percentage and top defense. The Pacers also have a pretty nice 3.5-game lead ahead of the Heat in the chase for the East's top spot. There's no better place to be, but Indy must keep rolling and maintain health to keep home court, or else this first two-thirds of the season will mean nothing.
3. Rockets 35-17
Houston is the hottest team in the league, and the return of Omer Asik is only further good news — whether he's traded or not. If Asik can showcase health and talent, maybe Rockets GM Daryl Morey can find a deal. More likely though is that Houston and Asik find harmony in his role as a defensive backup for Howard. Added front-court depth in the postseason is invaluable.
4. Clippers 36-18 +1
The skyscraper half of Lob City stood strong even without the league's greatest point guard Chris Paul. The Clippers went 12-6 without Paul, but more importantly Blake Griffin established himself as a No. 1 type option. In those 18 games without Paul from Jan. 4 to Feb. 7, Griffin averaged 27.5 points on 55.4 percent shooting with 8.2 rebounds. The Paul injury did little damage and might have made LA even stronger.
5. Heat 36-14 -1
It's lame that LeBron James doesn't take part in the dunk contest. He's the league's premier player and arguably the game's greatest dunker. Whether he's cowering to a fear that he'd disappoint or he's truly saving his legs for games that count, it's the fans who miss out on seeing a fantastic dunk contest that would be the most anticipated since Michael Jordan went up against Dominique Wilkins. His recent dunk show after a Heat practice proves he's willing to have fun, but for some reason he won't do it live.
6. Spurs 37-15 +1
The formulaic Spurs never alter results because of missing superstars. They just plug in a similar body and the equation works itself out. San Antonio is still dealing with plenty of injuries, and an expansive tour of the United States, yet they continue to succeed. That's what happens when you can insert Patty Mills for 32 points on a given night.
7. Trail Blazers 36-16 -1
Expectations were lukewarm for Portland entering the season. The Blazers were thought of as a 7 or 8 seed at best. But Portland jumped out hot from the gate and expectations raised to a point so high that a mini-slide of four losses in six games to finish January was unsettling. But let's not forget who these guys are: Offensively gifted, but still incomplete defensively. If they claim a bottom-four playoff seed, that's still a great leap forward.
8. Mavericks 31-22 +3
No team had a better offensive rating, points scored per 100 possessions, in the last 15 games than the Mavericks (115.1). Then Dallas faced the Bobcats, a top defensive squad, and fell flat. The Mavericks could be the favorite to fall out of the postseason picture after the All-Star break if the offense can't remain scorching.
9. Warriors 31-21 +3
The Warriors are an emotional team, and confidence and momentum fuels their stretches of success. But emotional teams can go the other direction too, and Golden State had been losing lots of steam before picking up a blowout win against Philly. The Warriors must regain their early-season defense (and swag) to avoid falling out of the West playoff picture.
10. Suns 30-21 -1
If basketball were a Winter Olympic sport, Goran Dragic (with brother Zoran Dragic) could probably lead Slovenia to the gold-medal game against America. The only reason Team USA would win, however, is because Jeff Hornacek would be their coach.
11. Grizzlies 28-23 -3
It's looking like a nine-team race in the West, with four teams that will battle for the final three playoff spots. The Grizzlies, currently the odd team out, can't afford any more cold stretches if they hope to surpass the Mavericks, Suns or Warriors.
12. Raptors 27-24 -2
The Raptors are clearly the third-best team in the Eastern Conference. So it's hard to imagine they'd be sellers at the Feb. 20 trade deadline. That likely means Kyle Lowry will remain with the Raptors despite his expiring deal. Lowry is playing the best basketball of his career, and Toronto can always re-sign him to a new contract this offseason. If he is to be dealt before the deadline though, the asking price should be astronomical.
13. Bulls 26-25 +6
Chicago's offense is drooping more than Bob Costas' eye. The Bulls' true shooting percentage, an advanced statistic that incorporates two-point, 3e-point and free-throw efficiency, is 50.2 percent in its last six games. That's fourth-worst in the league for that stretch. As a comparison, the No. 1 team in the last six games is Houston, with a true shooting percentage of 61.1 percent.
14. Nets 23-26 +3
It's Fashion Week in New York, so it's a good thing the Nets are starting to look presentable again. After a recent three-game slide, the Nets have won three of four and are just three games below the .500 mark. Brooklyn hasn't had a winning record all season. With three upcoming games against losing teams — the Bobcats, Bulls and Jazz — the Nets could end up back at even.
15. Bobcats 23-29 +1
When you talk Coach of the Year candidates, Steve Clifford deserves a look. The long-time assistant is known for establishing tough defenses, and now he's done that with the Bobcats. The Bobcats are holding opponents to just 44 percent shooting (sixth best in the league) compared to 47.1 percent last season (fourth worst in the league).
16. Wizards 25-26 -3
Even a career-high 37 points from Bradley Beal couldn't save the Wizards from once again dropping below .500 after Tuesday's loss to the Grizzlies. Washington claimed a winning record on Feb. 4 for the first time in more than four years, but has now lost three of four games. The Wizards finish up their pre-All-Star schedule in Houston against the team with the league's longest winning streak.
17. Hawks 25-25 -3
In the same week the game Flappy Birds soared to success as a mobile app, and was later pulled from the virtual shelves, the flailing Hawks also disappeared. Atlanta has lost four straight and has dropped to fifth place in the East.
18. Nuggets 24-26
The Nuggets are a disappointment and the playoffs don't seem a likely finish. So, what's a team that's essentially in salary hell into 2016 to do? Well, shedding some of those deals (along with talent) at the deadline could be the favorable option.
19. Timberwolves 24-28 -4
The wheels haven't fallen off in Minneapolis, but only because they're frozen. The Wolves have lost four straight and six of their last seven games. Injuries are partially to blame, but at some point Flip Saunders may be forced to part ways with Rick Adelman, as fantastic of a coach as he is.
20. Pelicans 22-29 +1
Anthony Davis is an All-Star. But know who's not? Tyreke Evans. He's been a disappointment, averaging a career-low 12.4 points, shooting 41 percent from the field and a more miserable 14.9 percent from 3-point range. But just when things looked their worst and his minutes were dwindling, Evans flashed that huge potential. In the Pelicans' loss to the Raptors, Evans came off the bench to score 23 points (10 of 14) with 10 assists and five rebounds. If the Pelicans can showcase him right, they may look to move Evans before the deadline.
21. Pistons 22-29 -1
It may not seem fair, but it was the obvious move. The Pistons (whether it was GM Joe Dumars or ownership) fired Maurice Cheeks just 50 games into the season. The Pistons were a disappointing 21-29 at the time of the firing, though they have been trending upward. Still, Detroit's issues seem just as much to do with personnel than coaching. Detroit is stuck with mismatched piece,s and they need a coach who can make those pieces fit. Lionel Hollins would be an ideal hire.
22. Knicks 20-31 -2
Here's at least one idea for how Carmelo Anthony should handle his free agency: Do it like "The Bachelor" and hand out basketballs to each prospective GM, coach or player. Dates would include practices, contract talks, planning for the future and the always-romantic film sessions.
23. Celtics 19-34 +2
Jared Sullinger is at least one signal that the Celtics' rebuild will work. It's easier for a young player to develop when he's given increased opportunity because he's allowed to be a focal point rather than playing behind stars. Sullinger has received plenty of opportunity, and his production is steadily increasing. The second-year player just became the second Celtic to win Player of the Week by averaging 20.3 points, 12.7 rebounds and 1.67 blocks in three games.
24. Jazz 18-33
The Jazz beat both the Heat and Lakers this week. Though only one of those wins still means anything (read: not the Lakers), the Jazz have rebounded from four consecutive losses and now move ahead of LA in the standings.
25. Cavaliers 19-33 +2
Chris Grant was named general manager of the Cavaliers in June 2010, less than a month before LeBron James decided to leave for South Beach. It's a surprise the guy lasted as long as he did. Grant never made any game-changing moves beside drafting Kyrie Irving, and his departure after a tumultuous first half is fair. Acting GM David Griffin could be a hero if he's able to tinker with the roster before the trade deadline and push into the weak East playoffs picture.
26. Magic 16-37 +3
Florida's latest reality show "When tanking goes wrong" had a couple of nice episodes this past weekend. Orlando went a perfect 3-0 last week, including wins against the Thunder and Pacers. Orlando is young, hungry and obviously not folding.
27. Kings 17-35 -4
Here's a rare gem:The Sacramento Kings have a top-10 defensive rating in their last six games, allowing 99.6 points per 100 possessions. That's fantastic news for a team that's been in the bottom three defensively most of the year. It means head coach Mike Malone might just be starting to get his Kings to play defense. And for anyone who's watched Kings basketball over the past several seasons, that's an incredible accomplishment.
28. Lakers 18-34
There are only two reasons it makes sense for Kobe Bryant to return and play for the lottery-bound Lakers this year: 1. He's Kobe, and there is no greater competitor in the league. He wants to play every game he has left in him. 2. More importantly, he needs to put on a "I can still do this" type of show for soon-to-be free agents if he hopes to lure talent around him.
29. 76ers 15-38 -3
Well, this is getting embarrassing. The Sixers have lost seven consecutive games, but a pair of demoralizing losses on a road back-to-back was especially car-crash like. The 76ers lost by 45 points on Sunday night to the Clippers and by 43 points the following night to the Warriors. If it weren't for the Bucks, the 76ers will fall right into last place in these rankings for that alone.
30. Bucks 9-42
Is the ground too frozen in Milwaukee to bury this season? Do we have to wait until spring to put the Bucks to rest? The Bucks have lost 15 of 17 in 2014 and, oh, 41 of 50 for the year. They're pacing for 14 wins. That means you better hurry and catch at least one of their five remaining wins before mid-April.