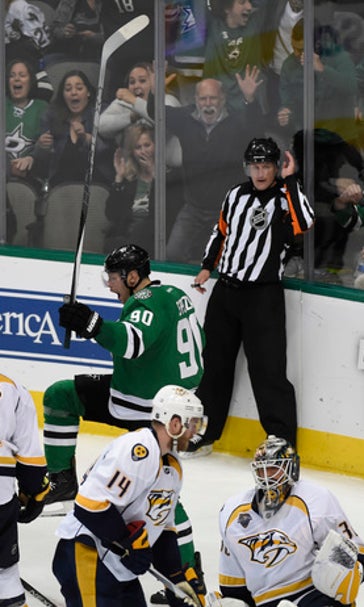 Stars beat Predators 3-2 to clinch Central title
April 10, 2016

DALLAS — Jason Spezza is feeling much better now. Same for the rest of the Dallas Stars.
Spezza scored three times, including the game-winner with 1 minute remaining, and the Stars beat the Nashville Predators 3-2 on Saturday night to clinch the Central Division title and the top seed in the Western Conference playoffs.
Spezza's second of two goals in the second period was No. 300 for his career. It was his second hat trick of the season and the seventh of his career.
The veteran center missed Thursday's 4-2 victory over Colorado because of an illness.
"Probably helped me to get the rest and not have to play that game," Spezza said. "It would have been tough on the body."
Dallas (50-23-9) opens the playoffs on Thursday against Minnesota following its first division title since the 2005-06 season. The Stars finished with the most points in the West for the first time since 2002-03.
Nashville's first-round playoff opponent will be the Pacific Division champion, either Los Angeles or Anaheim.
"A real tough ending," Predators coach Peter Laviolette said, "but if you're looking at the performance right now, which I think is important going into the playoffs, I thought guys played really hard tonight, did some good things."
On the winning play, John Klingberg dropped a pass to Spezza as he crossed the blue line, and he blasted a slap shot past Carter Hutton.
"Just a great play by (Klingberg)," Spezza said. "I picked up some speed through the neutral zone. I wasn't sure that he saw me. He drew everybody over. I just tried to rip it as hard as I could, and a good result."
As fans sailed hats to the ice, Spezza sat on the bench awaiting the outcome of a replay review to determine whether his goal counted.
"I would have been mad," he said. "I thought it was legit. I didn't even know they could review, but I guess if it's 1:01 they don't review it and if it's a minute I think they review. I'm happy it counted."
Coming into the day, Dallas was tied with St. Louis for the Central lead. The Blues lost 5-1 to NHL-leading Washington.
Antti Niemi made 28 saves for his 25th win.
"He made a couple huge saves in the first period," Dallas coach Lindy Ruff said, "and then he made a breakaway save for us that was real big.
"Both our goaltenders have been a big part of where we're at. I do feel good about it."
Kari Lehtonen also had 25 wins for the Stars.
Ryan Ellis and Calle Jarnkrok scored to give Nashville a 2-0 lead at 8:23 of the second period. Spezza tied it at 2 with goals at 10:46 and 13:05.
Hutton had 21 saves.
For the second time in 12 days, Ellis scored the first goal in Dallas. He sent a rising slap shot from the right faceoff circle over Niemi just 19 seconds into the game. Ellis also scored at 6:12 of the first period on March 29, when the Stars rallied to win 5-2.
Ellis' goal was his 10th, a career high for the defenseman.
Nashville took a 2-0 lead on a power-play goal by Jarnkrok at 8:23.
NOTES: The Stars also welcomed back D Jason Demers, who missed 13 games because of a shoulder injury. ... With nothing to gain in the playoff race, Laviolette rested captain Shea Weber, alternate captain Mike Fisher, goalie Pekka Rinne, D Roman Josi and C Mike Ribeiro. Ellis wore an A on his sweater for the game. ... Jamie Benn assisted on Dallas' second goal. He has a six-game point streak against the Predators with 11 points (six goals, five assists). ... Nashville's James Neal assisted on Jarnkrok's goal to finish the season with a six-game assist streak. ... Dallas' 28 home wins led the Western Conference.
---
---