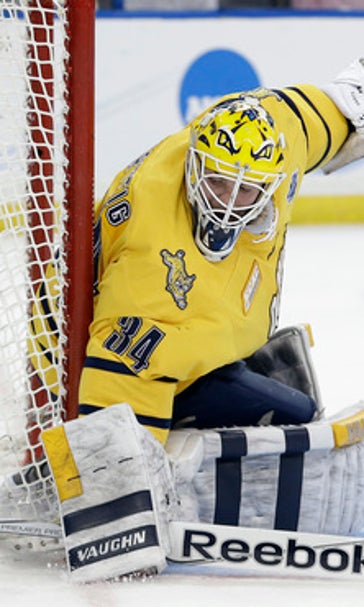 Quinnipiac a step away from first NCAA hockey championship
BY foxsports • April 8, 2016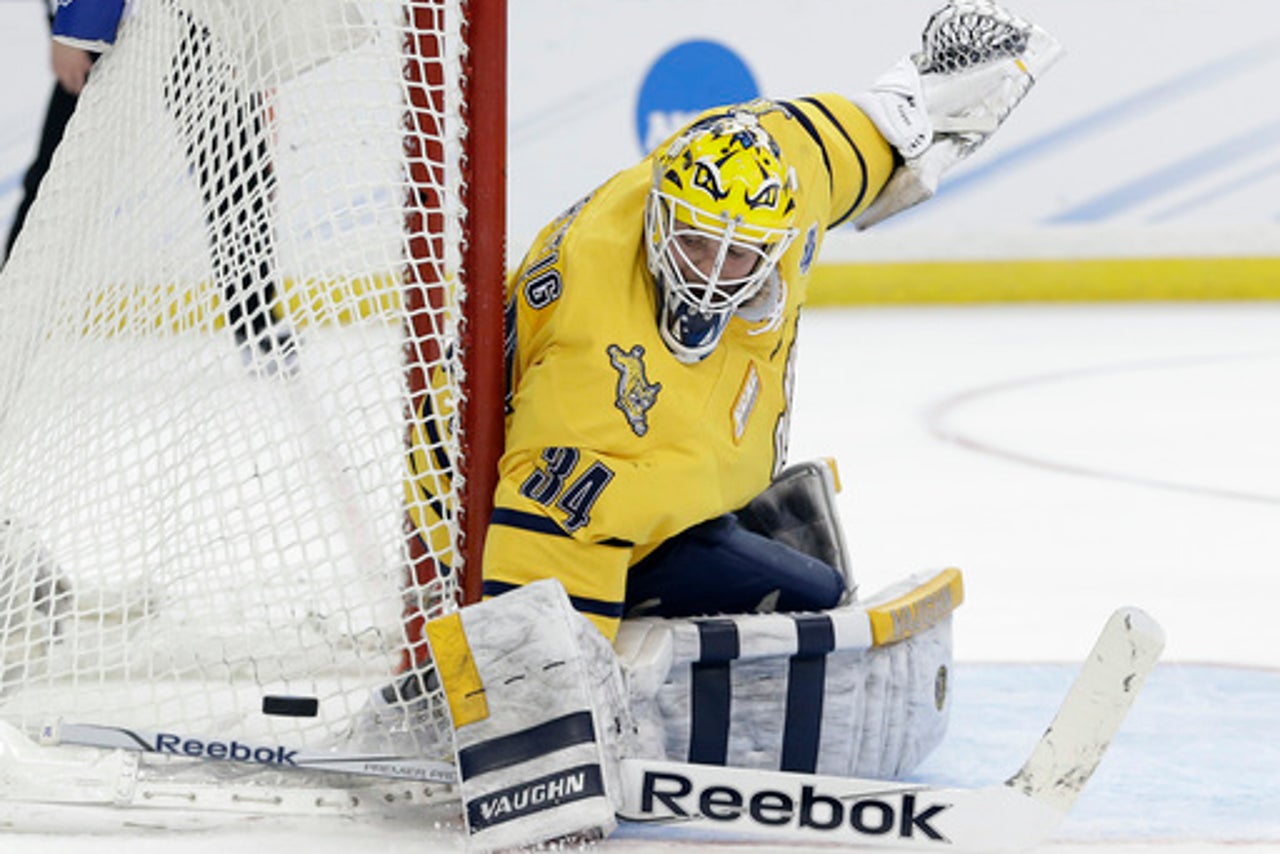 TAMPA, Fla. (AP) When Rand Pecknold arrived at tiny Quinnipiac 22 years ago, he hardly envisioned the Bobcats becoming a staple in the NCAA tournament and competing for national hockey championships.
''That wasn't even close to my thought process in year one,'' the coach recalled, looking ahead to the Frozen Four final against tradition-rich North Dakota on Saturday night.
''Again, it was survival,'' Pecknold added. ''It was getting through. ... I needed the job.''
And what a job he's done, transforming a young aspiring program with modest expectations into a consistent winner that's more than holding its own against college hockey's heavyweights.
The Bobcats (32-3-7) are in the NCAA title game for the second time in four seasons after beating five-time champion Boston College in the national semifinals.
It won't get any easier against North Dakota (33-6-4), whose seven NCAA crowns are tied for second-most behind Michigan's nine. The Fighting Hawks beat the other seven-time champ, Denver, in the semifinals.
''My plan was, OK, this may be the worst Division III team in the country. I'll build it up in two or three years and I'll move on to something better where I can actually make money and survive,'' Pecknold said. ''And then as we got going and years two, three, four got better. All of a sudden we announced we're going to go Division I.''
Pecknold's initial salary was $6,700. He was a high school teacher at the time and commuted more than two hours roundtrip for practices that often began at midnight in the early days.
''Coach has done an unbelievable job for this program,'' left wing Soren Jonzzon said. ''Obviously it came from literally nothing.''
Quinnipiac is in the NCAA tournament for the fifth time. In its only other Frozen Four appearance, the Connecticut school lost to Yale in the 2013 national championship game.
The Bobcats are No. 1 overall seed this year, yet arrived in Tampa largely perceived as underdogs in a field featuring three semifinalists with a combined 61 Frozen Four appearances and 19 national titles.
''Going to the Frozen Four our freshman year was an unbelievable step. We were happy to be there,'' Jonzzon said. ''I think the program has gotten to the point now where we don't think: `Oh, we got to the Frozen Four. It's great we got here.' We're here to win the national championship.''
Four of the past five winners of the NCAA tournament, including Providence, Union and Yale the last three years, have been first-time champions.
North Dakota is in the title game for the 12th time and hoping to make Brad Berry the only first-year head coach to win the NCAA title.
Jeff Sauer won the 1983 championship in his first year at Wisconsin, but he spent 11 seasons at Colorado College before taking over the Badgers.
North Dakota has advanced to nine Frozen Four appearances since winning its most recent NCAA title in 2000. The Fighting Hawks have used losses in the semifinals the past two years as motivation this season.
''It creates a little fire within yourself. ... This is an opportunity we want to grab with both hands, and we're going to do everything we can to do that,'' North Dakota defenseman Troy Stecher said.
The Fighting Hawks are 3-0 against Quinnipiac, including a victory in the first round of last year's NCAA tournament. Saturday's title game is the program's first since 2005, when North Dakota lost to Denver.
''There could be any number of teams here playing in this final game,'' Berry said. ''I'd like to think that we've earned it.''
---
---