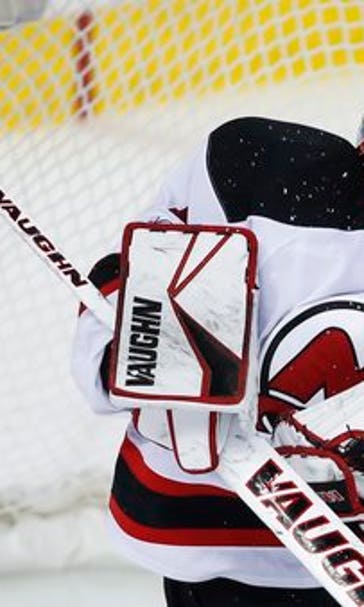 Palmieri scores, sets up another as Devils beat Flames 2-1 (Jan 13, 2017)
January 14, 2017

CALGARY, Alberta (AP) Kyle Palmieri has gotten good at getting hot. Now he'd just like to score with some consistency.
Palmieri had a goal and an assist and the New Jersey Devils hung on to beat the Calgary Flames 2-1 on Friday night.
Palmieri scored 6:22 into the game after Flames defenseman Mark Giordano got caught pinching and New Jersey broke out on a 3-on-2. Palmieri kept the puck and whipped a shot past Chad Johnson high on his blocker side.
It was the ninth goal for Palmieri, who had a career-high 30 last season to lead New Jersey. The 25-year-old has five goals in his last 12 games.
''It feels good to contribute offensively,'' Palmieri said. ''Any guy that scores goals feels like they come in bunches so you're going to go through hot streaks and cold streaks. It's something where I want to stay consistent and do whatever it takes to help my team win.''
New Jersey snapped a four-game skid after Palmieri scored and then assisted on Taylor Hall's goal with 1:29 left in the first period. Keith Kinkaid stopped 31 shots while filling in for Devils starter Cory Schneider.
''It hasn't been easy for us, putting pucks in the back of the net this year,'' Palmieri said. ''But it's something that if we keep putting up 30, 35 shots like we did tonight, we're going to get some second chances.''
Sean Monahan scored in the second period and Johnson made 34 saves for Calgary, which ended a four-game home winning streak.
''It was a pitiful start for us,'' Flames coach Glen Gulutzan said. ''We were out-battled the whole time. When you lose battle after battle and you're not ready to play, that's what happens.''
New Jersey made it 2-0 on the power play. Palmieri zipped a pass across the slot to Hall, who fired a wrist shot into the top corner from 30 feet out.
After a lethargic opening 20 minutes in which they were outplayed, outskated and outshot 14-7, the Flames came out flying in the second.
Kris Versteeg redirected a shot that slipped just wide of the net, Sam Bennett was turned away by Kinkaid on a chance from in-close, and Giordano was thwarted when he jumped into the rush and had a great chance to score.
Calgary kept up the pressure, finally getting on the scoreboard at 14:04. Kinkaid made a pad stop against Dougie Hamilton, but Monahan was right there at the top of the crease to bury the rebound.
Monahan's 11th goal ended an 11-game goalless drought and was his first even-strength goal since Dec. 4.
NOTES: Calgary's Micheal Ferland (lower body) missed his first game of the season. ... The Devils activated Jacob Josefson (illness) from the IR. He missed the last six games. Sergey Kalinin (lower body) did not play after blocking a shot Thursday night in Edmonton.
UP NEXT
Devils: Continue a four-game trip at Vancouver on Sunday night.
Flames: Play at Edmonton on Saturday night before returning for a three-game homestand.
---
---