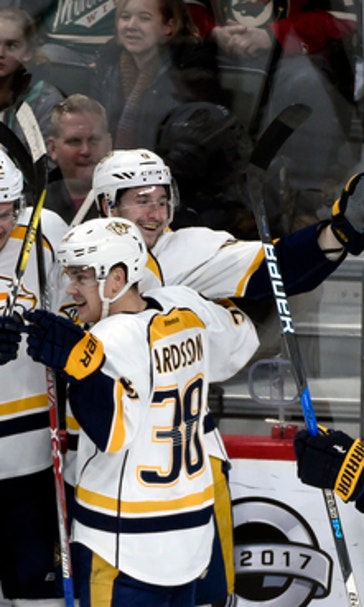 Forsberg scores 2 in 3rd period, Predators beat Wild 4-2 (Jan 22, 2017)
BY AP • January 23, 2017
ST. PAUL, Minn. (AP) With his team down by two early, Nashville coach Peter Laviolette said he ''took the brakes off'' his players in the second period. In return, the Predators rewarded their coach with his 500th career win.
Filip Forsberg scored twice, including the tiebreaking goal in the third, and Nashville rallied to beat the Minnesota Wild 4-2 Sunday night. The Predators have won six of seven and wrapped up a five-game road trip with four wins.
''You get down two-nothing like that it could possibly be a day where you pack it in and fight for another day and we didn't do that,'' Laviolette said. ''We just kept fighting.''
The Predators still have a lot of ground to make up with the Wild and Chicago far ahead in the Central Division.
''It's huge,'' Nashville's Mike Fisher said. ''We knew how important this road trip was, the position we were starting in and knowing how tough it is to travel and all those things. It's tested us in a lot of different ways but we've played real hard and we're coming into our own.''
Like last year, when the Predators entered the All-Star break with four straight wins on the road in Canada, Nashville is playing its best hockey headed into the mid-season break. After the game, Laviolette was more interested in talking about his team's resilience than his coaching wins milestone.
''(When) you're in a long time, you're going to run down some long numbers,'' he said. ''It was good. Those things I think take a backseat to the way guys played tonight.''
Forsberg took a pretty feed from Ryan Ellis and one-timed it from the left circle past Darcy Kuemper with 6:36 left to put Nashville up 3-2. Ryan Johansen added an empty netter for and James Neal also had a goal. Pekka Rinne stopped 21 shots for the Predators.
''It was a good road trip where the guys really dug in, made some noise, made up some ground,'' Forsberg said.
It was Kuemper's first-career loss in five starts against the Predators, and his first loss at home this season.
Mikael Granlund and Jason Pominville scored for the Wild. Kuemper, starting in place of regular starter Devan Dubnyk, had 28 saves as Minnesota fell into a first-place tie with the Blackhawks atop the Western Conference. The Wild have still won six of eight, but have lost two of the last four.
''When we make mistakes at crucial times, I mean, that's why we lost both games this week,'' Wild coach Bruce Boudreau said. ''It's because we make dumb mistakes in the third period and it cost us.''
Forsberg tied it at 2:20 of the third on a backhander past Kuemper's stick side.
Minnesota started fast, pulling ahead 2-0 just 7:31 into the game. Granlund scored his 11th just over two minutes in and Pominville added his seventh five minutes later.
But seven games in 10 days appeared to catch up with the Wild in the second as Nashville outshot Minnesota 10-4 in the period and controlled the puck effectively.
''I don't want to use that as an excuse,'' Boudreau said of his team's fatigue. ''I looked and only one forward played more than 20 minutes. When we have other guys in the lineup they've got to play. To me it's as simple as that.''
Neal pulled the Predators to 2-1 with his team-leading 16th goal of the season 2:25 into the period.
NOTES: Wild captain Mikko Koivu was ruled out with an illness. ... Kuemper was called for tripping in the second period, the second penalty of his five-year NHL career. His previous penalty came Feb. 26 of last season. Pominville served the penalty. ... Neal scored his second goal in three games. ... The game marked third consecutive weekend the Wild has played on both Saturday and Sunday, and the seventh of 14 back-to-back sets this season. The Wild are 4-2-1 the second game of back-to-backs this season.
UP NEXT
Predators: Begin a two-game homestand against Buffalo on Tuesday night.
Wild: At Dallas on Tuesday night.
---
---