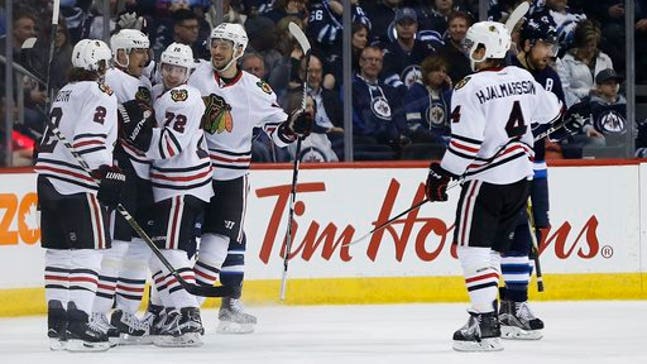 Ex-Jet Ladd scores against former team as Blackhawks snap 4-game slide
Published
Mar. 18, 2016 11:25 p.m. ET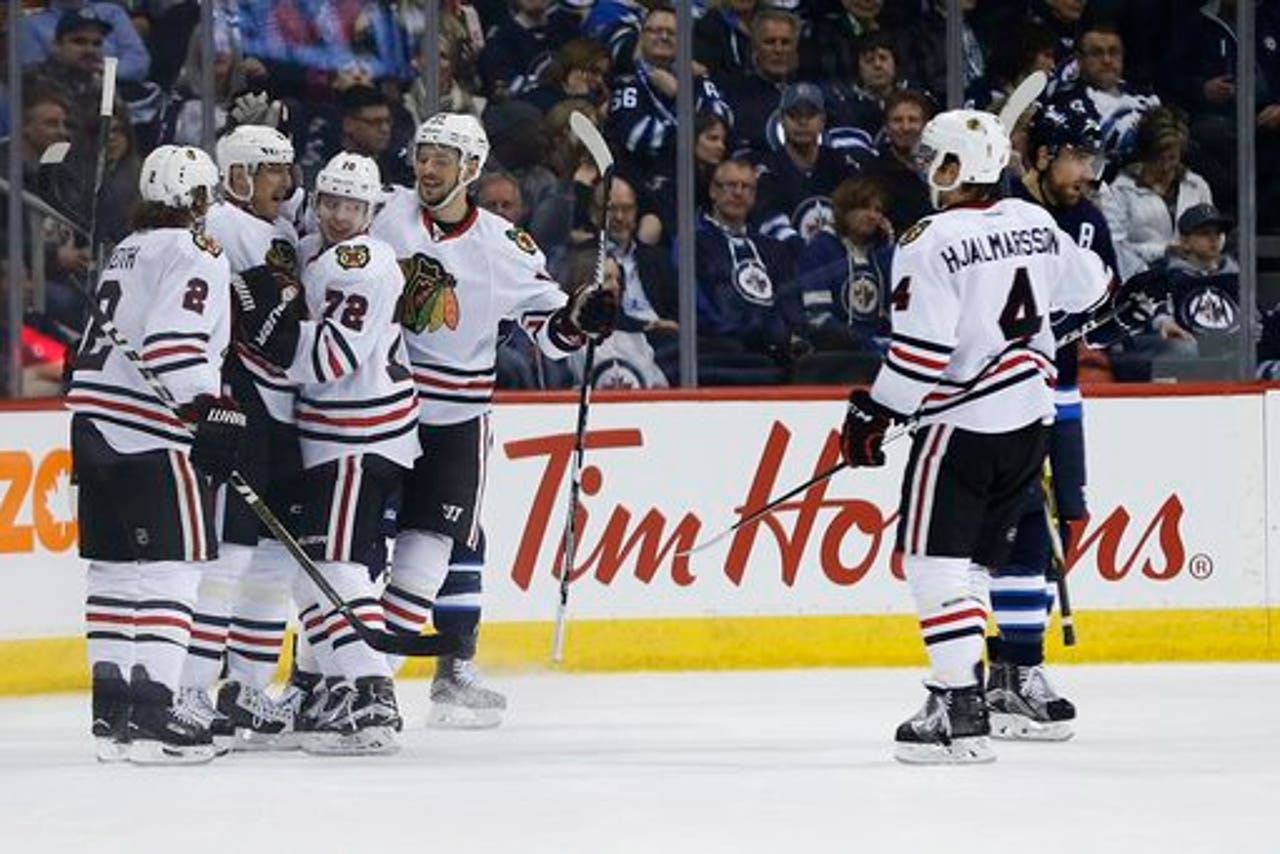 WINNIPEG, Manitoba — Andrew Ladd was honored by his former team. Then, he went out and scored against them.
Ladd had a goal, Scott Darling made 28 saves for his first shutout of the season, and the Chicago Blackhawks snapped a four-game losing streak with a 4-0 victory over the Winnipeg Jets on Friday night.
"Looking at a four-game slide there, maybe it's better it happens now rather than later in the season and playoffs and then you're done," Patrick Kane said. "We can learn from this. And, you know, if we lose one or two down the road here we can look back on this situation as a team and as a group and realize how we got ourselves out of it."
It was Ladd's first appearance in Winnipeg since the former Jets captain was traded to Chicago on Feb. 25 in a multiplayer deal that included current Jets forward Marko Dano. Ladd received a standing ovation from MTS Centre crowd when a video tribute was played in the first period. He raised his stick to the fans in appreciation.
"It was awesome," Ladd said. "I always appreciated the fans and the people of Winnipeg when I was here. I appreciated the ovations and can't say enough about the city."
Jets forward Blake Wheeler said the fans' response to Ladd was "classy."
Added Winnipeg forward Adam Lowry: "It's always nice to see the fans react like that. He was a great teammate and a great friend and he meant a lot to this organization and to this city."
Kane and Marian Hossa opened the scoring 26 seconds apart late in the second period, and Tomas Fleischmann also had a goal for the Blackhawks. Darling earned the second shutout of his two-year career with the Blackhawks in his 20th game of the season.
Ondrej Pavelec turned aside 32 shots for Winnipeg, which started a four-game homestand.
"It was a tight game there until the end of the second," said Darling, whose only other shutout was last year in his rookie season with Chicago. "Pavelec made some big saves to keep them in it and the boys really shut it down in the third period. It was huge by them to help me out."
Chicago had a 13-11 edge in shots on goal after the scoreless first period, which featured Pavelec making a highlight-reel, full-arm snapping glove save on Dale Weise late in the period.
Darling had his own impressive moment in the second when he sprawled out on his stomach to stop Drew Stafford's shot.
Kane scored his 39th goal of the season, and recorded his 91st point, at 16:56 when he raced in alone on Pavelec and sent a backhander over the netminder's shoulder on the short side.
A shot by Artem Anisimov went off the stick of Winnipeg defenseman Dustin Byfuglien onto Hossa's stick, and he fired the puck by Pavelec at 17:22 for his 12th goal of the season and 2-0 lead.
Ladd and Fleischmann scored 1:45 apart in the third period.
Ladd netted his 20th goal at 3:06 after Jonathan Toews sent him a pass from the side of the net out in front. A turnover by Winnipeg led to Fleischmann's 12th goal at 4:51 for the 4-0 lead.
"I don't think we played that bad," Pavelec said. "We had some chances, we couldn't score. Their goalie made some good saves. (There were) chances on both sides. But 4-0 is 4-0, right? So, you can't really be happy about it."
NOTES: The Blackhawks are 37-6-4 when scoring first. ... The Jets host Anaheim on Saturday, while Chicago is home to Minnesota the same day.
---
---