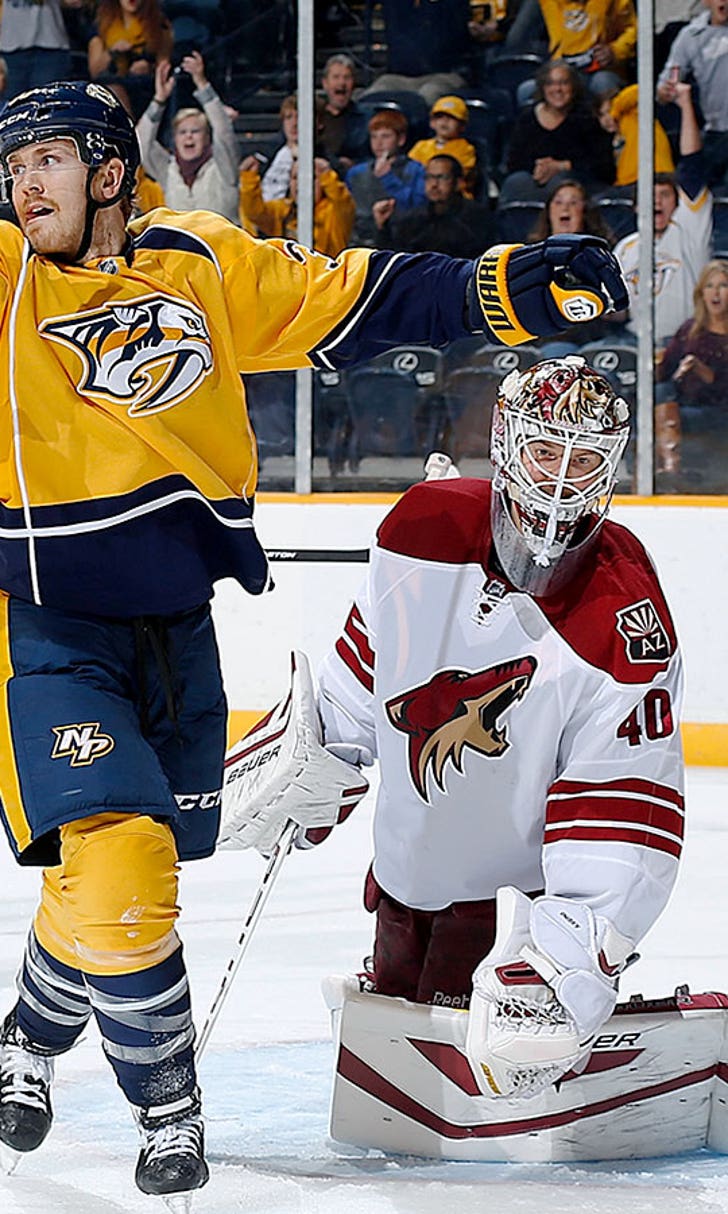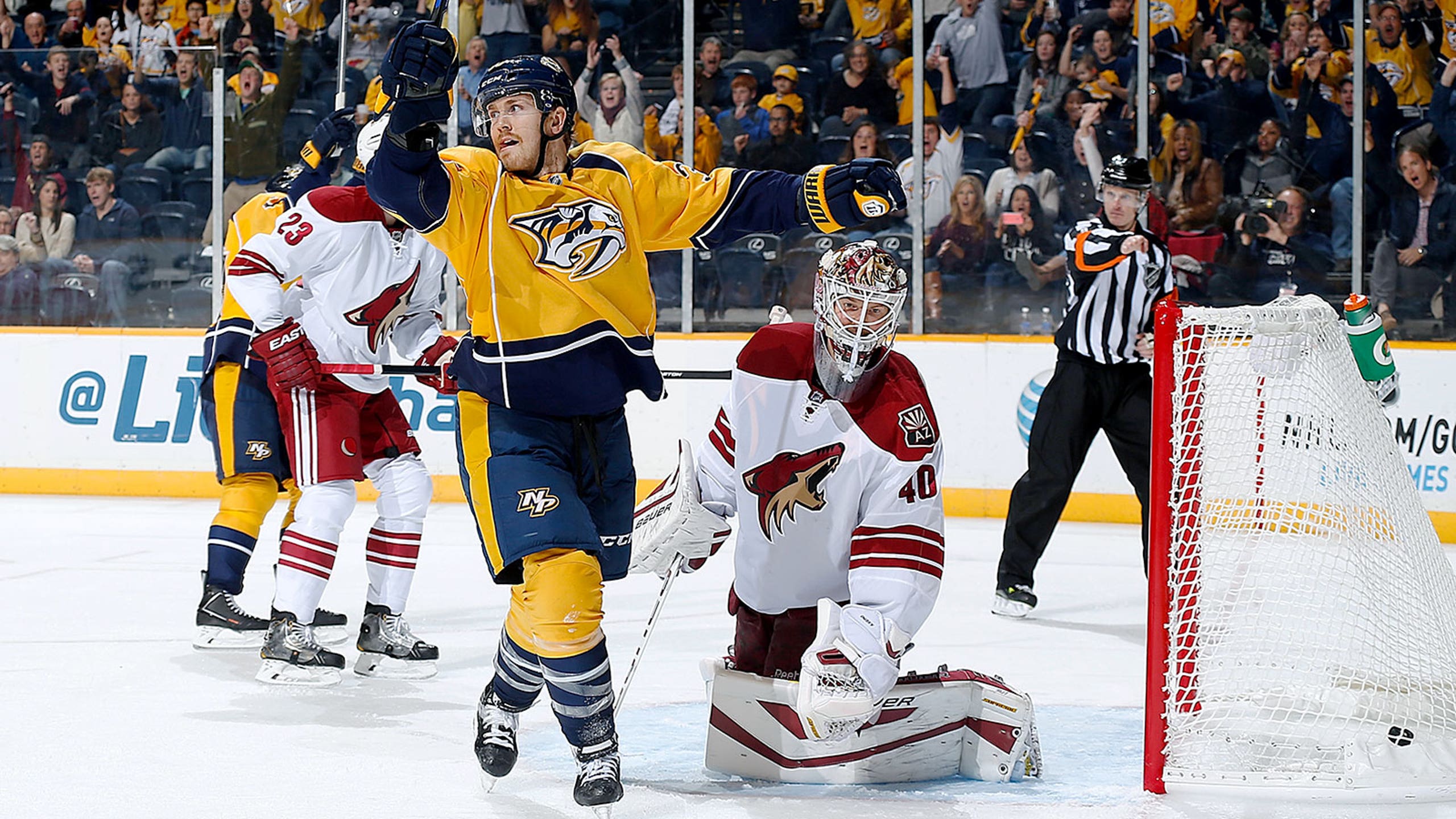 Ellis' shootout goal gives Predators extra point over Coyotes
BY foxsports • October 21, 2014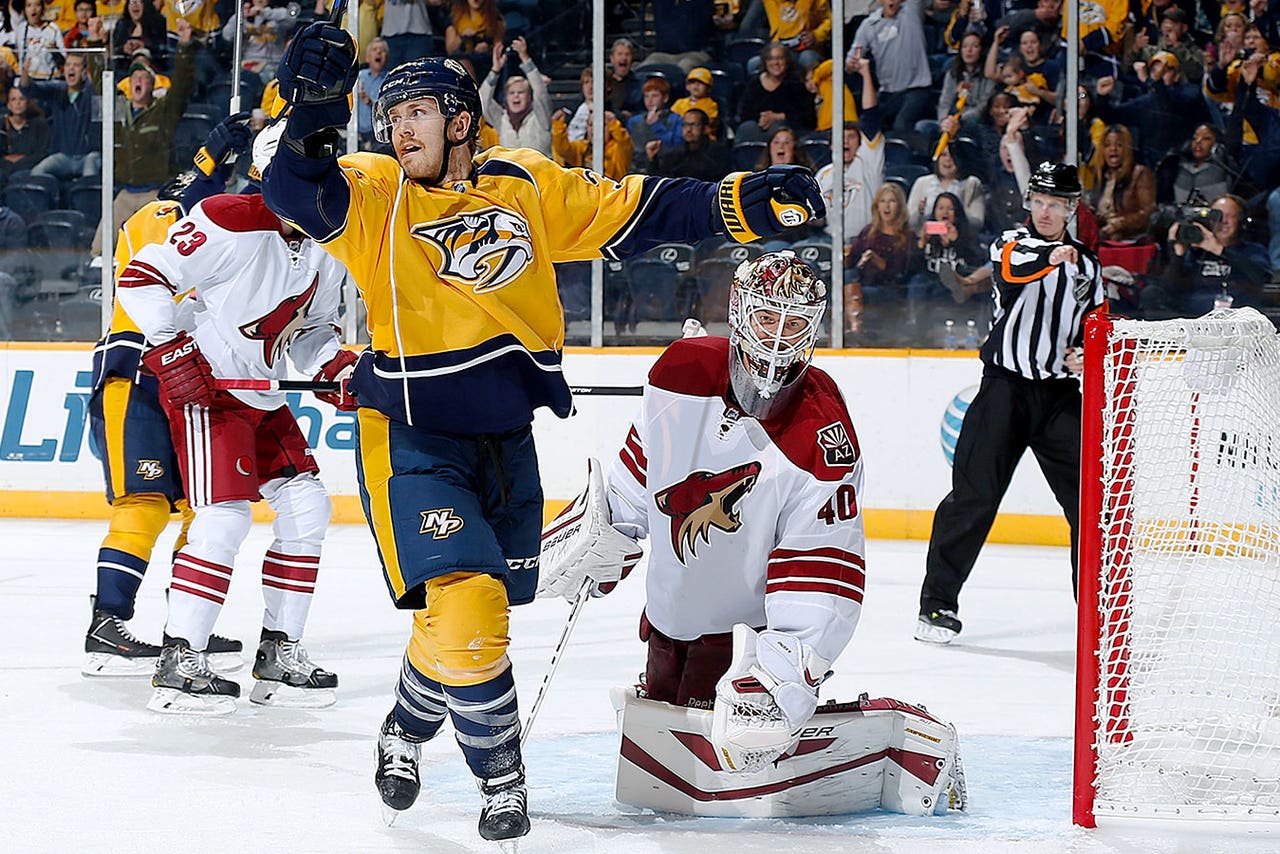 The Predators earned a rare shootout win.
Ryan Ellis scored the decisive goal in the shootout to give Nashville a 4-3 victory over the Arizona Coyotes on Tuesday night.
Mike Ribeiro, Ellis, and James Neal scored in regulation for Nashville, winners of two of three.
In the tiebreaker, Ellis drove left before stretching to the right to slip the puck between Arizona goaltender Devan Dubnyk and the right post.
"I got a couple of moves in my bag, and that was just one of them," Ellis said. "If it works, it works, if it doesn't, it doesn't. Tonight we were fortunate that it did."
Nashville won just two of 11 shootouts last season and lost its only previous one of this season.
Ellis also had two assists in the victory.
Rob Klinkhammer, Keith Yandle, and Martin Erat scored for Arizona. The Coyotes have lost two straight.
Following a 6-1 home loss Saturday to St. Louis, Arizona coach Dave Tippett was pleased with Tuesday's effort.
"We were looking for a response from our team, and we certainly got it," Tippett said. "I thought Dubnyk played well in goal for us but our whole team competed in the areas that we wanted to a lot better."
Klinkhammer scored the game's first goal at 3:21 of the opening period.
David Moss carried the puck into the Nashville zone on the right side before sending a pass to an unchecked Klinkhammer who was skating through the slot and had an easy tap-in for his second of the season.
Ribeiro tied the game at 12:05 of the first at the tail end of a rare 4-on-1 rush off of an assist from Ellis. Ribeiro was trying to make a pass, but the puck slipped by Dubnyk.
"I was actually trying to pass and I kind of fanned on it," Ribeiro said. "At the beginning, it was a 2-on-1 for me and I was going to try and pass to James and when I got inside the blue line, I saw two righties coming, so it was a 4-on-1. I was lucky on the goal, but we will take any goal."
In the offseason, the Coyotes bought out the remaining three years of the four-year, $22 million deal he signed prior to the start of last season. He then signed a one-year contract with the Predators for just over $1 million.
Ellis gave Nashville its first lead of the game at 5:12 of the middle frame.
Just three seconds after a penalty to Arizona's Brandon McMillan expired, Ellis beat Dubnyk to the short side with a wrist shot from the top of the right circle.
Dubnyk made 23 saves in regulation in overtime. He is 1-0-1 on the young season.
"I want to give them that feeling that I am going to be solid for them back there," he said. "The more games I am able to play, then obviously they will get a feel for me. It makes it easier for me when the guys play like that."
Dubnyk had a brief stint in Nashville last season after the Predators acquired him in a trade with the Edmonton Oilers. With Nashville, Dubnyk had a record of 0-1-1, allowing nine goals against in the two games played. Nashville later traded him to the Montreal Canadiens.
Yandle tied the game at 2 at 11:18 of the second.
Just three seconds after Nashville's Calle Jarnkrok was penalized for unsportsmanlike conduct, Yandle collected Antoine Vermette's faceoff win and beat Nashville goaltender Pekka Rinne with a wrist shot high to the glove side.
Erat and Neal traded goals at 7:42 and 8:03 of the third respectively.
Erat, a longtime Predator, sits second in Nashville franchise history in games played and goals scored.
"The game tonight had peaks and valleys in it for us, but yet they continued to push." Nashville coach Peter Laviolette said. "I thought the goal to get us back to 3-3 really was a big important goal because at that point the steam could leave the building and leave everybody."
Notes: Klinkhammer's goal was the first time Arizona scored first in a game this season. ... Yandle played his 500th career NHL game. ... Arizona played its first road game of the season. ... Ribeiro has points in four consecutive games.
---
---