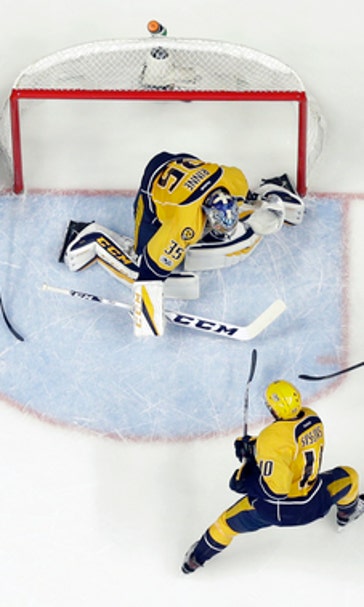 Crosby scores, Malkin shoots yet Penguins lose 4-1 to Preds
June 6, 2017

NASHVILLE, Tenn. (AP) The Pittsburgh Penguins needed more from their stars. They got more, just not nearly enough against Pekka Rinne and the Nashville Predators.
Sidney Crosby scored his first goal in this Stanley Cup Final, but the Predators beat Pittsburgh 4-1 on Monday night to even the best-of-seven series at 2-2.
Both Crosby and Evgeni Malkin were held without a shot in Game 3 - the first time that's happened to the duo in the same playoff game and for just just the fifth time in Crosby's postseason career. He got the Penguins on the scoreboard late in the first, converting on a breakaway to even the score at 1 after banking the puck off of the right post and by Rinne.
The goal was Crosby's first goal in the Final since June 4, 2009, a span of 12 goalless games for the Pittsburgh captain. It was one of four shots on goal for Crosby in the game.
Rinne denied chance after chance after Crosby's goal, many of them saves that the 6-foot-5 Finn struggled to make in Games 1 and 2 in Pittsburgh.
''You've got trust what gets you here,'' Crosby said. ''You've got to trust all those habits, all those things that you preach all year, come through when you need them most. We've shown that's how we are going to score goals - getting pucks and people there. We did a good job of that tonight. On the other side of things, we've got to make sure that we limit their chances, don't give up breakaways or chances where they can make us pay the other way.''
The seven-game series is now a best of three. Game 5 is Thursday night in Pittsburgh.
''Obviously, it's hard to win when you score one goal, but having said that, I thought tonight of all the games we played, we generated the most chances and the highest quality,'' Pittsburgh coach Mike Sullivan said. ''It didn't go in the net for us. We had a number of grade-A opportunities, a couple of breakaways, flurries around the net, so there were a lot of things from a process standpoint that we really liked.''
Rinne's most timely save may have been his stop on Chris Kunitz's breakaway at 3:29 of the second. The score was tied at 1 at the time, and Nashville rookie Frederick Gaudreau scored Nashville's second of the game 16 seconds later on a wraparound that was not initially called a goal on the ice.
As play continued after Matt Murray appeared to make a stick save on Gaudreau, the arena horn sounded alerting on-ice officials to stop play. A quick video review confirmed that the puck did cross the line.
Murray, who entered the game 9-0 in the postseason following a Pittsburgh loss, also allowed a first period rebound goal by Calle Jarnkrok and a breakaway goal to Viktor Arvidsson in the third.
Malkin finished with two shots as the Penguins ended up being outscored 9-2 in Nashville.
Jake Guentzel, Pittsburgh's leading postseason goal scorer with 13, had three shots on Rinne.
''He's a great goaltender, so he can make those kinds of saves,'' Guentzel said. ''But I've got to do a better job finding the back of the net.''
Crosby said the next game is key.
''It's simple. We've got to go home and win a game,'' Crosby said. ''We can feed off the energy of our crowd and get a boost from that, but when you're getting into the later stages of the series this time of year, desperation level, motivation level, all of that will be there.''
---
More AP NHL: https://apnews.com/tag/NHLhockey
---
---