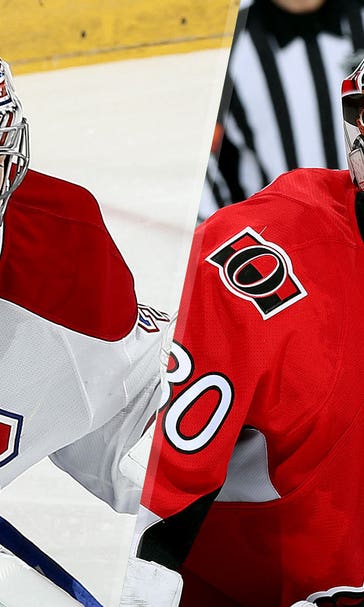 Breaking down Canadiens-Senators playoff series
April 14, 2015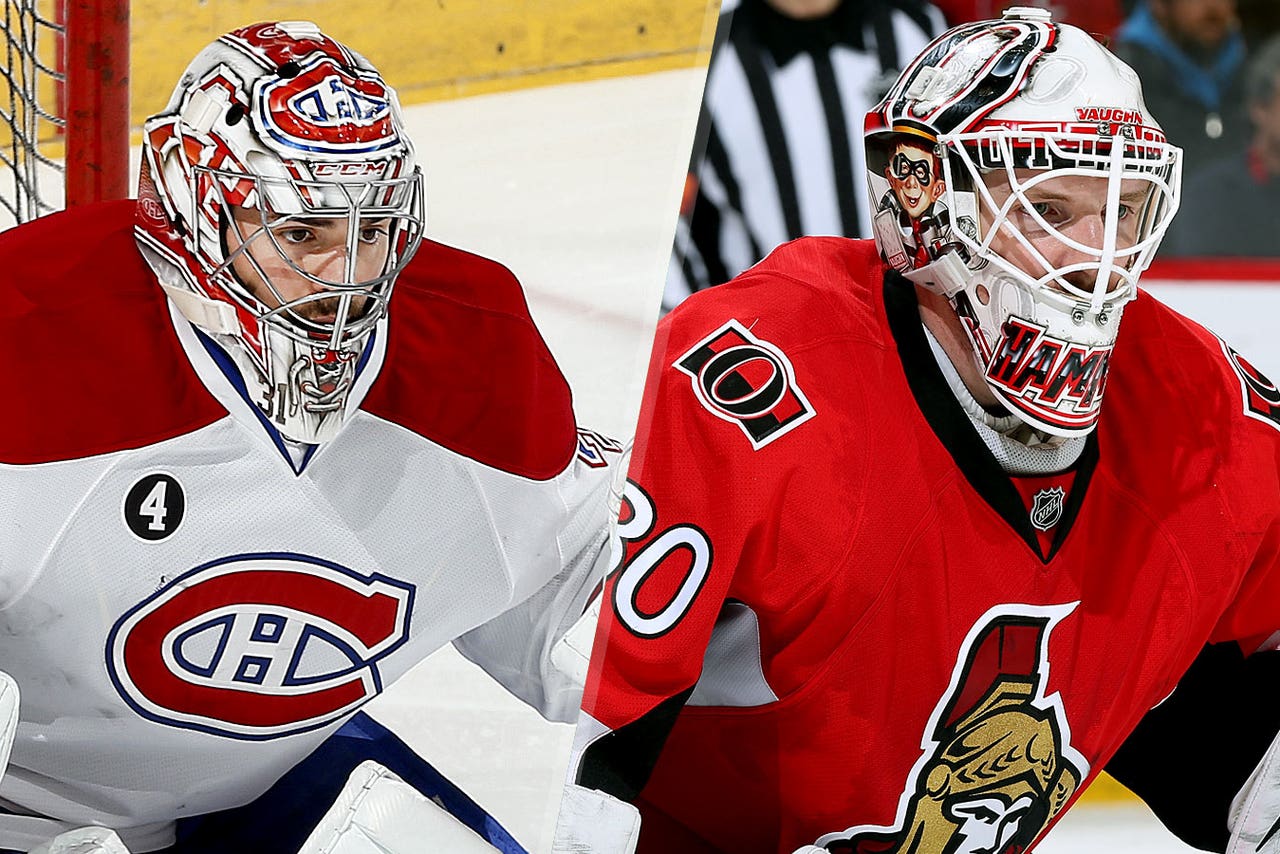 The fact that the Ottawa Senators even find themselves in the playoffs is nothing short of a miracle. Flash back to Christmas, and you'll find the Senators in 12th place. Heck, flashback to Valentine's Day, and you'll find the Senators in 11th place, 11 points out of a playoff spot. Flash back to the day we set our clocks forward -- before you check, it's March 8 -- and you'll find Ottawa five points out of a playoff spot. How in the world were the Senators able to pull off such a run? Hamburgers. It required an awful lot of hamburgers.
While the Montreal Canadiens didn't rely on hamburgers, they did have to rely on a certain someone an awful lot. That would be their goaltender, Carey Price, who put up a historic season and led a full-on charge to earn Montreal the second most points in the NHL., Now he and his crew are set to take on the hottest team in the league.
Canadiens-Senators
| | | |
| --- | --- | --- |
|   | Ottawa Senators | Montreal Canadiens |
| Total Points | 99 | 110 |
| Home Record | 23-13-5 | 26-9=6 |
| Away Record | 20-13-8 | 24-13-4 |
| Goals per Game | 2.83 (9th) | 2.61 (20th) |
| Goals Against per Game | 2.54 (13th) | 2.24 (1st) |
| Power Play | 16.8% (22nd) | 16.5% (23d) |
| Penalty Kill | 82.9% (11th) | 83.7% (T-7th) |
Forwards
Ottawa
Sure, everyone expected Kyle Turris to be the top forward for the Senators, and he was, with 24 goals and 64 points.
But did anyone truly believe Mark Stone would also have 64 points? The rookie has been on fire of late, scoring eight of his 26 goals in the last 10 games. He has been a revelation for the Senators, and he co-led all NHL rookies in points alongside Calgary Flames forward Johnny Gaudreau.
But did anyone else believe another rookie forward would lead the Senators in goals?
Yes, Mike Hoffman led the team with 27 goals, and also recorded the most goals among rookies in the NHL. Stone and Hoffman were the difference makers in the incredible playoff run that Ottawa was able to pull off. They of course, have many other offensive weapons among their forwards.
Bobby Ryan wasn't able to break the 20-goal mark this year, but he did record 36 assists, second most in a season in his career. He hasn't been quite the offensive player that he was in his time in Anaheim with the Ducks, but he still has the ability to create highlight reel plays that fool the opposition.
Mika Zibanejad provides a lot of speed, and Clarke MacArthur is a veteran role player with an ability to chip in offensively that every team would love to have. Milan Michalek hasn't played a game since March 21, and has been out with an upper body injury. He could potentially return for the series, and he provided Ottawa with a point every two games the last time the Senators were in the playoffs (2012).
Alex Chiasson didn't provide offensively as much as he had with the Dallas Stars last season, but he gives Ottawa's bottom six a bit of a bite.
Rookie Curtis Lazar doesn't have nearly as large of a role as he had with Team Canada at the World Junior Championship, but he holds a ton of potential, and no one would be surprised if he provides some offense in unexpected situations.
Montreal
The major offensive threat the Canadiens have is Max Pacioretty, and his status remains untold. Pacioretty took a nasty hit from Dmitry Kulikov on April 5, and hasn't played since. He has an upper body injury. Should he not play, Montreal will be without one of the top scorers in the league.
Tomas Plekanec will be relied on heavily to produce offense, especially if Pacioretty is out. He's the only other forward on the roster with at least 25 goals on the season and 60 points. In the past, Plekanec has performed on par with his regular season performance, but without a guy like Pacioretty in the lineup, the Senators defensive focus shifts onto him.
Up top, the Canadiens are one of the smallest teams in the entire league. David Desharnais (5-foot-7) and Brendan Gallagher (5-foot-9) will play lots of minutes, but they, along with the majority of Montreal's forwards, have a difficult time maintaining and out-muscling the opponents off the puck.
Size fueled the Devante Smith-Pelly trade, but at best, Smith-Pelly is a third line player capable of chipping in a point or two a series. Lars Eller performed tremendously in the playoffs just last year, with 13 points in 17 games. He will need to come up huge again in this series.
Alex Galchenyuk is coming off of his strongest year in his young career, with 20 goals and 26 assists in 80 games. But the 21-year-old is still a year or two away from being an extremely dynamic threat capable of changing the course of the entire series. Bottom line players Brandon Prust and Dale Weise can surprise you with a little offensive flair, which will be needed, but they are better at wreaking havoc all over the ice.
Defensemen
Ottawa
Erik Karlsson would prefer to forget the first quarter of the season, but in true Karlsson form, he stepped up a notch offensively during the later half of the year and will once again be in Norris Trophy contention. There isn't a more offensively gifted defenseman in the league than Karlsson, who was second in the league among defensemen in goals (21), second in assists (45) and first in points (66).
His defensive partner, Marc Methot, played just 45 games this season after missing the first half of the year with a back injury. He's more of a steady, stay at home defenseman, and Karlsson feels comfortable jumping up into the offense knowing Methot has his back.
Cody Ceci performed admirably in his first full season, contributing 21 points. He obviously doesn't have the offensive touch that Karlsson has, but he does play a bit more responsible defensively than Karlsson (Ceci had 2.36 goals against per 60 minutes of his even strength play, while Karlsson had 2.39). Patrick Wiercioch will more than likely be Ceci's partner, and Wiercioch may be the most underrated defenseman on the Senators.
The bottom pairing of Mark Borowiecki and Eric Gryba could potentially perform extremely well against the smaller Canadiens forwards. Borowiecki was tied for second in the league among defensemen hits with 233 alongside Penguins/Ducks defenseman Simon Despres, despite playing in 12 fewer games. And Gryba finished the year with 171 hits, good for 22nd in the league.
Montreal
If the Canadiens forwards struggle offensively, a couple of defensemen could potentially pick up the slack. P.K. Subban tied with Plekanec for the second most points on the team, and his 45 assists led Montreal. Last year's Norris Trophy winner remains one of the NHL's best defensemen. He has a cannon of a shot, which can be utilized on the power play.
Second in assists was Subban's defensive partner Andrei Markov. Markov is an intelligent defenseman with loads of experience. He and Subban will be used as Montreal's top pair, and they could quite easily see 25 minutes or more a game in this series. Deadline acquisition Jeff Petry has made himself comfortable alongside Alexei Emelin. Neither will knock your socks off offensively, but they can both be relied on against the Senators second or third line forward unit.
Tom Gilbert has been dealing with a broken jaw since late March, but in all likelihood, he will be seen in this series. However, should he not be ready, the Canadiens have depth on the blue line, with Nathan Beaulieu, Mike Weaver, Greg Pateryn and Sergei Gonchar all seeing a handful of time throughout the season.
What the Canadiens defense excels at is moving the puck around. Much like the forward unit, the Canadiens don't have too much size among their defensemen (Petry is the tallest at 6-foot-3). They have to rely on playing technically smarter than the Senators, and moving the puck forward when they get it, as they don't take away the puck too terribly often from their opponents.
Goaltending
Ottawa
That hamburger we were referring to early? That involves Andrew Hammond. Hammond, affectionately nicknamed "The Hamburglar," has been absolutely unbelievable for Ottawa. In his 23 starts, Hammond is 20-1-2, with a 1.79 goals against average, a .941 save percentage and three shutouts. Yes, a gigantically large percentage of the reason the Senators made the playoffs is because of Hammond. He has completely taken command of the goaltending position for these playoffs. And it's really not even close. In the last game of the Senators season, in a must-win scenario, Ottawa chose Hammond. He went on to make 34 saves on 35 shots for the huge win against the Philadelphia Flyers. He has professional playoff experience in the AHL with the Binghamton Senators, but won one game in four attempts and tallied an .891 save percentage. And in his time with Bowling Green University, he never put up the gaudy numbers he's putting up now. Can he continue his magic?
Montreal
Sure, Hammond is probably the NHL's hottest goaltender, but the Canadiens simply have the NHL's best goaltender in Price. Price has put up an absurd season, recording a .933 save percentage and a 1.96 goals against average in 66 games, both league leading. He has virtually guaranteed himself his first career Vezina trophy as the NHL's top goaltender. Price has even earned himself Hart consideration, rare for a goaltender. It hasn't happened since another Canadiens goaltender, Jose Theodore, accomplished the feat in the 2001-02 season. What was Theodore's save percentage and goals against average that season? .931 and 2.11.  Price will absolutely need to continue his dominance in this series, especially if Montreal's offense struggles. Price has faced 1,953 shots this season, fifth most in the NHL, and it may be taking a toll on him. In the last five games, Price has recorded just a .890 save percentage, surrendering 15 goals. Will a few days rest replenish Price, and can he handle a potentially heavy workload from the Senators?
Enhanced Stats
Ottawa
The Senators aren't particularly good at possessing the puck. Their unblocked net shot attempts at even strength 5-on-5 (usually used to measure puck possession) is just -150 (22nd in the league), meaning over the course of the season, the Senators opponents shot the puck far more often than they did. Why does this matter? Because the last three Stanley Cup champions have ranked first (Kings), third (Chicago Blackhawks) and first (Kings) in this specific stat. So, how were the Senators able to win, and what was the cause of their crazy finish to the regular season? Take a wild guess. From the time Hammond made his first start on Feb. 18 to the end of the season, the Senators team save percentage at even strength 5-on-5 was an absurd .941, second highest in the league. However, their team shooting percentage at even strength 5-on-5 was right around average at 7.8 percent. If you add those two numbers together, you get a PDO score, which is generally used to measure luck. Anything above 100 is considered lucky, and anything below 100 is considered unlucky. During Hammond's time period, Ottawa's PDO was 101.9, third highest in the NHL. While it suggests that the Senators run was a bit lucky, it also suggests that in order for Ottawa to succeed in the playoffs, Hammond has to play out of his mind.
Montreal
The Canadiens are in a similar situation as the Senators. As you would guess, the lack of size of Montreal may contribute to their lack of possession.  The Canadiens are 21st in the league in unblocked net shot attempts at even strength 5-on-5, ranked one spot higher than the Senators, at -120. You could reasonably assume that the Canadiens have a difficult time generating shots because they are continually outmuscled off the puck. And, much like Ottawa, the Canadiens have relied heavily on their goaltender. Over the course of the entire season, the team save percentage at even strength 5-on-5 for the Canadiens was .936, first in the league. Their team shooting percentage at even strength 5-on-5 was a bit more mild at 7.9 percent, tied with a number of teams for 12th in the league. Their PDO was 101.6, second highest in the league over the course of the season. Much like the Senators, the Canadiens will have to rely on Price to bail them out, or they will have a difficult time winning.
Head-to-head
| | |
| --- | --- |
| 2014-15 season | Record |
| Ottawa Senators | 3-1-0 |
| Montreal Canadiens | 1-3-0 |
Keys to winning the series
Ottawa
The obvious answer is that Hammond has to continue being outstanding. But that's too easy. The way the Senators can beat Price is by taking command of the power play. Price's even strength save percentage is nearly impenetrable at .942, more than any goaltender with at least 30 games. But when his team is on the penalty kill, Price's save percentage drops drastically to .881, good for 37th in the league among all goaltenders. The Senators need to make sure they move the puck plenty and often on the power play, causing Price to shift and squirm around his crease. That means if the Canadiens chose to shadow Karlsson, Stone, whomever it may be, they need to find whatever option is open and fire every puck they can at the net.
Montreal
The Canadiens lack of size has been mentioned a thousand times, but what about their speed? They have plenty of it. Virtually every forward on the roster under six feet has the ability to simply skate by everyone. The Senators have a couple of defensemen that are more concerned with offensive chances. If a Senators defenseman jumps up into the offensive zone, and the Canadiens managed to strip the puck away, they can create a number of odd man rushes. And if they get the lead, they can't simply sit behind and focus on not allowing a goal for the rest of the game. Price is reliable, but if he's facing upwards of 30 to 40 shots a night, he will get beaten. If Montreal gets an early goal, they must continue to pounce, especially if it appears Hammond is losing his edge.
Final Thoughts
To say this will be a goaltender battle all series is a bit of an understatement. Price has proven he is excellent, and has performed well in stressful game situations in the past. Hammond is a bit more unproven, but when he's been thrown in the net, few have been better. This series could quite easily be won with just one or two goals a game. The question is, which goaltender will be giving those up?
---
---