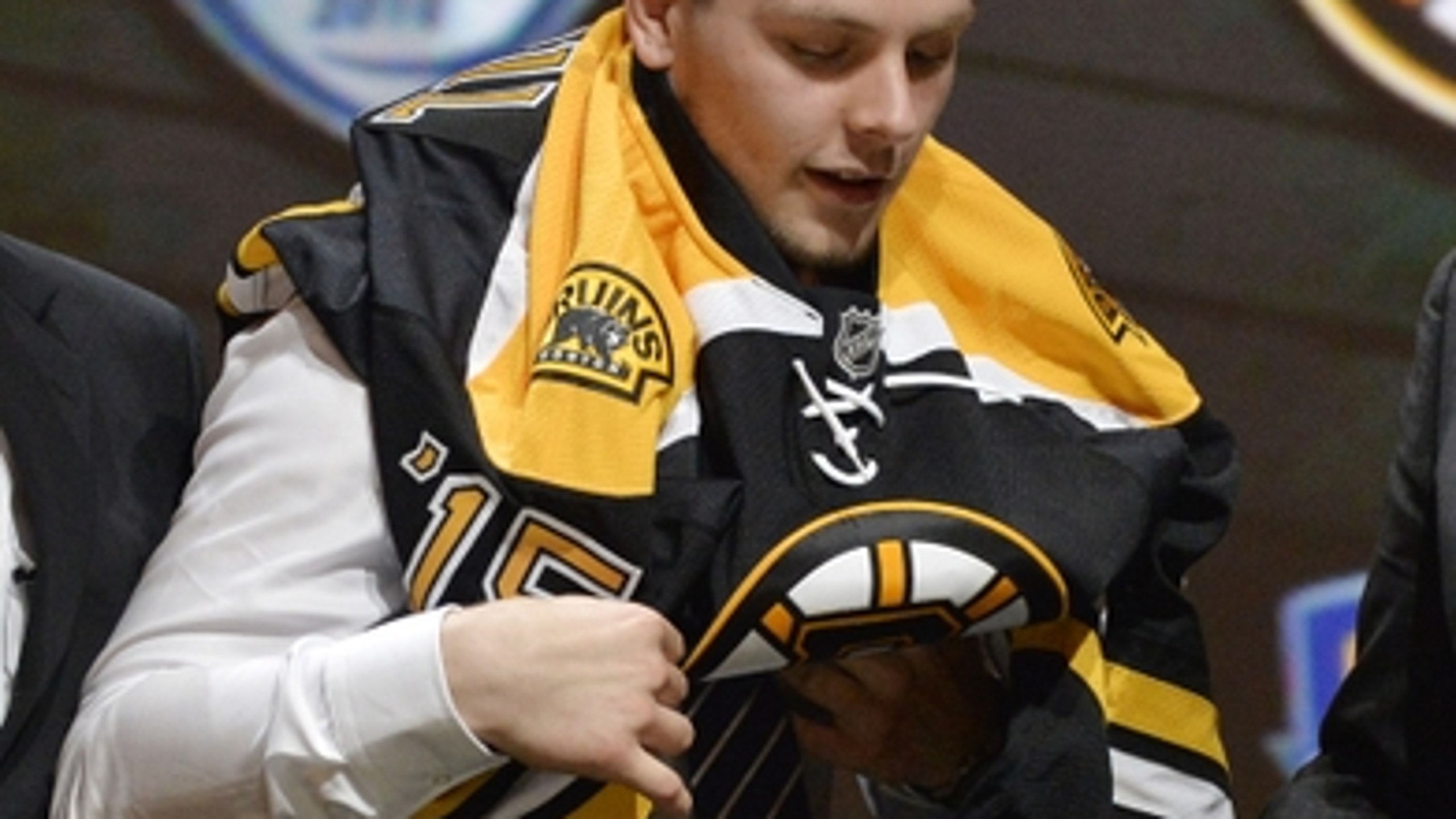 Boston Bruins: WJC Performances So Far, Road Ahead
BY Fansided and Mike Cratty/FanSided via Causeway Crowd • December 29, 2016
Five Boston Bruins prospects are participating in the 2017 World Junior Championships. How have they done so far and what does the road ahead look like?
The end of December, heading into the new year is always an exciting time of year, but not only because of the new year. Every year around this time, the world juniors begin to the excitement of tons of hockey fans around the world. This tournament gives us a chance to see the future of the NHL on a big stage and features some high octane hockey. This exciting hockey will come in part from the hands of some Boston Bruins prospects.
Player Performances Thus Far
USA
Charlie McAvoy, Defense: 2 GP: 1G, 0A, +2
As the Assistant Captain of Team USA, Charlie McAvoy has sure been a leader for Team USA. The 2016 Bruins first-round pick notched his first point of the tournament yesterday against Slovakia on a rocket from the point. It looks as though, judging by his play so far, McAvoy will be a difference maker for Team USA.
Ryan Lindgren, Defense: 2 GP: 0G, 0A, +1
Like his teammate, Charlie McAvoy, Ryan Lindgren has looked solid as well throughout the first two games of the tournament. Although he has yet to get his first point, he has found other ways to contribute. Lindgren will look to continue his steady play and hopefully get on the score sheet a little bit as the tournament progresses.
Canada
Jeremy Lauzon, Defense: 2 GP: 1G, 1A, +1
After a fairly quiet game one of the tournament against Russia, Lauzon played much better against Slovakia. In Team Canada's game against Slovakia, Lauzon tallied the first goal of the game, which ended up being the game winner in a 5-0 victory. He finished the game with a goal, assist and a +1 rating, accounting for all of his production thus far.
Czech Republic
Jakub Zboril, Defense: 2 GP: 0G, 3A, +1
As the Boston Bruins leading point getter out of the five players, Zboril has been excellent so far for the Czech Republic. Although the Czech's fell 4-3 in overtime to Team Switzerland, Zboril had two assists in an all-around impressive showing for the young blue liner. He tallied his other assist in his first game of the tournament, a 2-1 upset over the defending champs, Finland.
Daniel Vladar, Goalie: 0 GP: 0-0-0, – GAA, – SV%
The Boston Bruins defense trend ends. Not one Bruins forward prospect is playing in the World Juniors this year. There isn't really much to say about Vladar, as he has yet to see the crease in tournament action.
Preliminary Schedule Ahead
Thurs, Dec. 29
Czech Republic vs. Denmark, 1 PM/10 AM (Jakub Zboril, Daniel Vladar)
USA vs. Russia, 3:30 PM/12:30 PM (Charlie McAvoy, Ryan Lindgren)
Sweden vs. Finland, 5:30 PM/2:30 PM
Canada vs. Latvia, 7:30 PM/4:30 PM (Jeremy Lauzon)
Fri, Dec. 30
Denmark vs. Switzerland, 5:00 PM/2:00 PM
Latvia vs. Slovakia, 7:30 PM/4:30 PM
Sat, Dec. 31
Czech Republic vs. Sweden, 1:00 PM/10:00 AM (Jakub Zboril, Daniel Vladar)
Canada vs. USA, 2:30 PM/11:30 AM (Jeremy Lauzon vs. Charlie McAvoy, Ryan Lindgren)
Switzerland vs. Finland, 6:00 PM/3:00 PM
Slovakia vs. Russia, 8:00 PM/5:00 PM
Road Ahead
None of the teams that B's prospects are playing for are out yet, but some are in better positions than others. While these young studs trying to showcase their talents, they all try to take home World Juniors gold. The quarterfinal round of the tournament begins Monday, Jan. 2.
*Info as of 12/29 at 12:00 PM ET*
More from Causeway Crowd
This article originally appeared on
---
---