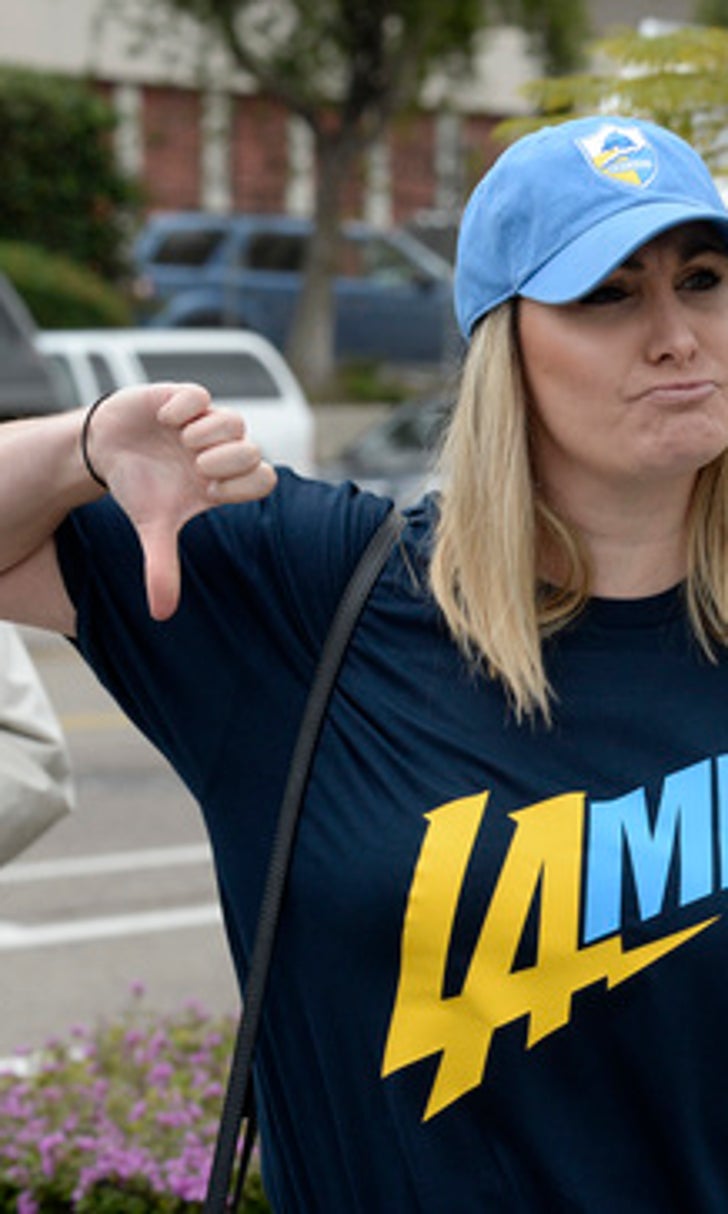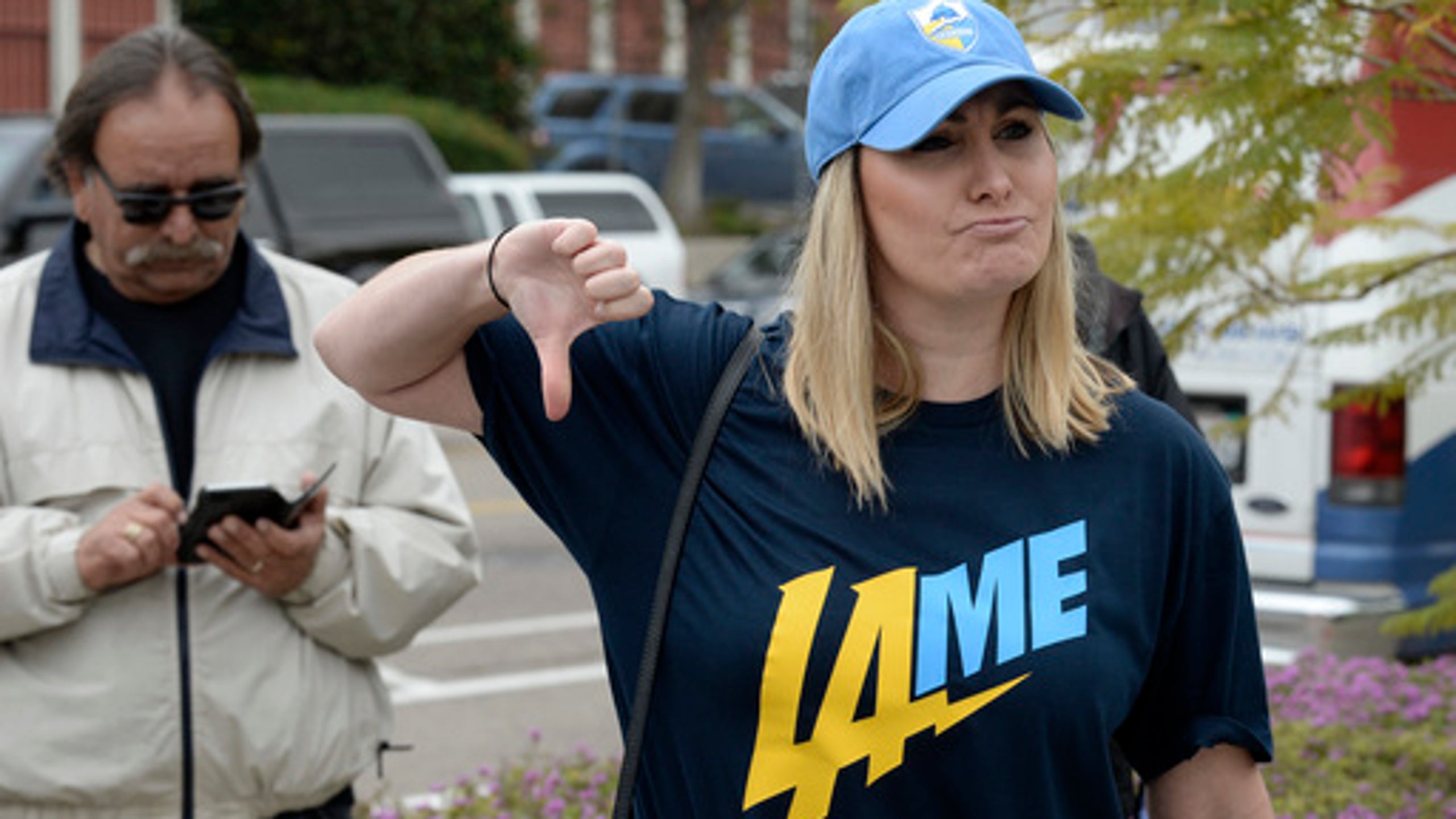 Spanos rips Chargers from San Diego, loyal fans' hearts
BY AP • January 13, 2017
SAN DIEGO (AP) Sunday afternoons in San Diego used to be something special.
Fans would flock to see their beloved Chargers, first at Balboa Stadium and then in Mission Valley, at the stadium once affectionately known as The Murph.
The Bolts gave San Diego an identity of being more than just a sleepy Navy town, from the distinctive lightning bolt logo on their helmets to the powder blue jerseys in the early years to the players who ended up in the Pro Football Hall of Fame.
Every catch by Lance ''Bambi'' Alworth was graceful. Every pass by Dan Fouts had the potential to be a big one. Every big hit by Junior Seau seemingly could be felt in the upper deck.
It was almost always sunny and 75. Smoke from barbecues filled the air from tailgaters who put the massive parking lot to good use. Kids threw footballs around.
The Chargers weren't always good. When they were, the big stadium rocked.
It was deafening after Miami's Pete Stoyanovich pushed a field-goal try wide right on Jan. 8, 1995, securing a divisional playoff win that began the Bolts' only Super Bowl run.
The crowd roared when LaDainian Tomlinson swept left and into the record books in December 2006, and when speedy little Darren Sproles scored the winning touchdown in overtime against Peyton Manning in the playoffs in January 2008.
The cannon in the west end zone would fire. The disco ditty ''San Diego Super Chargers'' would blare from the speakers.
The Chargers were San Diego.
Now they're heading back to Los Angeles, where they were born as an original AFL team in 1960 before Barron Hilton moved them to San Diego in 1961.
Chairman Dean Spanos moved the team to Los Angeles after failing for 15 years to pry a big subsidy out of City Hall to replace aging Qualcomm Stadium. He's moving to secure the financial future of a family business that already is valued at more than $2 billion.
Spanos spent most of 2015 trying to move to Carson with the hated Raiders. So while shocking, Thursday's announcement via the team's web site and Twitter wasn't unexpected.
Still, it ripped a hole in the city's fabric and in the hearts of the fans who remained loyal although Spanos didn't.
Air Coryell took off from what was then San Diego Stadium, powered by Fouts, Charlie Joiner and Kellen Winslow.
Chargers fans are still mad about the Holy Roller, the crazy play the hated Raiders used to beat the Bolts in 1978.
Bobby Beathard, Bobby Ross, Seau, Stan Humphries and Natrone Means revived what had been a moribund franchise and took the Charges to their only Super Bowl.
When the Chargers returned home from their stunning upset at Pittsburgh in the AFC championship game in January 1995, they were greeted by a crowd estimated at 68,000, more than the stadium's capacity.
San Diegans loved their Bolts.
The franchise fell into disrepair through the Ryan Leaf and Kevin Gilbride years.
It came alive again under Marty Schottenheimer, Drew Brees, Philip Rivers and Antonio Gates. The Chargers won four straight AFC West titles and five in six seasons. They made it to the AFC championship game following the 2007 season.
As Tomlinson ran his way toward being the NFL's best player in 2006, sold-out crowds chanted ''L.T.! L.T.! L.T.!'' and ''MVP! MVP! MVP!''
Spanos' battle with City Hall dragged on and once again the franchise stumbled.
The spirit waned as Spanos found out the hard way that large public subsidies for stadiums might be a thing of the past. On Nov. 8, San Diego became the first city to stand up to a billionaire NFL owner by voting down the team-written Measure C, which asked for $1.15 billion in increased hotel occupancy taxes to help fund a $1.8 billion downtown stadium and convention center annex.
The fans had already said their proper farewells after the final home game of 2015, when everyone thought the Chargers would be green-lighted for Carson.
Thousands stuck around afterward and star players came out to greet them and sign autographs. Rivers signed his cleats and gave them to fans. Eric Weddle did a snow angel on the Bolts helmet logo at midfield.
Turns out that the Chargers stayed in 2016 - missing the playoffs for the sixth time in seven seasons - to give the stadium thing a last try.
The end was ugly.
Throughout a gloomy, drizzly Thursday, fans piled up unwanted Chargers jerseys, shirts, caps and other mementos of the good times.
Someone sprayed lighter fluid on the pile. Someone else lit a match.
After 56 seasons, the San Diego Chargers were gone.
Fan Mike Hernandez has fond memories of going to games with his dad. After his dad died, Hernandez sat in his seat.
''Today felt like a part of me died,'' Hernandez said Thursday night.
''And a part of him is gone. And Dean Spanos can never, ever replace that for me, and nobody can, and I feel like it was stripped away from my life.''
Then he turned pragmatic.
''They're no longer our embarrassment.''
---
Follow Bernie Wilson on Twitter at http://twitter.com/berniewilson
---
For more NFL coverage: http://www.pro32.ap.org and http://www.twitter.com/AP-NFL
---
---