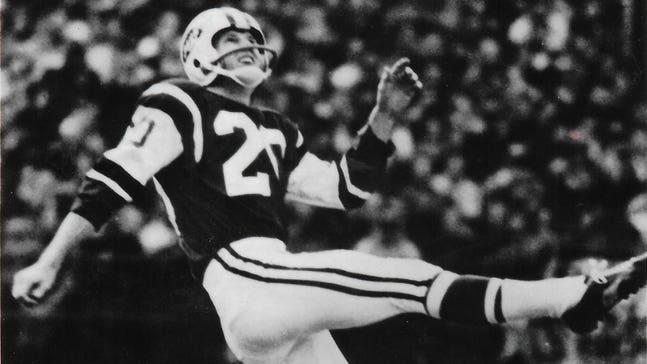 One & Done: Steve O'Neal launched a punt that likely will never be matched
Published
Dec. 1, 2015 8:00 a.m. EST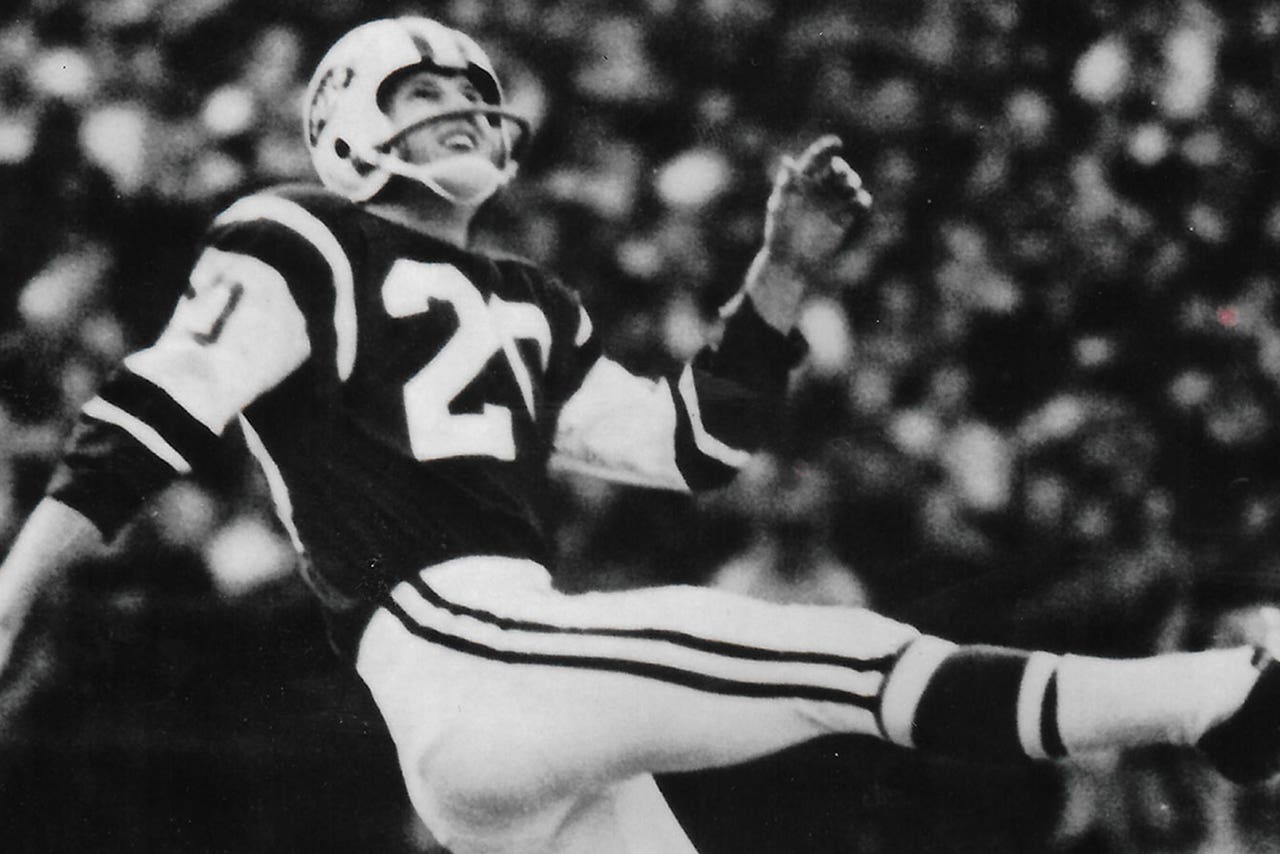 In the world of sports, athletes often dedicate their entire lives to reaching the pinnacle of their profession, but for many, life at the top can be short-lived. Sometimes all a player gets to experience at the highest level is one minute on the court, one trip to the plate, one shot on goal or one checkered flag, but more often than not, that fleeting moment in the spotlight is a story all its own. This is One and Done, a FOX Sports series profiling athletes, their paths to success and the stories behind some of sports' most ephemeral brushes with glory.
Technically speaking, a punter could kick a ball farther than Steve O'Neal did for the New York Jets on Sept. 21, 1969, but it's not only improbable, it's impossible that we'll see a better punt.
That afternoon, playing in his second career game as a pro, O'Neal booted one 98 yards against the Denver Broncos. The ball was snapped from outside his own goal line and downed at the Denver 1-yard line, setting an all-time mark that still stands today.
Over the years, others in the NFL have come close to matching or topping O'Neal -- Shawn McCarthy boomed one 93 yards for the Patriots in 1991, and in 1989 Randall Cunningham (yes, the quarterback) ripped a 91-yarder against the Giants. But if someone were to someday supplant O'Neal as the pro record-holder, he'd be doing a disservice to his team.
"I guess, statistically, it could be broken," O'Neal said in a recent interview with FOX Sports. "But if you had a 99-yarder, it's going to come back out 20 yards as a touchback, so effectively, a 98-yarder is the best you can have."
Interestingly enough, O'Neal didn't go to school with the intention of being a football player.
The Hearne, Texas, native attended Texas A&M on a track-and-field scholarship, but tried out for the football team at the behest of coach Gene Stallings after Stallings found out O'Neal punted in high school.
O'Neal ended up making the squad and turned out to be so good that in 1969 the defending Super Bowl-champion Jets took him in the 13th round of the draft -- one pick after longtime NFL center Carl Mauck. That fall, he beat out veteran Curley Johnson for the job, and in O'Neal's first regular-season game, on the road against the Bills, he punted twice for a total of 111 yards.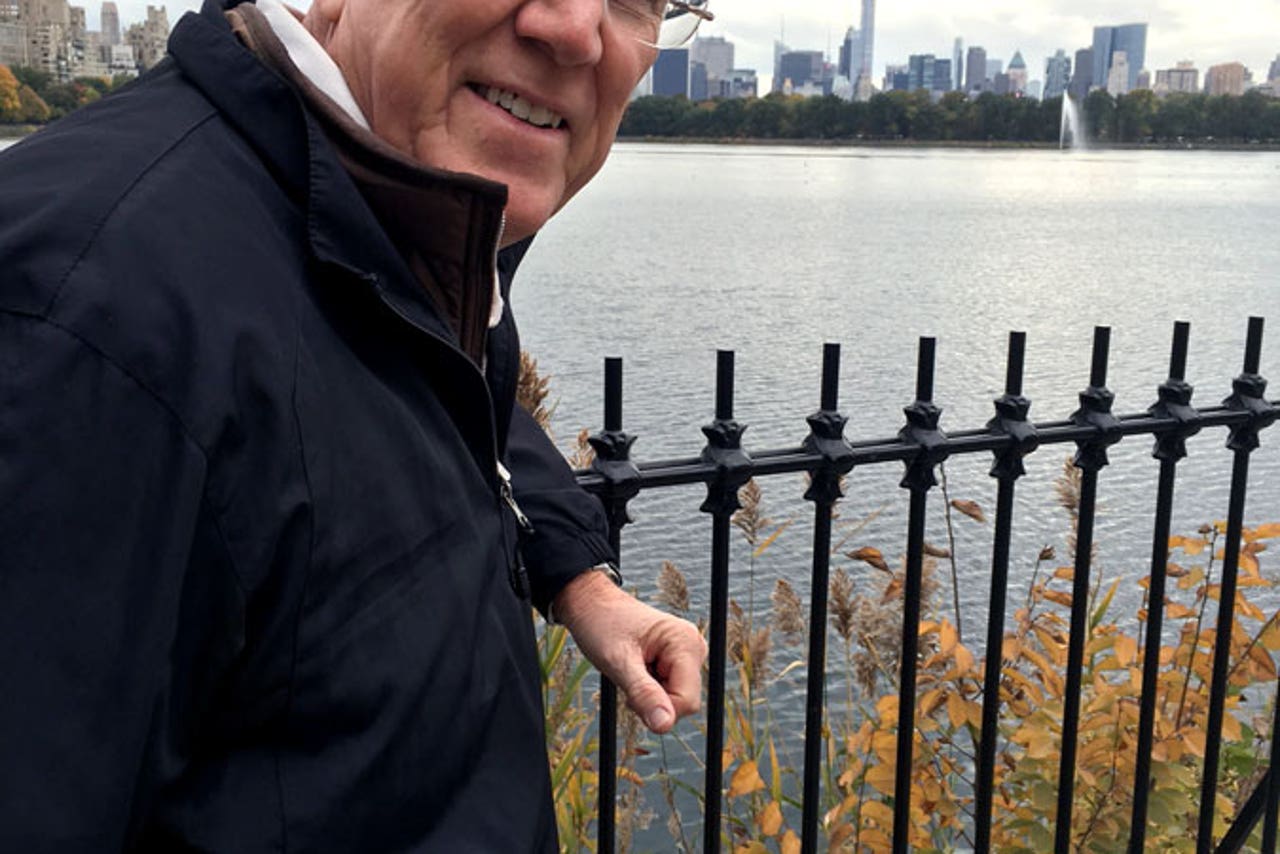 Today, Steve O'Neal is a retired dentist.

Still, that was nothing compared to what he did at Mile High Stadium the following week.
In the second quarter, New York found itself pinned deep in its own territory and after a sack of Joe Namath near the goal line, O'Neal came on to handle what he thought was a free kick following a safety. Instead, he learned the ball was marked inside the 1, leaving O'Neal with a tricky punt out of his own end zone.
"You just don't have as much operating room," he said. "I was on the left side of the goal posts -- and the goal posts were located on the goal line at that time -- so right-footed punters typically stepped a little bit to the right. If you don't hit it square, there's a possibility you could semi-shank it into the goal post. It wasn't a big concern, but it did cross your mind."
O'Neal was more worried about being able to get the kick off in the first place, though, so before the play, he pulled aside personal protector and Super Bowl III star Matt Snell to discuss the play.
"We huddled up briefly, and I told him, 'Matt, whatever you do, don't back up,' " O'Neal said. "Because I had less than 10 yards to operate, and we were taking three-step punts at that time. So I covered right at five yards before I hit the ball."
Unfortunately, the message wasn't received, but it didn't cost O'Neal or the Jets on the play.
"Sure enough, Matt backed up," O'Neal said with a laugh. "But it actually probably helped because it made me shorten that last step, and that's when you really get into them, when you shorten that step. There's a tendency to overstride when you're hurrying, and those invite shanks and short kicks."
From the moment he made contact, O'Neal knew he'd struck the ball square, but he had no idea it would go as far as it did.
"I hit it very well and then I rolled out and I looked up," O'Neal said. "Usually it's coming down by that time, but this one was still going up."
Downfield, Broncos rookie Billy Thompson lined up near the Jets' 40-yard line to receive the punt, but the ball sailed well over his head. Thompson chased it down but couldn't catch up to the punt, which eventually landed at the Denver 33-yard line -- a full 75 yards from the spot where it was kicked -- and took a Jets bounce toward the Broncos end zone.
"The ball looked like it got into the atmosphere, the jet stream or something," Thompson later said in a 2009 interview with Jets Confidential. "I led the league in both punt and kickoff returns that year, and that was the most incredible kick I'd ever seen."
Added O'Neal: "He couldn't backpedal that far that fast and be confident in catching it. So it just got over his fingertips and when it hit the ground, it took off like a round ball and ended up dying inside the 1. You can only measure from 1 to 1, thus the 98-yarder."
After the play, however, there was little in the way of celebration of O'Neal's record. That's because the punt was about the only thing that went right for New York that day as a crowd of 50,583 -- then a record for the largest at a sporting event in Colorado -- watched the home team rally from a 13-0 deficit to win the game 21-19.
The scoring started for the Broncos when Floyd Little returned a different O'Neal punt (one of five on the day at an average of 57.4 yards per kick) 53 yards to set up a 1-yard touchdown run. Later in the second quarter, Denver backup quarterback Pete Liske threw a 23-yard touchdown pass to Mike Haffner, who made a highlight-reel catch to give the Broncos the lead.
A second Liske touchdown pass gave Denver a 21-13 advantage in the fourth quarter, and a Broncos stop on a two-point conversion try late in the game sealed the win.
"You're just in the heat of the moment and you had a good kick, so everybody says 'nice punt' but that's about it," O'Neal said. "We lost the game, so that creates a different scenario. I had some congratulations, but I don't think (head coach) Weeb Ewbank said anything to me until about three days later."
When people did get around to talking, much of it was -- and sometimes still is -- people trying to discount the accomplishment.
"It's always, 'How much wind was behind you?' or, 'Oh, it was in Denver,' " O'Neal said. "They're always trying to justify it, and I guess that just kind of makes me think it's that unbelievable.
"I hear it a lot, but actually, there wasn't any wind that day," O'Neal continued. "And as far as the thin air, I don't have any scientific evidence on that, but I talked to Luke Prestridge about it years later. He punted in Denver for a few years (1979-83), and he told me you could probably factor in three more yards in the air on that punt.
"So it really boils down to receiving the ball -- did it get over their head? -- and what it does after it hits the ground."
Following his punt, O'Neal played three more seasons in New York, averaging 40.4 yards on 256 career attempts for the Jets, but never again came close to matching his historic kick in Denver. In the offseason, O'Neal attended dental school at the University of Tennessee, and after one year with the Saints following a trade, he had knee surgery.
In 1974, he was cut by the Saints and soon after he gave up football for good to pursue dentistry despite an offer to try out for the Cowboys, who at that point had O'Neal's college coach Stallings on their staff.
"I remember (Ewbank) asked me before he ever signed me how long it would take me to graduate (dental school)," O'Neal said of his post-football career. "I didn't think anything of it, and I said it would probably take five years. Well, he traded me after four. He never liked getting caught holding the bag, so to speak. He didn't want me to have dentistry to hold over him.
"It was always in the back of my mind, but I can't say I regret it," O'Neal added of his decision to quit. "It would something I really would have liked to have done, but it just didn't work out that way."
Don't feel too bad for O'Neal, though. Things worked out fine, and after 38 years practicing dentistry in Bryan, Texas, O'Neal retired last year.
"It's funny, we had memorabilia out (in the office) and some people would see the memorabilia and the pictures and all that stuff and never put it together that it was me in the pictures," O'Neal said. "I never said anything, but if they had questions, we'd talk about it. I've had patients who came because I played football, and then there were all those others who found out after they were patients, some who probably never found out at all, and some who just didn't care."
Now O'Neal has plenty of time to watch and wait for someone to hit a 99-yarder, but he won't hold his breath. It's been 46 years since his record-shattering kick -- a punt so perfect it may never be matched.
"I can remember when I was in high school and realized that the punt records were 90-something yards, and I was thinking, 'I could kick a ball that far,' " O'Neal said. "I didn't know how hard it was going to be, and having done it, I now realize how difficult it is. I only had the chance that one time, and all the things that had to happen to make it a reality, it's kind of hard to believe."
PREVIOUS ONE & DONES:
May 5: Mario Andretti
May 12: Dean Morton
May 19: Ross Browner
May 26: Dave Salvian
June 2: Mine That Bird
June 9: Kerwin Bell
June 16: Michael Campbell
June 23: Tyson Wheeler
June 30: Roe Skidmore
July 7: Steven Hill
July 14: LaMarr Hoyt
July 21: Bernard Quarles
July 28: Matt Tupman
August 4: Kevin Melillo
August 11: Roy Gleason
August 18: Cory Aldridge
August 25: Tom Brown
September 1: Tony Cloninger
September 8: Mike Pantazis
September 15: Wilbur Wood
September 22: Doug Clarey
September 29: Danny Young
October 6: Chad Wiseman
October 13: David Matranga
October 20: Brad Fast
October 27: Zenyatta
November 3: Ohio Northern
November 10: Dave Scholz
November 17: Matt Walsh
November 24: Clint Longley
You can follow Sam Gardner on Twitter or email him at samgardnerfox@gmail.com.
---
---