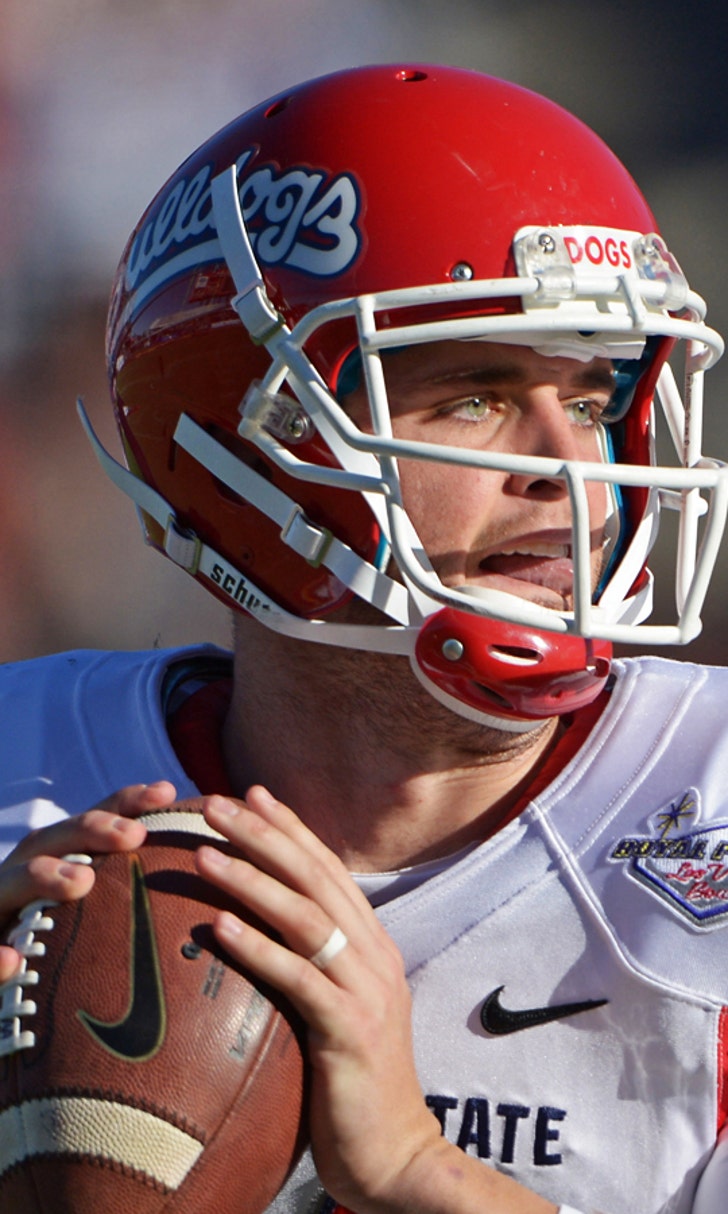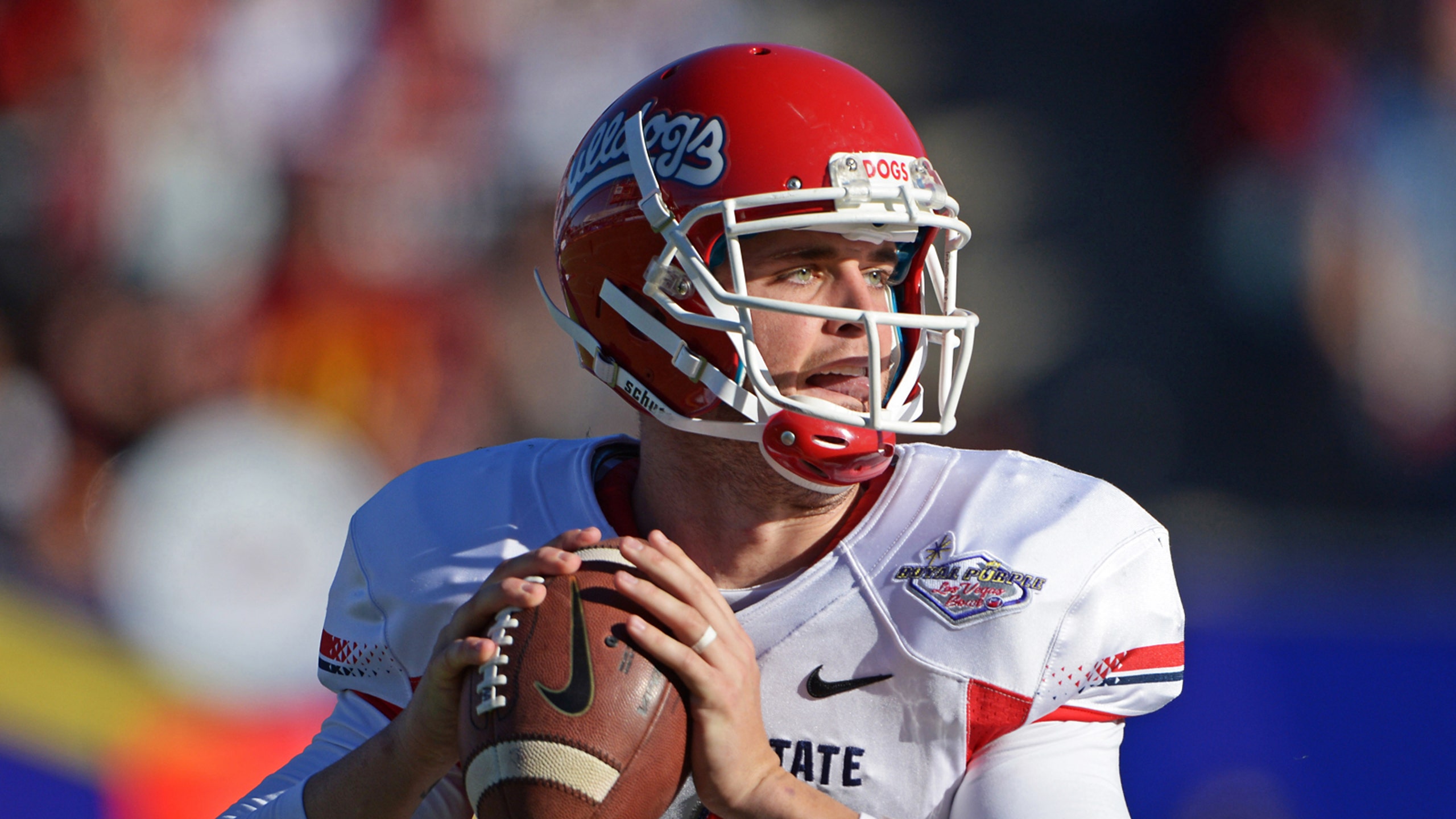 Carr fights overcomes sickness on Fresno State pro day
BY foxsports • March 20, 2014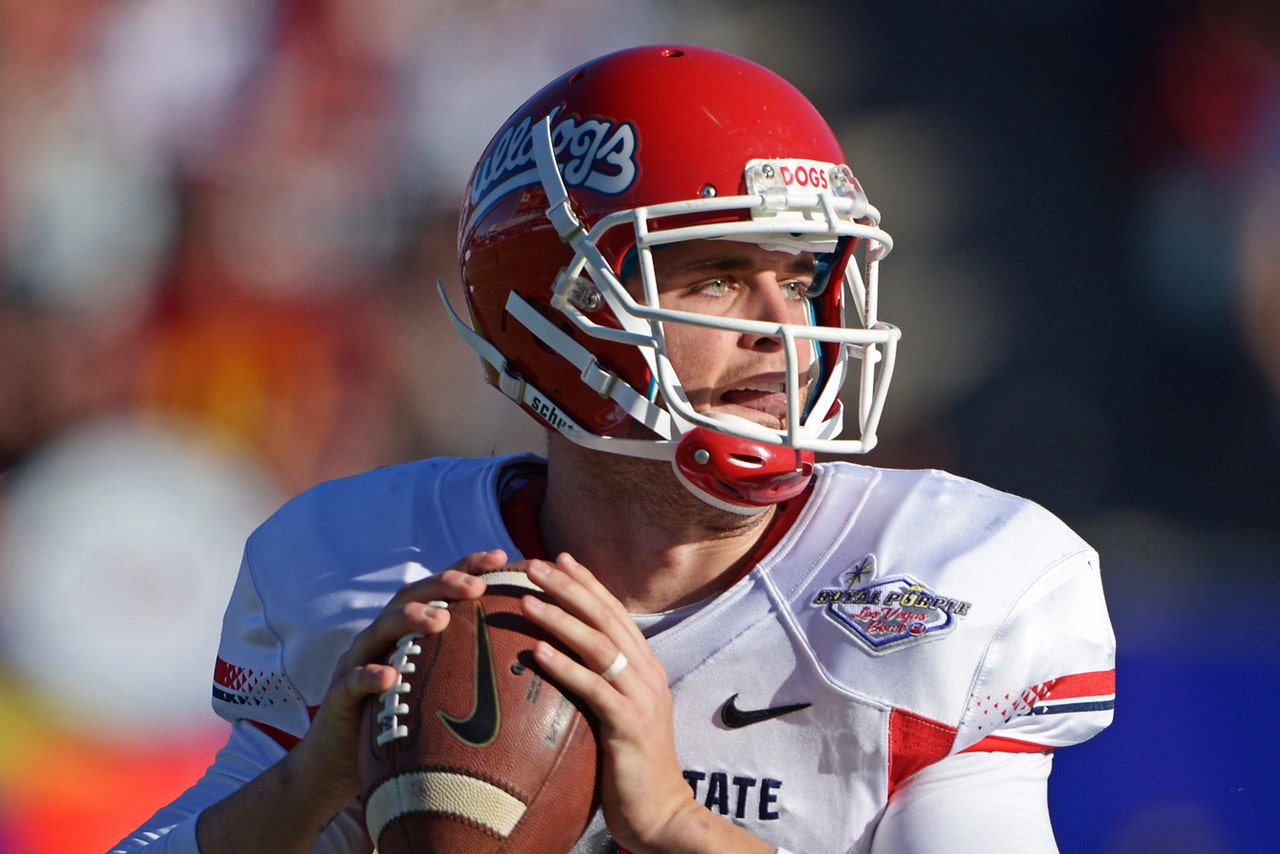 FRESNO, Calif. -- Derek Carr fought through an illness and completed 56 of 63 passes as he worked out for NFL scouts at Fresno State's pro day.
The quarterback woke up Thursday vomiting and nauseous, but after receiving intravenous fluids and medication, he was able to come away happy with his performance.
At least 23 teams were represented, including general managers for two teams.
Of the seven incomplete passes, there was only one Carr said he wanted back -- a mid-range pass between the seams that was just behind the receiver.
''Every ball except one hit exactly where we wanted to,'' said Carr, who took snaps from older brother David Carr, all under the watchful eye of personal coach and former NFL offensive coordinator Mike Sullivan. ''The fact that one of them was a foot off, that's a pretty good day.
''Any Sunday, I'll take that, absolutely.''
Among those in the audience were Vikings general manager Rick Spielman and offensive coordinator Norv Turner; Raiders general manager Reggie McKenzie and head coach Dennis Allen; and Jaguars offensive coordinator Jedd Fisch.
Carr is considered among the top quarterbacks available in the May draft class and a candidate to be a first-round pick.
Carr was scheduled to meet with the Vikings and Raiders officials after Thursday's workouts, with more meetings scheduled with NFL scouts and officials in Fresno through the weekend.
If anyone was concerned about Carr's arm strength before Thursday's workout -- one NFL scout complained that Fresno State's spread offense did not make full use of his strong arm -- no one voiced those concerns after Carr connected on his first 46 pass attempts.
Carr went through a variety of short, intermediate and deep routes over the middle and down the sideline. Most the misses came late in the drill, when Carr's two receivers appeared gassed from the 25-minute workout on an 81-degree afternoon.
''Obviously, he was very impressive today,'' Turner said. The Vikings have the eighth overall pick. ''He came out and showed he has a strong arm, very accurate, he made all the throws. He had a heck of a workout.''
It was made all the more impressive considering how Carr's day began.
He did not go to the hospital but did go straight to the university for medical treatment from school staff after he woke up ''feeling nauseous, dizzy, tripping over myself.''
He almost threw up once during the workout, but Carr managed to keep it in and stay hydrated.
''There were a couple of times my stomach was very tight, knotted up, but I had to take the game-day mindset and stay totally focused on the task at hand,'' Carr said.
For Carr, the task was simple. Show that he's as good of a quarterback as anyone else in the draft -- Johnny Manziel, Teddy Bridgewater and Blake Bortles included.
''There's nothing that they can do that I can't do,'' Carr said. ''Any throw that they can make, I assure you I can make it. From a knowledge and maturity and leadership standpoint, been successful for 3 years. . . . I think I'm the No. 1 quarterback out there. That's how I feel.''
---
---