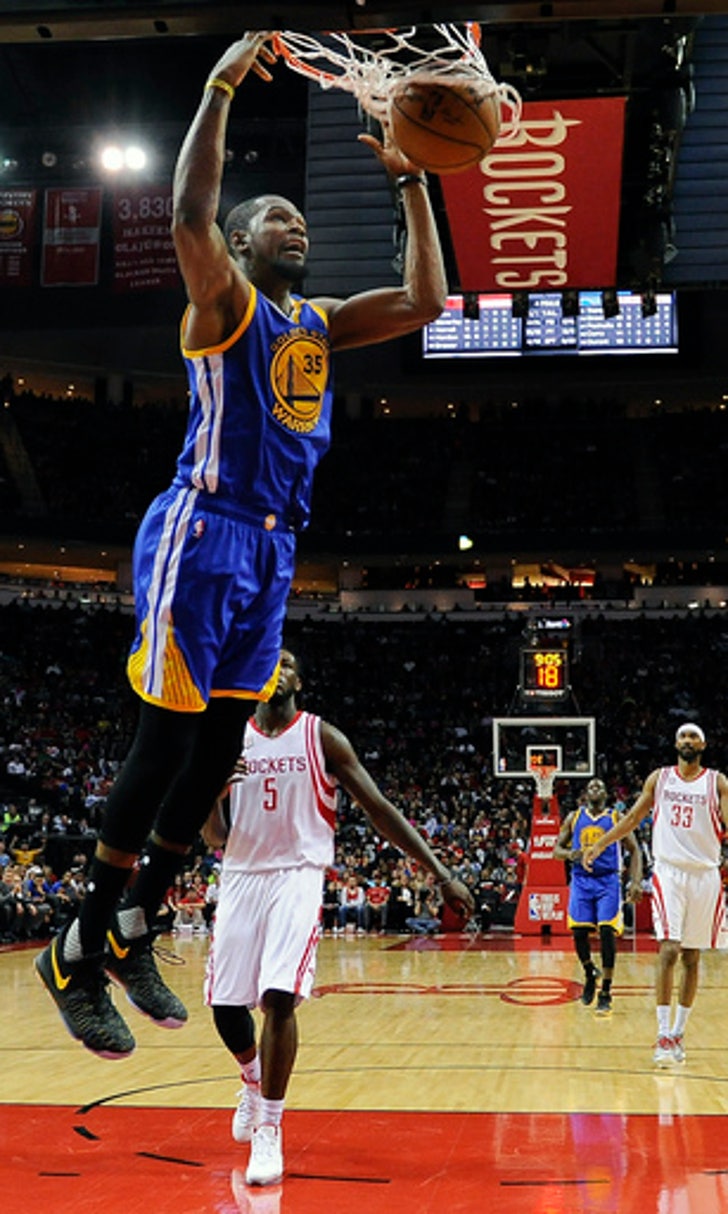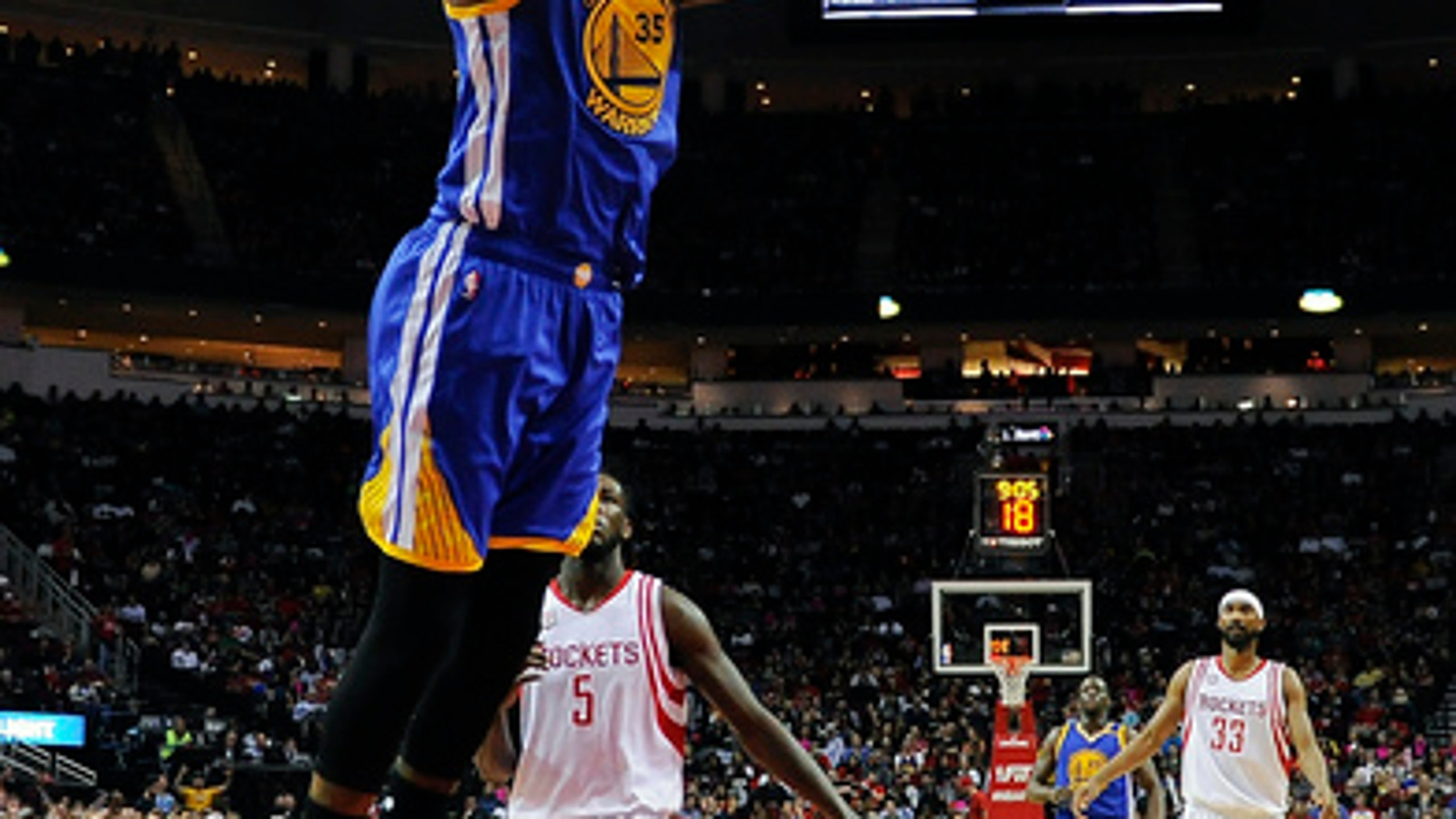 Warriors get 6th straight win, 125-108 over Rockets (Jan 20, 2017)
BY AP • January 21, 2017
HOUSTON (AP) The Golden State Warriors wanted to make sure the Houston Rockets wouldn't beat them from the 3-point line.
They carried out their plan perfectly, forcing the NBA's most prolific 3-point shooting team into a terrible shooting night in a 125-108 victory Friday night that extended Golden State's winning streak to six games.
Kevin Durant scored 32 points and the Warriors used a big third quarter to build a huge lead and coast to the victory.
In a matchup of two of the best teams in the Western Conference and All-Star starting guards Stephen Curry and James Harden, the Rockets fell short. Houston, which entered the game leading the NBA with 667 3-pointers, was just 7 of 35 behind the arc. Harden went 0 for 5 and Eric Gordon, who entered the game leading the NBA with 160 3s, missed all seven attempts.
''I think it was good defense on our part,'' Durant said. ''They missed a couple of open ones, but that's from - they didn't have a rhythm. I think we did a good job of putting a hand up on the shots and getting out and rebounding ... for the most part we contested, forced them to shoot in the paint and got out and ran.''
Houston's 20 percent shooting on 3s tied a season low for a Golden State opponent and was just the fourth time this season that the Rockets made fewer than 10 3s.
''None of us are happy, but it happens,'' Harden said. ''So what? What's next? And that's what our motto is.''
Clint Capela had 22 points and Harden added 17 points with 11 assists for the Rockets, who are third in the West behind Golden State and San Antonio.
The Warriors were up by five at halftime and used a 12-4 run to open the second half and stretch their lead to 74-61. Golden State got six points from Durant in that span, including a dunk and a nifty reverse layup.
Houston got four points from Capela after that before Golden State used a 10-2 run, with 3s from Draymond Green and Curry, to make it 84-67 midway through the period.
Golden State pushed the lead to 99-79 entering the fourth.
Houston won the first game against Golden State this season in two overtimes to snap an eight-game, regular-season losing streak to the Warriors. But it was clear the Rockets wouldn't make it two in a row after they scored just 22 points and went 0 for 10 on 3-pointers in the third quarter.
Houston scored the first five points of the fourth quarter to cut the deficit to 99-84. But Golden State used a 9-4 run after that to extend its lead to 20 points by the midpoint of the quarter, and many fans started heading for the exits.
Curry finished with 24 points and made five 3-pointers, including one with about 3 1/2 minutes remaining that left the Warriors up 117-93. Both teams cleared their benches after that.
TIP-INS
Warriors: Golden State made 15 of 38 3-pointers. ... Klay Thompson added 16 points. ... Green had 15 points, eight rebounds and seven assists.
Rockets: Ryan Anderson had one rebound in nine minutes in his return after missing two games with the flu. ... Capela played 21 minutes off the bench in his third game back after missing a month with a fracture on his left fibula. ... Sam Dekker had 17 points for his 11th double-digit game this season. ...
CHEERING ON THE HOME TEAM
Houston Texans star J.J. Watt cheered the Rockets on from a courtside seat. He received a huge ovation when he was shown on the Jumbotron during a timeout in the second quarter. Watt, who won NFL Defensive Player of the Year last season, played just three games this season before having season-ending back surgery.
SLEEP OVER
The Warriors had planned to fly out of Houston on Friday night, but a team spokesman said after the game they were staying an extra night because the weather was too bad to leave. Houston has experienced flooding this week as heavy rains blanketed the area for several days.
NO DANCING ON MY WATCH
Durant said along with limiting Houston's 3-point shooting, keeping Harden in check was a focus on Friday night.
''You don't want Harden up there dancing with the ball, shooting step backs and running down court dancing,'' he said. ''So we did a good job of limiting his shots, making him pass the ball and contesting shots as well at the 3-point line.''
UP NEXT
Warriors: Visit Orlando on Sunday.
Rockets: Visit Memphis on Saturday to open a five-game road trip.
---
---