Pistons coach Stan Van Gundy explains the dirty truth behind NBA trade rumors
BY Andrew Lynch • January 21, 2017
We are little over a month away from the 2017 NBA trade deadline (which falls on Feb. 23 this season), which means trade rumors are about to start flying fast and furious.

Much of the innuendo will center on who's available, who's untouchable, and who's straddling the middle ground between those extremes. Yet if we're being honest, there one simple truth during trade season — and Detroit Pistons coach Stan Van Gundy isn't afraid to pull back the curtain on NBA transactions (WARNING: NSFW language in the video below).


"All these rumors and stuff ... look, I mean, I know it's fun for everybody and you've got some source somewhere and it's also all b--- s---. I'm not denying that discussion, they take place all the time, but that's a lot different than considerations.
"Somebody says 'Hey would you consider Ricky Rubio for Reggie Jackson that discussion might have taken pace. And clearly we didn't make that move. We wanted to see if they'd go [Michael] Gbinije for LeBron."
"Everybody's available. I got asked a question the other day: there's a report out there that Reggie [Jackson]'s available for the right price. Everyone in the league is available for the right price! It's just for your main guys, the right price is a lot steeper and usually doesn't come around.
"This stuff is crazy. I'm not going to be the guy to step up and say that none of these guys is available — because I'm not lying to anybody."
"Every discussion? Was the discussion had? I don't know. Maybe it was. I wouldn't doubt it. I know people are interested in (Jackson). People are interested in Andre [Drummond]. I know we've had a lot of discussions on those guys — and really, all of our top seven or eight. There's been people who called about Boban [Marjanovic] and [Aron] Baynes. There's all kinds of discussions. I'll give you a blanket 'yes' that all those discussions have taken place."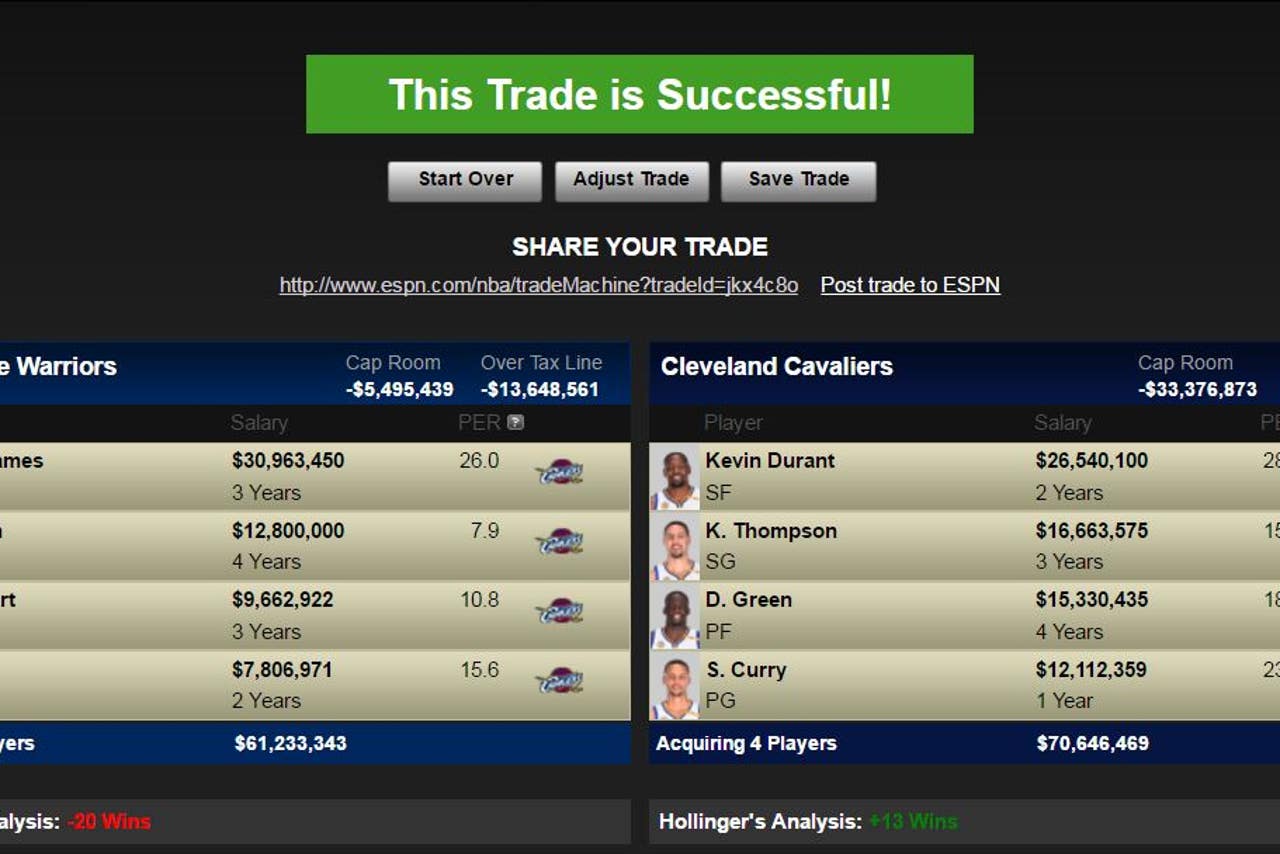 (Hahahaha, what?)

Of course, LeBron would absolutely invoke his no-trade clause in that case, but the point stands: If the price is right, literally anybody can be traded.


---
---