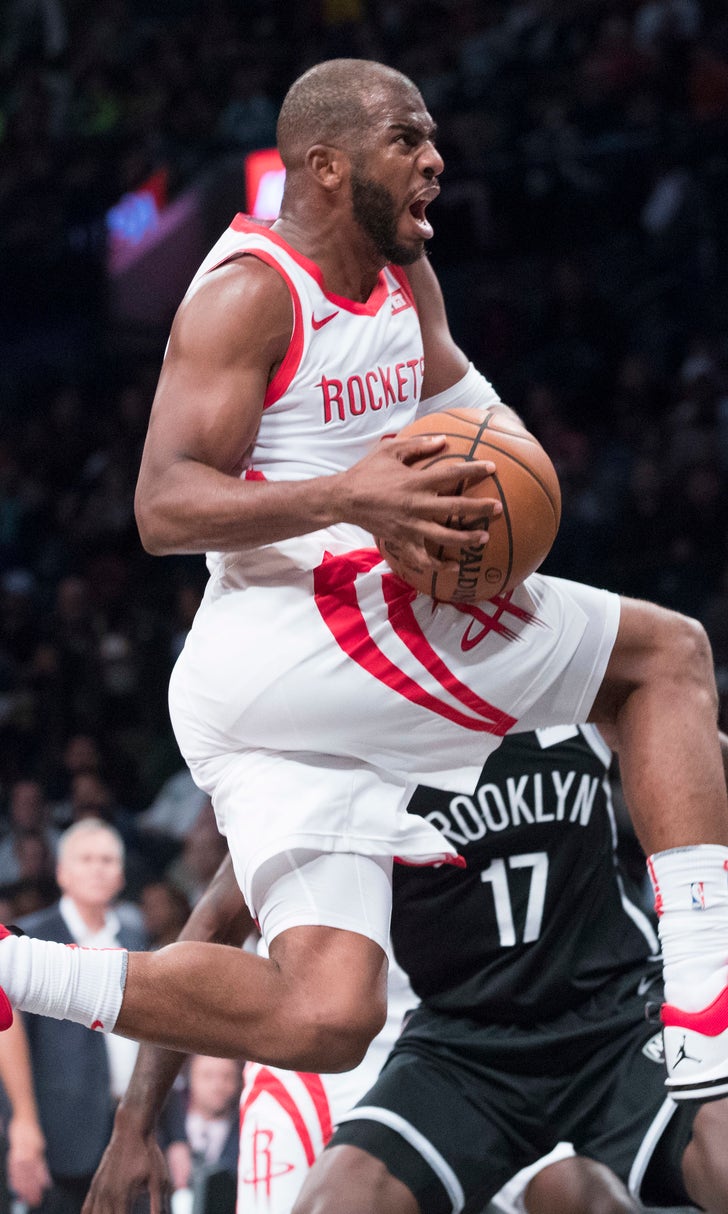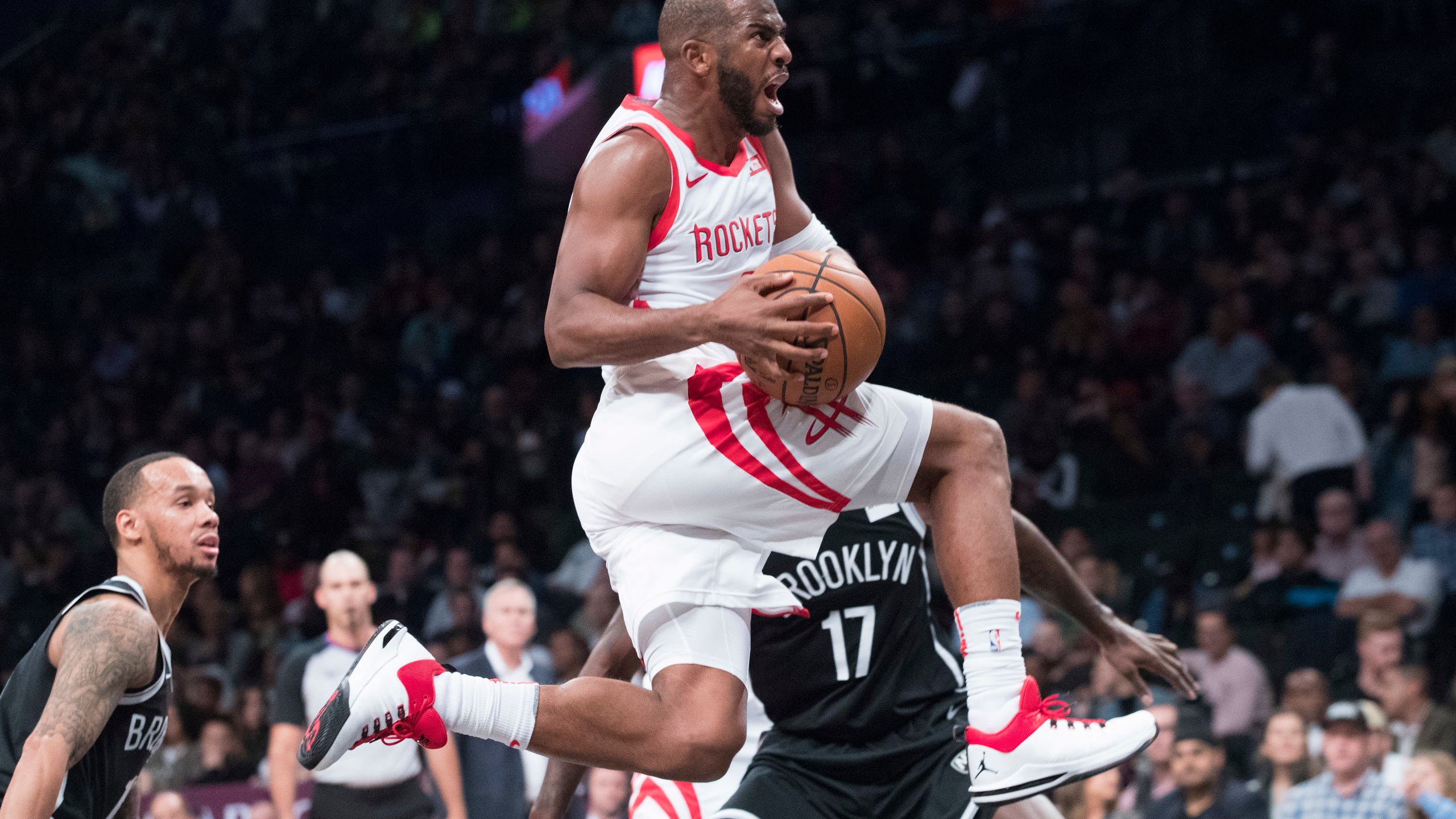 Paul, Anthony help Harden-less Rockets beat Nets
November 3, 2018
WASHINGTON (AP) — Continuing their turnaround from a terrible season start, the Oklahoma City Thunder picked up their fourth consecutive victory by beating the struggling, booed-at-home Washington Wizards 134-111 behind Russell Westbrook's 23 points and 12 assists Friday night.
From 0-4 to 4-4, the Thunder are clicking right now, led by Westbrook, who missed the first two games after a procedure on his right knee and sat out the final quarter of the rout at Washington.
And even though OKC was the team playing on the second night of a back-to-back, it looked a lot fresher and more active than Washington, which was coming off a two-day break and finally got to see new center Dwight Howard return from a sore backside to make his debut. Howard had 20 points on 7-of-8 shooting, three rebounds and four fouls in 23 minutes.
The Wizards have lost four games in a row to drop to 1-7, and spectators let the players hear their displeasure in the second quarter,
Bradley Beal scored 27 points, and John Wall had 19 points and nine assists, but Washington's pair of All-Star guards also combined for 12 turnovers.
NEW YORK (AP) — Chris Paul had 32 points, 11 assists and seven rebounds, Carmelo Anthony added a season-high 28 points and Houston snapped a four-game losing streak.
Clint Capela finished with 22 points and 13 rebounds, and Eric Gordon had 21 points. The Rockets stumbled to a 1-5 start a season after winning 65 games and falling a game short of the NBA Finals.
They snapped out of their slump thanks to one of the best games as a Rocket for Paul, who had season bests in points and assists in the final game before his workload should ease Saturday with the expected return of James Harden. The league MVP missed his third straight game with a strained left hamstring and coach Mike D'Antoni said he would probably return for the second half of a back-to-back in Chicago.
Caris LeVert scored 29 points for the Nets.
CHICAGO (AP) — Victor Oladipo had 25 points and 14 rebounds, and Darren Collison made a tiebreaking jumper with 17.8 seconds left to help Indiana beat Chicago.
Myles Turner added 18 points and Indiana ran its road winningh streak to five games. Turner also blocked six shots, including Antonio Blakeney's desperate jumper as the final seconds ticked off
Blakeney led the Bulls with 22 points.
DALLAS (AP) — Allonzo Trier scored 19 of his career-high 23 points during a second-half surge and
New York handed Dallas its sixth straight loss.
Tim Hardaway Jr. had 18 points and six rebounds to help the Knicks win for the second time in three games after a five-game skid that followed a victory in their opener.
Dennis Smith Jr. scored 23 points, and 19-year-old rookie Luka Doncic had 18 points, nine rebounds and six assists for the Mavericks.
SALT LAKE CITY (AP) — Mike Conley scored a season-high 28 points to lead Memphis past short-handed Utah.
Shelvin Mack, who played for Utah from 2015-17, had 19 points, and Marc Gasol added 17 points, 10 rebounds and seven assists.
Utah played without star guard Donovan Mitchell because of a right hamstring strain. Ricky Rubio led the Jazz with 22 points.
ORLANDO, Fla. (AP) — Lou Williams was perfect on five 3-point attempts and scored 28 points to lead Los Angeles past Orlando.
Tobias Harris added 21 points to help the Clippers beat the Magic for the 10th straight time. Nikola Vucevic led Orlando with 22 points and 11 rebounds.
PHOENIX (AP) — Kawhi Leonard scored 19 points and Toronto used a 14-2 fourth-quarter run to finally put away pesky Phoenix.
Jonas Valanciunas added 16 points and Serge Ibaka 14 for the Raptors, who improved to 8-1, the best nine-game start in franchise history. Kyle Lowry had 11 points and 12 assists.
Deandre Ayton, the No. 1 overall pick in the draft, had 17 points and 18 rebounds for the Suns, losers of seven in a row since winning their season opener. Isaiah Canaan scored 19 and Devin Booker 18 for Phoenix. Booker returned after missing three games with a strained hamstring.
WARRIORS 116, TIMBERWOLVES 99
OAKLAND, Calif. (AP) — Kevin Durant had 33 points and 13 rebounds, Stephen Curry contributed 28 points, nine rebounds and seven assists, and Golden State beat Minnesota for its seventh straight win.
Klay Thompson scored 22 points in the win.
Minnesota's Derrick Rose played five minutes in the first quarter and scored three points, then didn't return because of left ankle soreness — two nights after the 2011 MVP scored a career-high 50 points in a victory against Utah.
Andrew Wiggins led the Timberwolves with 22 points. Minnesota was outrebounded 61-39.
Jimmy Butler scored 21 for Minnesota after sitting out Wednesday to rest. Tyus Jones also returned and had eight points on 3-for-11 shooting after missing the win over the Jazz because of a sore right foot.
---
---