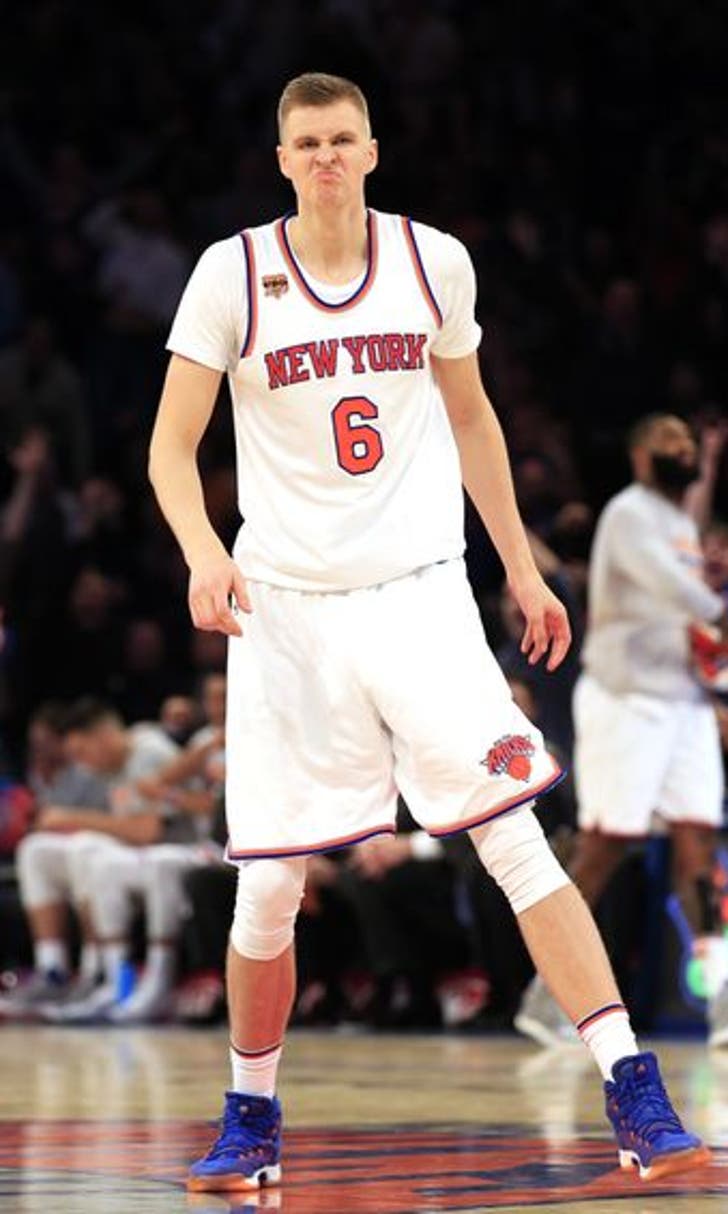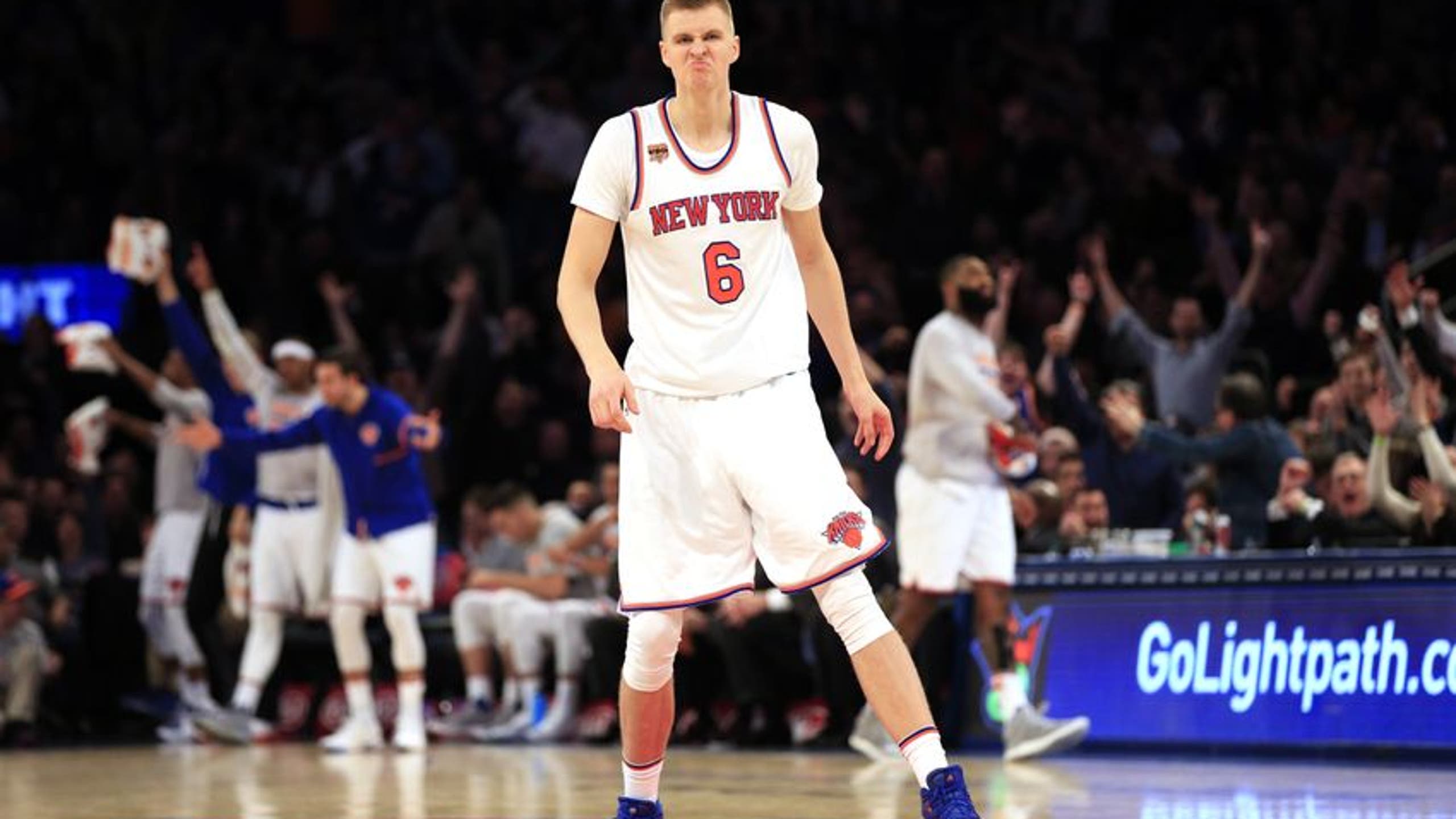 New York Knicks: 5 Early Season Takeaways
BY Fansided and Jerran Anderson/FanSided via Hoops Habit • December 30, 2016
Dec 20, 2016; New York, NY, USA; New York Knicks forward Kristaps Porzingis (6) reacts after hitting a three-point shot during the second half against the Indiana Pacers at Madison Square Garden. Mandatory Credit: Adam Hunger-USA TODAY Sports
Through 31 games, the New York Knicks are 16-15 and fifth in the Eastern Conference standings. Here are some early takeaways as we approach the All-Star Break.
The New York Knicks are currently a conundrum. At 16-15 in the Eastern Conference, they almost look like a playoff team in head coach Jeff Hornacek's first season. Keyword being "almost."
The Knicks rank 12th in points per game this season, scoring 105.4 as an offensive unit. But the defense in the early going has been an issue. New York ranks 25th in the NBA in opponents' points per game, allowing 107.7 points per game.
Carmelo Anthony has played decent;y, but in their last game, he was ejected. He committed a Flagrant-2 foul against Atlanta Hawks swingman Thabo Sefolosha in the second quarter on Dec. 28.
The New York Knicks went on to lose that game 102-98. They are 0-11 without Carmelo Anthony on the floor.
Their latest loss to the Hawks was their second straight loss to date. They have lost five of their last seven games and are 4-6 in their last 10 games.
All isn't lost, however, for the New York Knicks. There's still young power forward Kristaps Porzingis.  Porzingis has looked dominant on both ends of the floor for the Knicks. He's averaging 20.1 points per game, up from 14.3 a season ago.
His defense needs to become more of a focus, specifically a reduction in the number of fouls he commits. Even then, with Melo's mind on other things other than winning, they may need to starting looking to Porzingis as a first option.
Here are five early takeaways for the New York Knicks.
Dec 22, 2016; Mandatory Credit: Brad Penner-USA TODAY Sports
5. Carmelo Anthony Needs To Focus On What He Does Well
Carmelo Anthony has averaged 25.0 points, 7.1 rebounds and 3.3 assists per game since his arrival in 2011. His numbers stick out on paper, but that's about it. The New York Knicks haven't made the playoffs since the 2012-13 season.
At 32 years of age, Melo is shooting 42.7 percent from the floor this season. It is his lowest field goal percentage since his rookie season. He's averaging just 2.8 assists and 6.0 rebounds per game this year, as well.
Granted, with Phil Jackson in the New York Knicks' front office as team president, things are never really ever going to be completely simple. Jackson has commented in the media on Anthony's role as a focal piece in the offense on numerous occasions.
And frankly, he may be tired of it this early in the season already.
Instead of focusing on all the distractions, Melo needs to focus on what he does well, which is lead the offense through his efficient shooting. In games where he's scored 30 points or more, the Knicks are 5-1.
On Dec. 20, Anthony led a the Knicks on a 27-12 run to defeat the Indiana Pacers 118-111.
Melo has shown that his offensive ability is still there, he just needs to focus back on that night in and night out.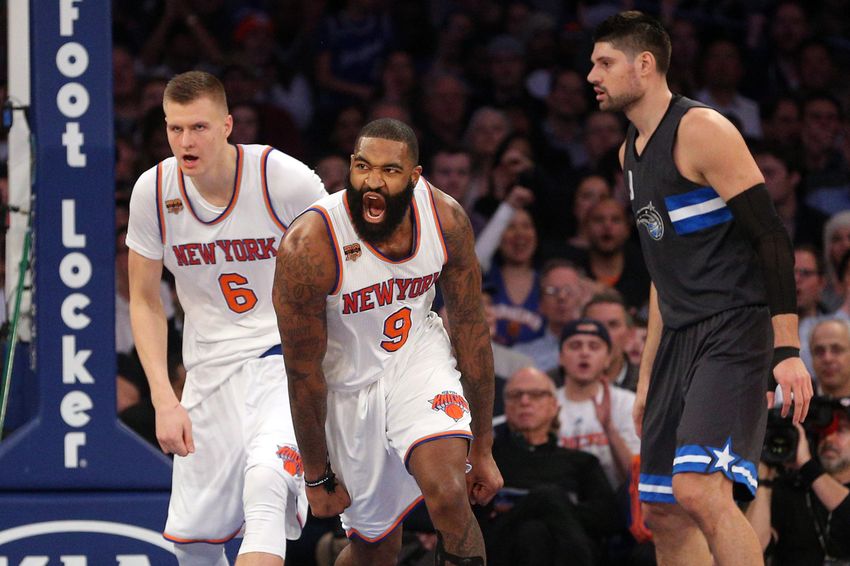 4. The Knicks Need To Use Kyle O'Quinn More On Both Ends
The New York Knicks are not a very good team on defense. They rank third in the NBA in blocks, but 22nd in steals. They are fourth in the league in offensive rebounds per game but also sixth in fouls per game.
Power forward Kristaps Porzingis, for instance, averages 1.9 blocks per game, but also 3.6 fouls per game. Porzingis has fouled out just once this season, but it still hurts when he's typically in foul trouble for most of the game.
Team wise, it mostly starts with utilizing bench production properly. They've got big man Kyle O'Quinn on the bench. They may need to use him more.
On Dec. 22 against the Orlando Magic, O'Quinn recorded 14 points, 16 rebounds and five blocks in a 106-95 victory. He became the first player since Patrick Ewing to record 10 points, 10 rebounds, and five blocks in less than 25 minutes of play.
O'Quinn is still getting used to the speed of the Knicks' offense, but he's averaging 6.4 points and 5.6 rebounds per game, both career highs for him. He's also averaging 1.2 blocks per game.
Maybe try adding O'Quinn to the fold more or add a defender to the free agency wishlist for 2017. The Knicks are 4-11 when allowing 108 points or more this season.
Nov 26, 2016; Charlotte, NC, USA; Mandatory Credit: Sam Sharpe-USA TODAY Sports
3. The Joakim Noah Experiment Needs Some Tweaking
So far, the signing of center Joakim Noah to a four-year, $72 million deal has been a disaster. Noah has appeared in 27 of the Knicks' 31 games since arriving from the Chicago Bulls.
He is averaging 5.2 points, 8.3 rebounds, and 2.5 assists in 22.4 minutes per game, but the team is 4-0 in the four games he's missed.
Noah has shown he's still able to play, but he hasn't been quite the on-court presence the Knicks expected him to be. He is averaging less than a block per game (0.8) and has gone 15 games this season without a block at all.
Noah did record a double-double with 14 points and 16 rebounds against the Atlanta Hawks on Dec. 28, but it came in a loss. He has just three double-doubles this season.
Maybe it's time for a minutes restriction. Hey, look at the Philadelphia 76ers. It's been a mixed bag of results so far with centers Joel Embiid and Nerlens Noel for them. But at least they are trying something to transition Embiid into the rotation.
Not saying Noah needs to sit out completely, but the Knicks have rookie center Willy Hernangomez as well as power forward Kyle O'Quinn. Hernangomez is averaging 5.8 points and 4.7 rebounds in 13.7 minutes per game.
With a few options on reserve, it could be worth looking into.
Dec 28, 2016; Atlanta, GA, USA; Mandatory Credit: Dale Zanine-USA TODAY Sports
2. The Derrick Rose Experiment Works Just Fine
While it hasn't quite been the "superteam" that guard Derrick Rose predicted at the beginning of the season, its hard to ignore his contributions. At fifth in the Eastern Conference, the Knicks look to be in good shape to make the playoffs for the first time in three seasons.
Rose is averaging 17.4 points, 4.4 assists and 4.1 rebounds through 27 games for the New York Knicks so far this season. He is shooting 45.1 percent from the floor but 23.7 percent from three-point land.
It helps point guard Brandon Jennings comes off the bench to spell Rose, proving the offseason moves weren't all terrible.
Jennings leads the team in assists per game (5.3) off the bench. He's shooting no better from three at 29.5 percent, but with Courtney Lee (46.7), Kristaps Porzingis (40.7), Willy Hernangomez (40) and Lance Thomas (40) all shooting 40 percent or better, you can't blame him for trying.
In regards to improvement, Rose could run a pick-and-pop more with Melo and Porzingis and get his assists up. His average of 7.9 assists per game back in 2011-12 with the Chicago Bulls is his current career high.
With Carmelo Anthony and Porzingis, he probably could use those situation to everyone's advantage and just let them do the scoring.
Dec 20, 2016; New York, NY, USA; Mandatory Credit: Adam Hunger-USA TODAY Sports
1. The Knicks Need To Run And Look For Porzingis More
In just his second NBA season, 21-year-old center Kristaps Porzingis has looked good. He is averaging 20.1 points, 7.7 rebounds, 1.9 blocks and 1.3 assists per game for the New York Knicks this season.
The Knicks are 24th in the NBA this season in assists per game with 21.7. They are 20-4 when they record 21 or more assists in a game. In games they have 20 assists or less, they are 2-11.
Running the fast break with D. Rose, Melo and Porzingis could help change things drastically. The Knicks currently rank 27th in the NBA in fast break points per game at 10.2 points per game.
The New York Knicks recorded a season-high 32 assists back on November 4 against the Chicago Bulls. In that game, Porzingis scored 27 points and five rebounds. Even better, D. Rose recorded 15 points and 11 assists, his lone double-double of the season.
That was game five of the season for the Knicks. At game 31, they're still searching for an offensive identity.
For Porzingis, however, it all starts on defense. He'll need to play a lot smarter on the defensive end. He's averaging nearly four fouls per game (3.6). In fact, he's recorded four fouls or more in 24 games so far this season.
The Knicks need him on the floor to be successful, maybe getting him the ball more on the break will help keep him more in tune to the defensive flow of things.
More from Hoops Habit
This article originally appeared on
---
---