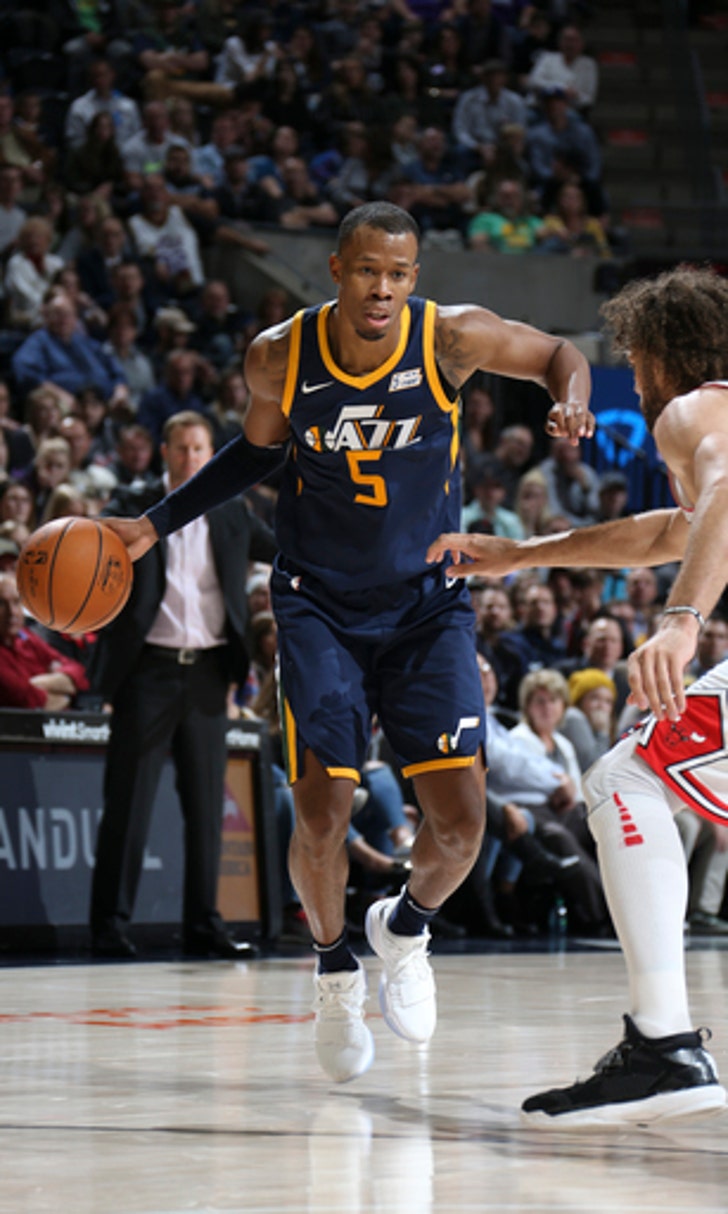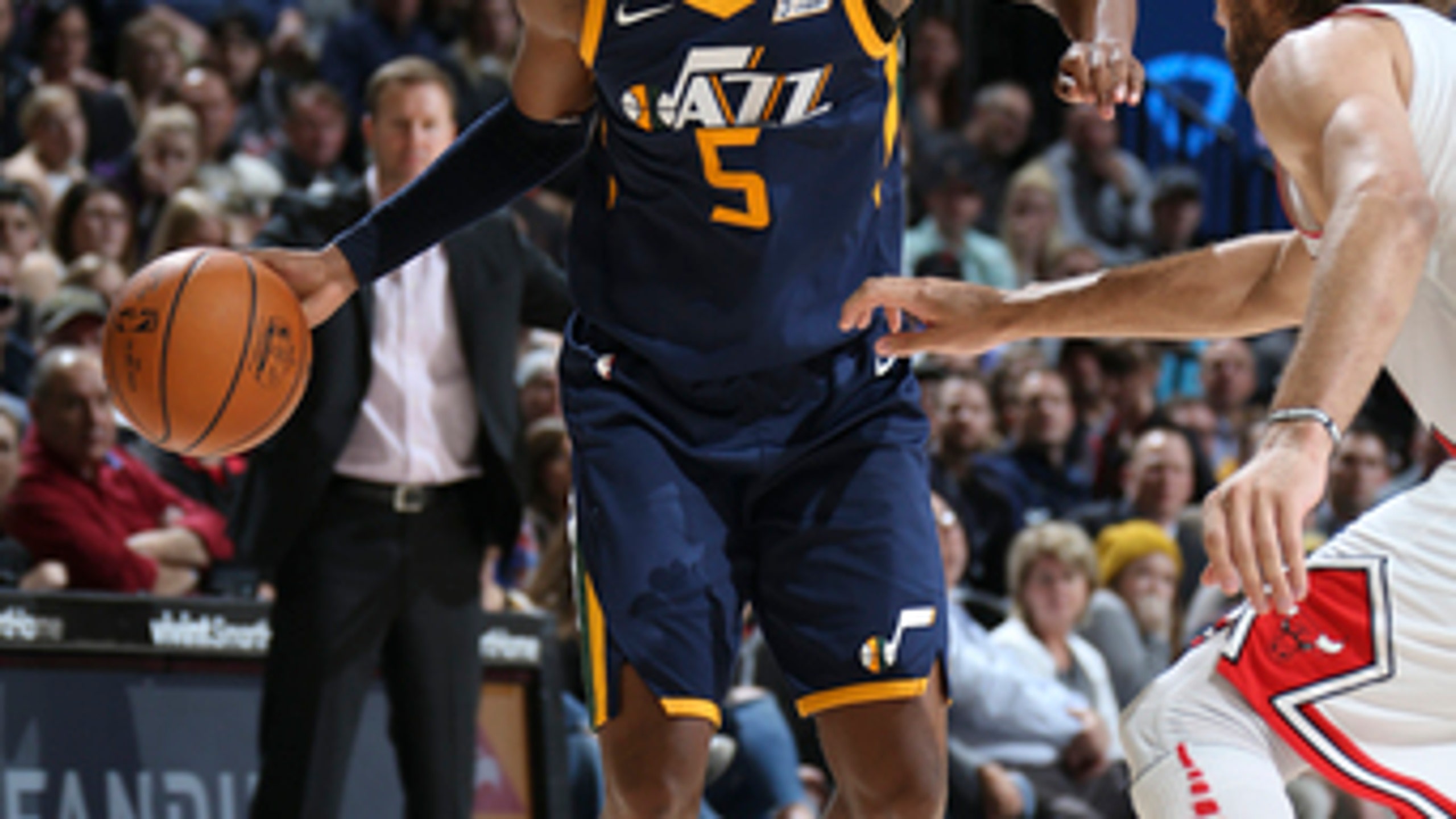 Jazz overwhelm Bulls from outside for 110-80 win (Nov 22, 2017)
BY AP • November 23, 2017
SALT LAKE CITY (AP) When Utah gets the engine running on the perimeter, it doesn't take long to race away from an opponent.
The Jazz beat the Chicago Bulls 110-80 on Wednesday night, winning by 30 or more for the second time in three games. Utah beat Orlando by 40 points on Saturday.
In both cases, the Jazz carved out huge leads behind strong perimeter shooting. Against Chicago, the Jazz went 11 of 22 from the outside during the second and third quarters.
''The ball was pinging around,'' guard Rodney Hood said. ''We had them chasing us around by moving the ball. We drove close-outs, which is big, and we found the open guy. If we continue to do that, we make the game easier for us and it's just a matter of us making or missing.''
Derrick Favors scored 23 points, Hood added 19 and Alec Burks chipped in 15 points for the Jazz. Utah (8-11) snapped a three-game losing streak to Chicago extending back to the 2015-16 season.
Robin Lopez scored 15 points and Bobby Portis added 14 points and eight rebounds off the bench for the Bulls. Justin Holiday and Kris Dunn chipped in 12 points apiece.
Chicago (3-13) dropped to 0-3 on its Western road trip.
Utah initially carved out a 35-28 lead behind back-to-back 3-pointers from Hood and Thabo Sefolosha. Chicago answered with an 8-0 run and took a one-point lead on a backdoor layup from Dunn. The Jazz surged back in front on back-to-back 3-pointers from Joe Ingles and Raul Neto and an alley-oop dunk from Donovan Mitchell.
Utah scored on four straight possessions before halftime. Hood hit a floater and banked in another jumper, while Favors scored back-to-back baskets to give the Jazz a 55-46 lead going into the break.
''They amped up their pressure, amped up their physicality and they just dominated us from that point forward,'' Bulls coach Fred Hoiberg said. ''Really, at the start of the second quarter, took us out of anything we wanted to do. We weren't getting into bodies. We weren't getting ourselves open. They were getting whatever they wanted on the other end.''
Once the Jazz found a rhythm outside, they kept it going through the third quarter.
Back-to-back 3-pointers from Jonas Jerebko and Ingles extended Utah's lead to 67-53. Consecutive 3-pointers from Hood put the Jazz up 82-60 later in the quarter.
Ball movement keyed it all. Utah had 23 assists on 40 field goals.
''I loved how we shared the ball the whole game,'' Jazz coach Quin Snyder said. ''You could feel it.''
TIP-INS
Bulls: Chicago coughed up 16 turnovers, leading to 22 points for Utah. The Bulls forced just seven turnovers. . Forward Lauri Markkanen finished with just three points on 1-of-9 shooting. Markkanen is the only NBA rookie leading his team both in scoring and rebounding this season.
Jazz: Mitchell shot just 1 of 10 from the field and finished with four points, but he also had five rebounds and seven assists. . Utah received 51 bench points. It is the second time in three games the Jazz second unit eclipsed the 50-point mark.
HAVING FUN AGAIN
With no lingering injuries setting him back this season, Favors is quietly emerging as a force on both ends of the court again.
A knee injury to Rudy Gobert has forced Favors to shoulder a bigger load on both offense and defense. He has responded well to the challenge thus far. In his last four games, Favors is averaging 18.0 points and 8.0 rebounds.
''I was hurt last year,'' Favors said. ''It was miserable. Definitely I'm having a lot more fun. Appreciate being out there on the court more now since I couldn't do much last year.
SHOOTING WOES
Chicago shot 37 percent and has been held below 40 percent over the last three games. For the season, Chicago is last in the NBA at 41 percent.
Utah held Chicago to just 31 second-half points.
''They were the more physical team tonight,'' Portis said. ''When we're not making shots, we need to lock in on the defensive end.''
UP NEXT:
Bulls: Visit the Golden State Warriors on Friday.
Jazz: Host Milwaukee on Friday.
---
For more NBA coverage: https://apnews.com/tag/NBAbasketball
---
---