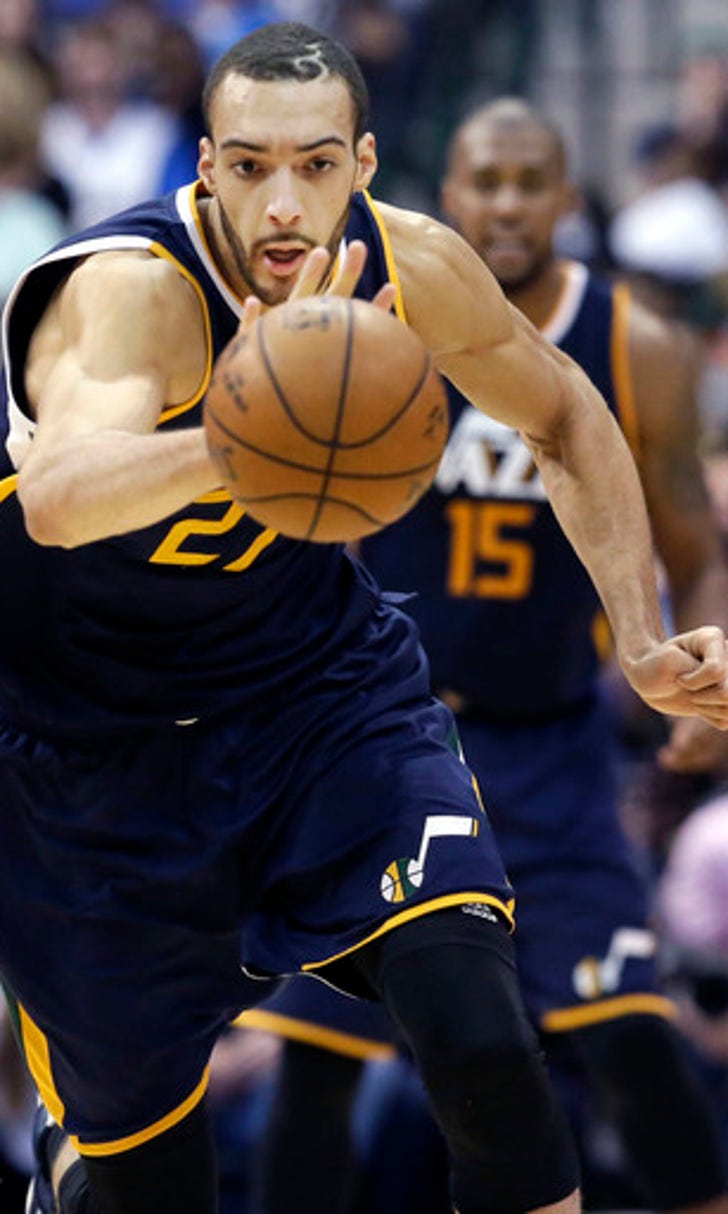 Gobert 27 points, 25 rebounds in Jazz 112-107 OT win at Mavs (Jan 20, 2017)
BY AP • January 21, 2017
DALLAS (AP) Rudy Gobert was helping the Utah Jazz even when missing free throws in overtime.
Gobert, who finished with career highs of 27 points and 25 rebounds, missed both of his free throw attempts with 1:50 left. But the second one ricocheted right back to him, and he fed the ball to Joe Johnson for a tying 3-pointer. The Jazz went on to a 112-107 victory over the Dallas Mavericks on Friday night.
''That was the plan. Coach called it,'' Gobert said with a smile.
After a miss by Deron Williams on the ensuing possession and a foul in the aftermath, Joe Ingles put the Jazz ahead to stay by making two free throws with 1:35 left.
Gobert had seven rebounds in the extra five-minute period, and finished with his 29th consecutive 10-rebound game.
''What I love about Rudy, is he's trying to win the basketball game and he doesn't like to lose,'' teammate Gordon Hayward said. ''He's got a fire inside of him and it's definitely something that you can feel when you're out there.''
Hayward had 26 points, including a big 3-pointer late in regulation. Johnson finished with 15 points.
Harrison Barnes had 19 points for Dallas, which had seven players score in double figures. Williams had 16 points and Seth Curry 15.
Williams had consecutive layups high off the glass in overtime, the last with 1:36 putting the Mavericks up 107-104.
Hayward's 3-pointer with 1:06 left in regulation had put the Jazz up 96-95, then Gobert had a rebound that led to his layup at the other end for a 98-95 lead with 36 seconds left.
That rebound by Gobert came after a missed 3-pointer by J.J. Barea, who aggravated a left calf issue on the shot. He was playing in only his 18th game and now will miss some more.
''Same calf, different area,'' Mavs coach Rick Carlisle said. ''It's going to be a while. It's going to be likely weeks and not days.''
Curry, who had been on the bench for a long stretch, re-entered the game for Barea and made a wide-open tying 3-pointer from the left corner with 25 seconds left.
TIP-INS
Jazz: Gobert's rebounding streak is now 10 games longer than the previous Jazz record that had been shared by Paul Millsap (2008-09) and Truck Robinson (1977-78). Only four other NBA players have had a 30-game streak of 10-rebound games since 1997-98. ... The Jazz went to overtime for the first time this season.
Mavericks: After losing at Miami on Thursday, Dallas is 0-8 in the second game of back-to-backs. ... The Mavs scored on 10 consecutive possessions in the fourth quarter before Barnes had a turnover out of a timeout with 2:40 left. Barnes had scored seven consecutive points during that stretch. ... Andrew Bogut missed his fifth straight game since tweaking his hamstring last week after coming back from a right knee problem.
20-20 FIRST
When the 7-foot-1 Gobert was asked what took him so long to get his first 20-20 game, he responded, ''I can't do everything right away. Got to do it slowly.'' The 24-year-old Gobert is in his fourth NBA season. Asked if he should be an All-Star, he said, ''Yes, to be honest. ... I think I should be an All-Star for sure.''
SHOOTING STRUGGLES
Dirk Nowitzki matched his season high with 10 rebounds for Dallas, but was just 1-of-13 shooting for three points. A minute into the fourth quarter, the 13-time All-Star and MVP from 10 years ago twice grabbed his own misses before being blocked on a third try.
TRYING TO STOP TIME
After Hayward's miss with 2 seconds left in regulation, Carlisle was immediately trying to call timeout while Williams tried to gather the rebound. ''They didn't see it - although none of them told me that,'' Carlisle said. The buzzer sounded, and officials reviewed the play. Two-tenths of a second were put back on the clock and the ball went to the Jazz since Williams lost the ball out of bounds. The Jazz called two timeouts but were unable to get an alley-oop shot, the only possible way to score in that little bit of time.
UP NEXT
Jazz: Back home against Indiana on Saturday night.
Mavericks: Host the Lakers on Sunday. Dallas won twice in Los Angeles earlier this season, and has won 12 straight in the series.
---
---