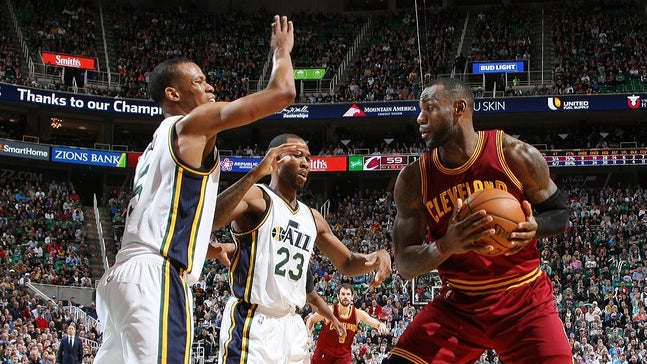 Cavs continue inconsistent play, fall to shorthanded Jazz
Published
Mar. 15, 2016 1:23 a.m. ET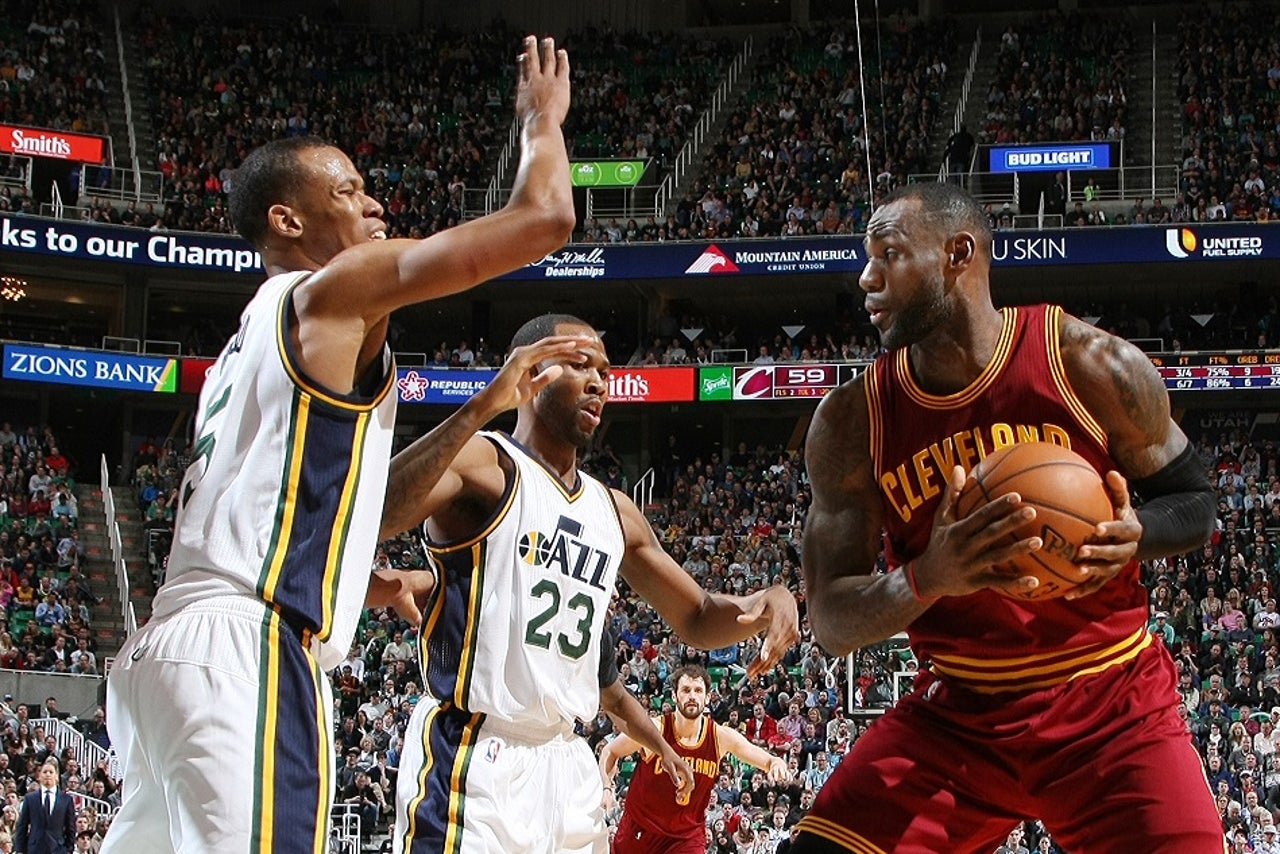 SALT LAKE CITY -- The sore lower back that forced Rodney Hood to miss a game last week is still bothering him, though the second-year guard said there's no time to be hurt. The Jazz are in a playoff race with games running out and the Cleveland Cavaliers were in town.
Hood scored 28 points and Utah, playing without leading scorer Gordon Hayward, beat Cleveland 94-85 on Monday night.
"Rodney did what Rodney does," Jazz coach Quin Snyder said. "I'm sure he was aware of (missing Hayward's offense), but I don't think he hunted shots. I just thought he was really aggressive when he had a window.
"He probably felt a little bit more freedom because Gordon was out."
The Jazz remained two games behind the Houston Rockets and Dallas Mavericks for the last Western Conference playoff spot, while the Cavaliers stayed 2 games ahead of Toronto in the East.
The Jazz (32-35) led most of the game, but went into the fourth quarter tied at 66. Utah went on a 16-2 run midway through the period, led by 10 points from Trey Lyles, to take an 86-73 lead.
The Cavs (47-19) never recovered.
"We had our chance," Cavs forward LeBron James said. "We definitely settled for the outside shot too much tonight and didn't get into the paint. They did a great job of capitalizing on our mistakes.
"I don't think it's a step back. We still have an opportunity to get better in our next game."
Lyles and Cavs center Channing Frye were ejected with 3:57 remaining. Lyles appeared to elbow Frye in the groin while trying to create space with the ball. Frye then went forehead-to-forehead with Lyles after the play. Lyles was given a flagrant 2 foul and Frye received his second technical of the night.
Hayward missed his first game of the season with plantar fasciitis in his right foot, but Hood picked up the slack. Shelvin Mack added 17 points, 10 assists and seven rebounds while Derrick Favors finished with 19.
James had 23 points and 12 rebounds for the Cavaliers, and Kyrie Irving chipped in 15 points.
"It was definitely a big win for us because everybody came in and contributed in different ways without Gordon," Favors said. "It was just a team effort. Guys were making the extra pass. Guys were communicating and helping on defense. Just played as a team. Played unselfish."
The Jazz led 48-44 at halftime thanks to a defensive effort that kept the Cavs' Big Three in check. The combination of James, Kevin Love and Irving shot 9 for 27 from the floor for 22 points. Cleveland shot just 26.7 percent from 3-point range in the first 24 minutes while the Jazz knocked down 51.4 percent of their shots from the field.
The Cavaliers entered the night as the third-best scoring defense in the league, but struggled much of the night. Irving went back onto the floor for extra shooting well after the game ended.
"They played hard," Cavs coach Tyronn Lue said. "I thought their switches hurt us a little bit. When they went to the switching 1 through 5, it kind of made us tend to go into a 1-on-1."
TIP-INS
Cavaliers: Irving needs two assists to pass Geoff Huston (1,630) for 10th place in team history. ... The Cavs were held under 100 points or the first time in seven games. ... Tristan Thompson was held to two points.
Jazz: Trey Burke continued to see minutes at shooting guard after being dropped to No. 3 in the point guard rotation since the trade for Mack. ... Mack has scored 58 in the last three games and his 10 assists were a season high. ... Joe Ingles played a season-high 37 minutes.
M.I.A
Reserve Joe Ingles started in Hayward's place. Coach Quin Snyder said Hayward's foot had been sore for a while and it reached a point where something needed to be done. "I hope not," said Snyder when asked if it could linger. "It's really treatment and he's probably not going to be 100 percent immediately or in time the way the schedule is right now. Presumably or hopefully he'll get to the point where he's able to go again. Hopefully sooner than later."
REST ON THE WAY
Lue said he'll be looking to rest players in the upcoming stretch of games. The team has three games in four nights starting Wednesday, including a back-to-back against the Magic and Heat.
UP NEXT
Cavaliers: Host Dallas on Wednesday.
Jazz: Host Phoenix on Thursday.
---
---