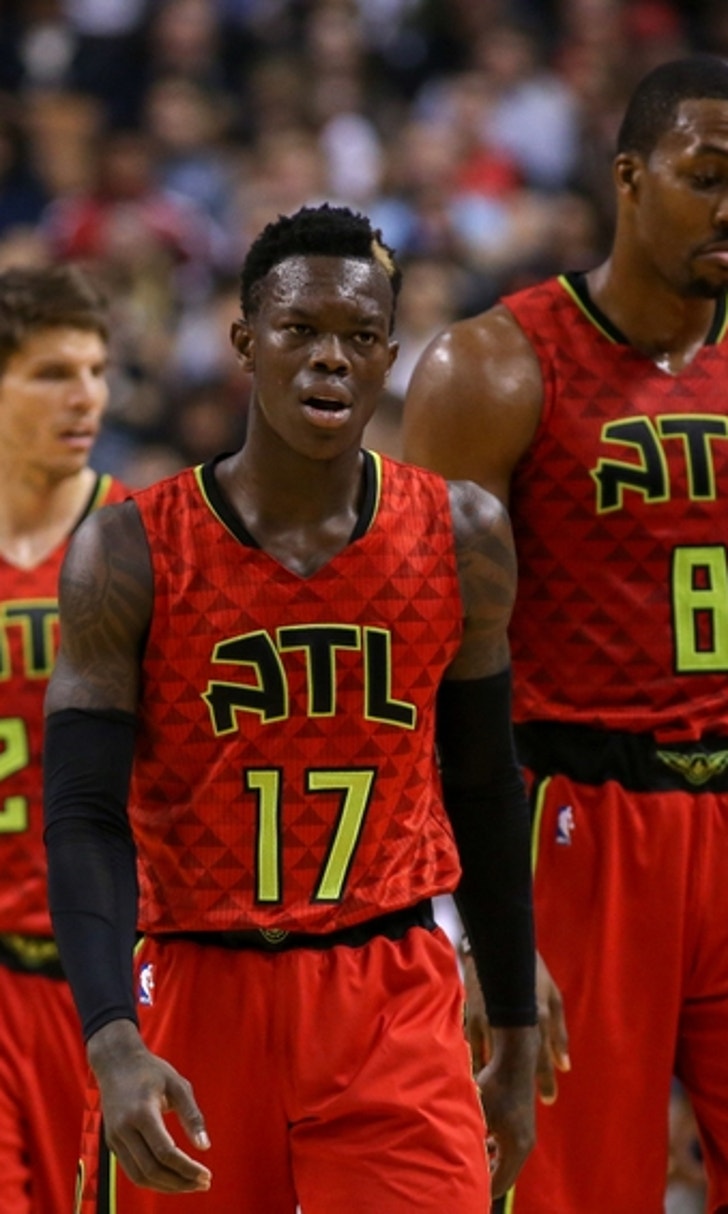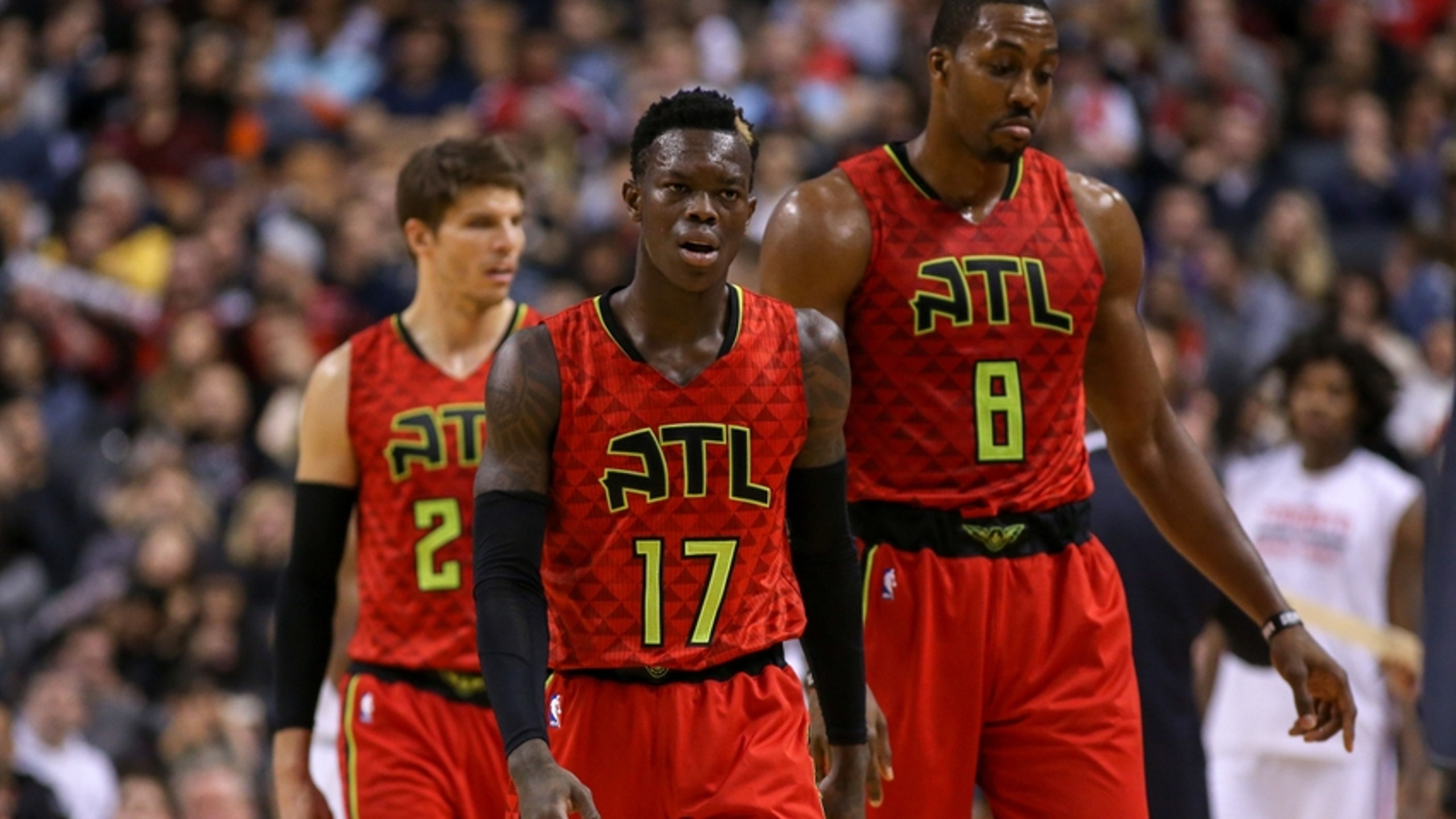 Atlanta Hawks Year of 2016 in Review: Roster Moves
BY Fansided and Tyler Sellers/FanSided via Soaring Down South • December 25, 2016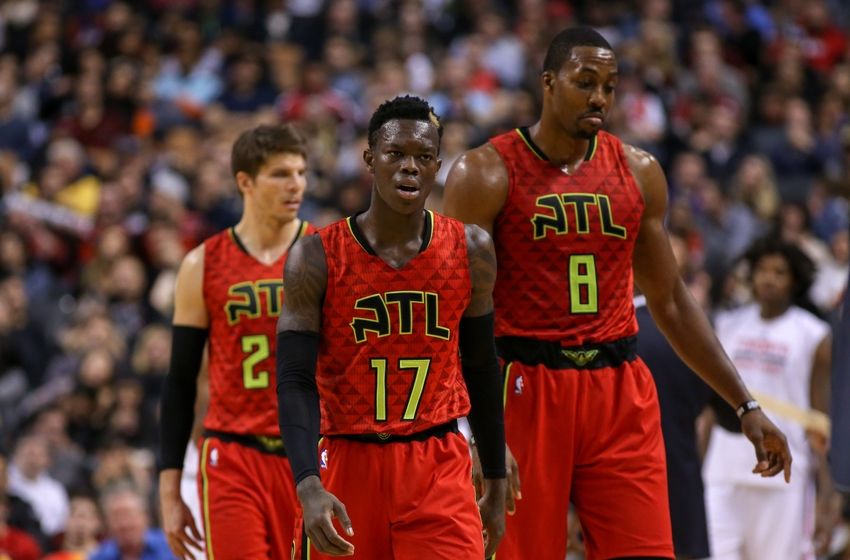 The Atlanta Hawks have had an interesting 2016. What were some of the best, and worst, roster moves they made?
Happy Holidays to all you Soaring Down South readers, here in this cyber universe! I appreciate all of you for letting me share my thoughts, views, and opinions of our Atlanta Hawks. Hopefully, I have enhanced your experience as a fan, in some form or fashion. I admit, I have had moments where I just vent and ramble on, but for the most part it's about you guys.
So, how eventful of a calendar year have the Hawks had in 2016? There have been tons of big shots, rim-rattling dunks (even a backboard shattering one), ankle-breaking crossovers, trades, free agent signings and departures, memorable playoff performances, and much more! Over the next few days, I'm going to roll out reviews of roster moves, individual performances and top plays, and finally the team's most memorable games.
This is by far the most I've hyped up one of my articles. Before I get too carried away, here are the best, worst, most outstanding, disappointing, and controversial of the roster moves made by the Atlanta Hawks for 2016.
Sep 26, 2016; Atlanta, GA, USA; Atlanta Hawks center Dwight Howard (8) poses for photographs during Atlanta Hawks media day at The W Hotel. Mandatory Credit: Jason Getz-USA TODAY Sports
Signing Dwight Howard
On July 7th, the Atlanta Hawks officially signed Howard to a three-year, $70 million contract to finally come home, and be their starting center. He is an Atlanta native that starred in the AAU circuit and at Southwest Atlanta Christian Academy, before going straight to the NBA as the number one overall pick in the 2004 NBA Draft. The signing marked arguably the first time that the Atlanta franchise has had success in acquiring a player of Howard's caliber through free agency.
Although Howard isn't viewed as a superstar anymore, he has been one of the league's top centers for many years, and is familiar with carrying the weight of a team and a city on his shoulders. The same could not be said for Joe Johnson, perhaps the other most notable free agent signing by the team. He nearly broke up an ownership group and the team's bank prior to playing even one game. Nothing against Joe, he had an impressive career with the Hawks, but he never established himself as a superstar.
While it's still far too soon to determine whether or not Howard's tenure will ultimately be a success, if the first two months are any indication, the Hawks have themselves a top-tier center. He is averaging 14.2 points, 13.0 rebounds and 1.5 blocks per game in 26 games, all starts, this season. He has brought an intensity and toughness that will serve Atlanta well in future playoff games.
Dwight has made himself right at home, and has said that he loves playing for coach Mike Budenholzer. The chemistry that the team develops will only improve Howard's production going forward. He has already had a few 30 point, 15 rebound games.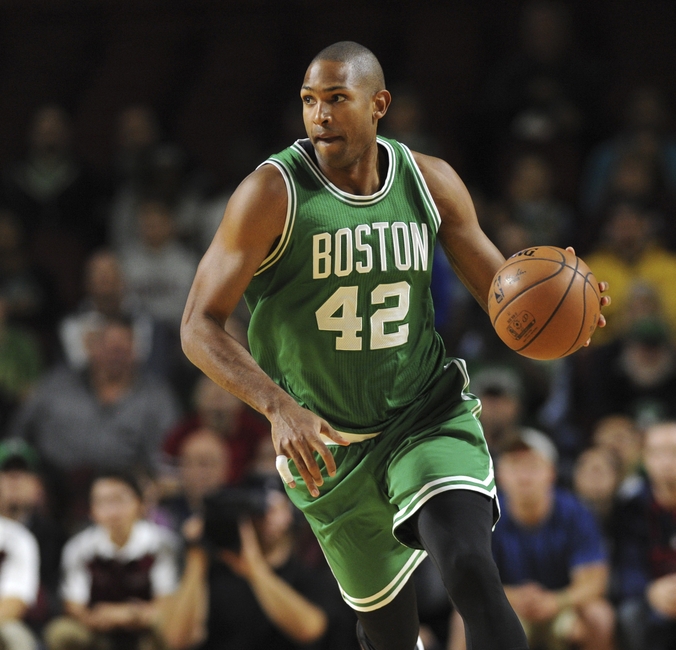 Al Horford Heads North
It's not very often that you can describe a team losing a player as their best roster move of the year, but it does this time around. Had Atlanta decided to retain Horford's services at his asking price, it would have cost them a gargantuan, mammoth, preposterous, absurd, whatever you want to call it, $152 million over five years for his max contract.
Now. it's important to understand just how the term "max" is defined when attached to an NBA contract. "Max" is a player and team dependent term.
A player with zero to six years of service can have a starting salary of approximately 25 percent of the salary cap. For players with seven to nine years of service, the starting salary is about 30 percent of the salary cap. And for players with more than 10 years of service, it is 35 percent.
The team dependence of a maximum contract is based upon how long a free agent played with their previous team and the continuity of their contracts throughout that time. After a player earns Early Bird Rights from playing two years with a team, they are entitled to receive 7.5 percent raises (instead of 4.5 percent) from their previous team and only their previous team. After three years, which generally establishes Bird Rights, the player also earns the right to receive a five-year contract (instead of four) from their previous team.
In case you were wondering, the term Bird Rights is actually named after Larry Bird, as it's also known as the Larry Bird exception. It got that name because the Boston Celtics were the first team permitted to exceed the salary cap to re-sign one of their own players ( in that case, Larry Bird).
The salary cap went up from the previous $89 million, to $92 million this off-season. If you felt as though the Hawks were financially strapped in the midst of Joe Johnson's deal, imagine if Al Horford's maximum contract as he ages well into his thirties.
If you are in a bad mood about this season's struggles, the holidays, or whatever, you should stop what you are doing and thank your lucky stars that he left for the Boston Celtics. That is, if you haven't already. If my team is paying LeBron James that type of deal, then okay. Anybody else though, and I'm already hot under the collar. That is why the Hawks were right not to offer Al a maximum contract.
Editors Note: I love Al Horford, and miss him dearly, but differences in opinion are a good thing. Carry on. 
 Bazemore  Is Back
I know that I will catch hell from some fans for already tagging Bazemore and his new deal a bust, but to me, at the time, it didn't make any sense. The Hawks had already drafted a stud small forward in Taurean Prince with the 12th pick of the draft. On top of that, they drafted another stud player similar to Bazemore in De'Andre Bembry with the 21st pick. Had they signed him to a two-year, $30 million contract then it would've been more plausible.
The roster was already stacked with wings that could post 11 points, five rebounds and three assists per game. I get that you need guys that can help you compete right away, I understand that. I would have much rather have seen them reach a little deeper in their pockets to go after Harrison Barnes, who was signed by the Dallas Maverick's for four-years and $95 million. If they were going to make a real big commitment to a starting small forward that would have been more sufficient.
Barnes hasn't helped the Mavs win a lot of games to this point, but he is averaging 20.4 points and 5.5 rebounds per game on 46.4 percent shooting and 32.9 from three-point territory. When compared to Bazemore's production of 10.6 points and 4.4 rebounds per game on 36.7 percent from the floor and 28.6 percent from three-point distance, Barnes has proven to be a much better player.
Kent Bazemore's ineffectiveness doesn't totally hinge on how talented he is or how much he can develop either. As much as coach Budenholzer would try to convince you it's not the case, the fact that Kent is rather undersized as a shooting guard, and even more so as a small forward, is one of their biggest problems now.
Because coach Bud views both positions as interchangeable, he won't hesitate to have Bazemore in the game for long stretches with Tim Hardaway Jr. Hardaway is generously listed in your program at 6-foot-6, leaving the Hawks with a height discrepancy along the perimeter.
At 6-foot-8, Harrison Barnes would have been better suited to play either wing position. He is a small forward. With the four-year, $70 million deal that the Hawks inked Kent Bazemore to, they are basically obligated to start him. Even through what could be described as an awful shooting slump. 
It's true that the step-back, game-winning, baseline jump shot Bazemore made to sink the Cavalier's ship earlier this season was one of the team's greatest moments this season. It goes without saying that it was awesome, but it does not make Bazemore's overall play forgivable. For somebody that plays 30 minutes a game, he needs to snap out of it.
While it may not happen this season, the promotion of Taurean Prince to the starting lineup may be the only hope to restore balance at small forward and shooting guard. Since the departure of DeMarre Carroll, there has been somewhat of a void at the starting small forward spot. Prince can play. There is just no telling when he actually will get a chance. Trading Shelvin Mack and Justin Holiday for Kirk Hinrich
On February 18th, 2016, Mack and Holiday were traded in a three-team deal involving the Utah Jazz and Chicago Bulls, that resulted in the Hawks acquiring Kirk Hinrich. Shelvin Mack went to the Utah Jazz, and Justin Holiday packed his bags to go play for the Bulls.
What is the motivating factor to make a trade like this? Shelvin Mack and Justin Holiday are not going to turn into stars anytime soon, but they are both solid, young players that can make substantial contributions to a team at affordable prices. Mack was under contract through the end of this season, for an annual salary of $2.4 million and a total of $7.3 million over the span of three years. Justin Holiday is making $981,486 this season, in what is the conclusion of a two-year deal.
Hinrich came over to the Hawks from the Bulls to serve his second stint as a guard in an Atlanta uniform. He now is listed as inactive in the NBA, as he is not on anyone's roster. Last season, he was making $2.85 million thanks to an option that he exercised at the start of the 2015-2016 campaign. He played in only 11 games, averaging 0.5 points, 1.3 assists and 1.1 rebounds per game in 6.9 minutes per game.
The part of this trade that hurts the most is absolutely losing Shelvin Mack. Over the off-season, the Hawks made a genuine effort to address their depth, or lack there of. at the point guard position. They signed both Jarrett Jack and Will Bynum to veteran minimum deals near the end of free agency. They were both cut before the season even began.
I'd like to give you an idea of just the level of player that Mack was when they dealt him away for a ghost. He played in 28 games, starting 27, scored 12.7 points, averaged 5.3 assists and 3.8 rebounds per game in 31.7 minutes per game for the Jazz, after the trade. Utah was ravaged by injuries at the point guard position, and Mack was able to step up and start to help them close out the season on a high note.
Mack would have been a better option as a third string point guard than the aforementioned Jack and  Bynum. He also would have enabled the upstart Dennis Schroder to log more time off the ball in small lineups, to gain an advantage of speed in certain match-ups. As far as the point guard position is concerned, what was initially a strength of the team (Teague, Schroder, Mack), is now a weakness (Schroder, Delaney). That's not at all an indictment of Schroder, but the incredibly thin amount of depth this season instead.
If you thought that Justin Holiday was an insignificant portion of the deal, well then you would actually be incorrect. Since leaving the Hawks, he has played a bigger role for both the Chicago Bulls, and currently the New York Knicks. For Chicago, he played 18.9 minutes per night over 27 games, scoring 6.5 points, getting 2.3 rebounds, and tallying 1.7 assists per game. He shot 41.3 percent from the field and 43.3 percent from three-point range. He has had an impact in New York very close to the one that he had in Chicago. He averages 6.7 points, 2.9 rebounds and 1.1 assists per game for the Knicks.
Have I sounded anything like Ebenezer Scrooge in regards to how disappointing this one, small trade has been? Ba Humbug! How dare they trade two bench warmers for another bench warmer?! Well, it turns out, Shelvin Mack and Justin Holiday are pretty good players. Good players that I bet coach Budenholzer wishes that he still had. There's a chance that I have overstated the impact that this trade has had on the team, but it is a shame that these talented players were just given away.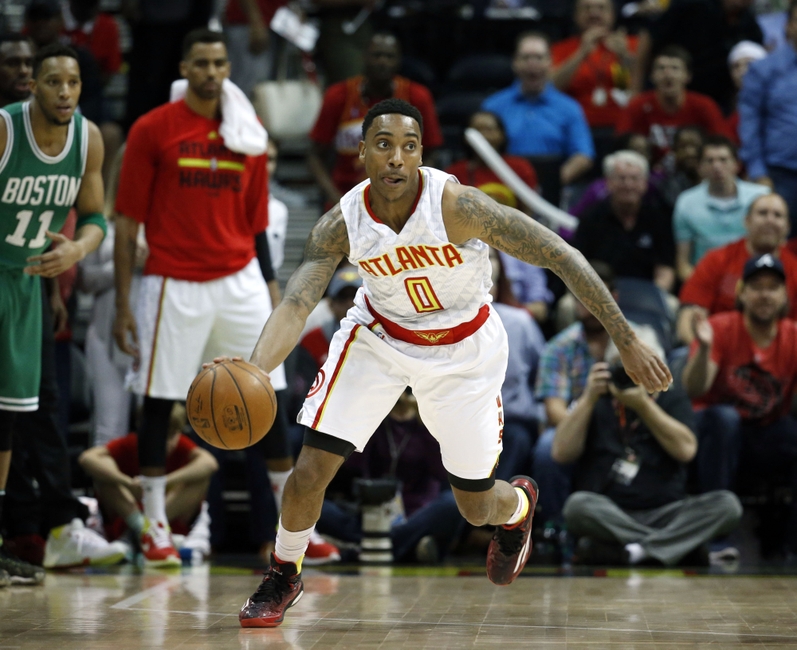 Jeff Teague Traded to the Pacers 
On July 7th, 2016, prior to the draft, Atlanta sent point guard Jeff Teague to the Indiana Pacers as part of a three-team deal. The Utah Jazz also sent the number 12 overall pick in the 2016 draft to the Atlanta Hawks, as they received point guard George Hill from the Pacers. The draft pick turned out to be Taurean Prince out of Baylor.
The fact that Jeff Teague wound up getting traded was not anything resembling that of a controversy. With the emergence of the exciting, talented Dennis Schroder as his potential replacement, a Jeff Teague trade became more imminent with each passing day. It was  controversial in the sense of how Teague left, and what the move would mean for the franchise as a whole for the foreseeable future.
On June 7th, 2016, in a post to his Instagram account, he dropped a bombshell that couldn't have made the Atlanta Hawks or their fans very happy.
For him to come out and say that he played the whole year with a tear in his patella, did not shed any positive light on the Hawks organization, and definitely hindered his trade value. In the end, Atlanta did fairly well to get a lottery pick in the Teague trade.
The trade of the former Hawks all star point guard signaled the beginning of a new era for the Hawks basketball club. Dennis Schroder would take over as the teams starter, and full-time floor general. It may not have been shocking, or even a surprise, as his promotion was highly anticipated for quite some time. But anytime that there is radical change that takes place, it is always going to be controversial.
The move also sparked an endless stream of questions and analysis that would follow once the off-season slowed to a crawl. Is Schroder an upgrade over Teague? What should be expected of him as the starter? Have the Hawks taken a step back with Schroder? Those are just a few of the topics that had to be broken down this past summer. Thankfully, the Schroder era is underway and has gotten off to a good start.
So, that's all I've got for you today. It was an exciting year for the Hawks front office, as they made an abundance of changes to the roster. I don't think that anyone could have predicted that these moves would have transpired exactly the way that they did. Stay tuned as the Atlanta Hawks  "Year of 2016 In Review" will continue.
More from Soaring Down South
This article originally appeared on
---
---