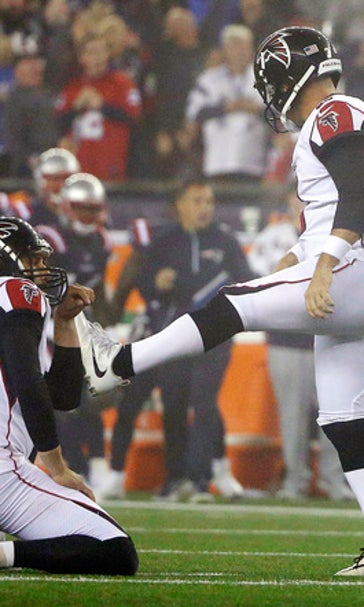 Super Bowl malaise not plaguing Falcons? Want to bet?
October 23, 2017

FOXBOROUGH, Mass. (AP) On a foggy night in Foxborough, one thing became crystal clear: The Atlanta Falcons have fallen victim to the dreaded Super Bowl losers' malaise .
They will deny it all the way through New Year's Eve, when the 2017 schedule ends. Other teams who fell short in the big game have also claimed there was no hangover.
The evidence, however, is mounting. If not for a dropped pass by Chicago running back Jordan Howard and a reversed goal-line call in the final seconds at Detroit, the defending NFC champions could be 1-5 instead of 3-3.
And 3-3 doesn't cut it either, not even in the jumbled NFC South where the Panthers are mistake prone, the Buccaneers can't put a full game together, and the Saints are on top without scaring anyone.
''Figure out ways to win,'' running back Devonta Freeman said Sunday night after a 23-7 throttle at the hands of the Patriots. ''Ain't no one pointing fingers at anyone else, because we're in this thing together. When we win the Super Bowl, there won't be any talk about the problems we're having now. We just take (the problems) as a lesson.''
Of course, no team has ever lost a Super Bowl in the manner the Falcons blew it last February. For those of you who have forgotten - or chosen to blank it out - they were up 28-3 late in the third quarter at Houston. All New England did was score 25 straight points to force the first overtime in a Super Bowl, then march downfield with the OT kickoff to win it 34-28.
Falcons coach Dan Quinn swore his group left the pain and frustration and any lingering psychological damage behind in the offseason. What we've seen on the field in the first seven weeks of the schedule says otherwise.
''We can't worry about outside. You can't control external factors. You can't control how people view you what they want you to do,'' star receiver Julio Jones said. ''You have to know who you are, as a man, as a competitor, and as a brotherhood. And that's what we preach, keeping that bond.''
The Super Bowl syndrome has hit the big game's loser bigtime over the last two-plus decades. None has returned the next year to the title match since Buffalo finished off four straight losses in the 1994 game.
Most recently, Carolina blew all four tires just last season, going from a 15-1 regular season to 6-10.
What's ailing Atlanta?
-Unquestionably, the Falcons miss offensive coordinator Kyle Shanahan, now the head coach in San Francisco - where, incidentally, he's having an even worse time of it at 0-7. Steve Sarkisian has yet to show the craftiness and mastery of schemes that Shanahan had and imparted to quarterback Matt Ryan and Co.
- Ryan looks unsure, sometimes even intimidated by opposing defenses. The league's MVP last season, his best work Sunday night came as a runner, not as a passer.
- A defense that thrived on big plays and sacks has turned tepid. Injuries have played a part, with sackmaster Vic Beasley and top cornerback Desmond Trufant spending time sidelined.
Atlanta's lone convincing win was 34-23 over Green Bay (with Aaron Rodgers) in Week 2. Everything else has been a struggle; the Falcons allowed 20 straight points to Miami in losing last week, then the first 23 to New England.
In their brand new Mercedes Benz Stadium, they are 1-2, and they now have lost three in a row overall.
The denials were plentiful Sunday night, and probably will keep coming as long as the Falcons are floundering.
''We are never frustrated, let's clear that up, and nothing about it is frustrating,'' said Jones, sounding, well, very frustrated. ''It is football and on any given Sunday we just have to keep working and just keep putting the work in. We are not going to get down on ourselves and we are not going to hang our heads. We are just going to keep putting the work in and just wait until it pays off.''
---
For more NFL coverage: http://www.pro32.ap.org and http://www.twitter.com/AP-NFL
---
---