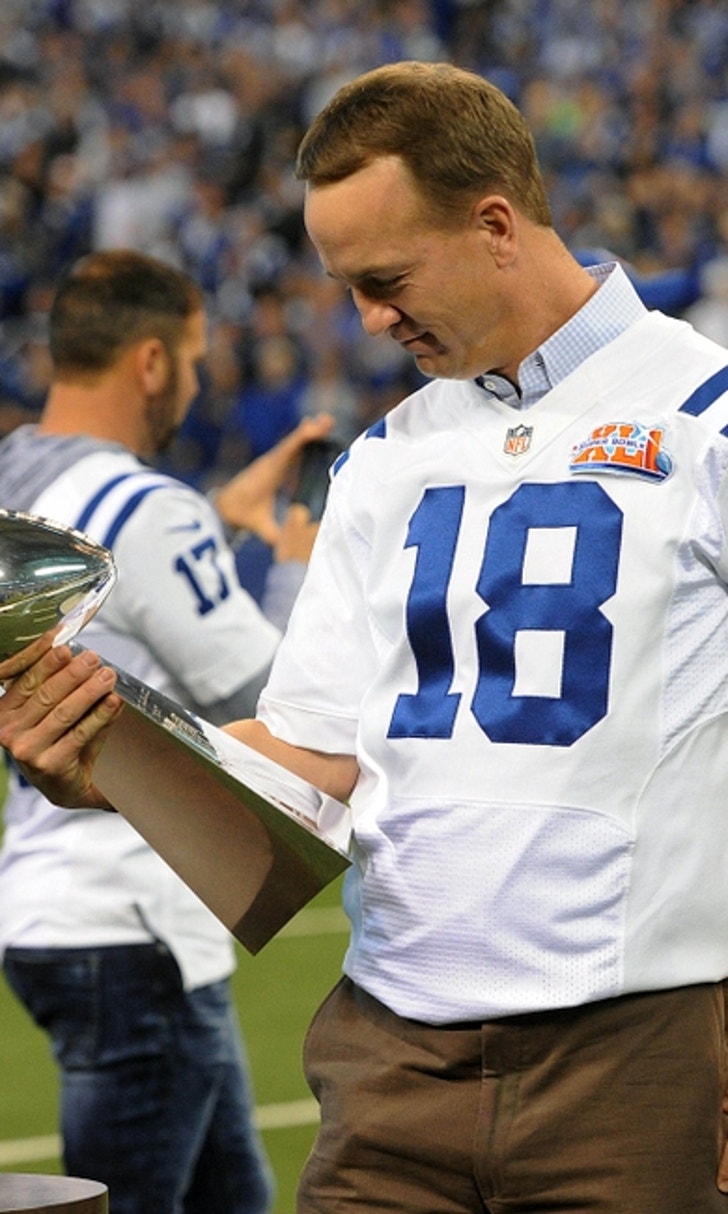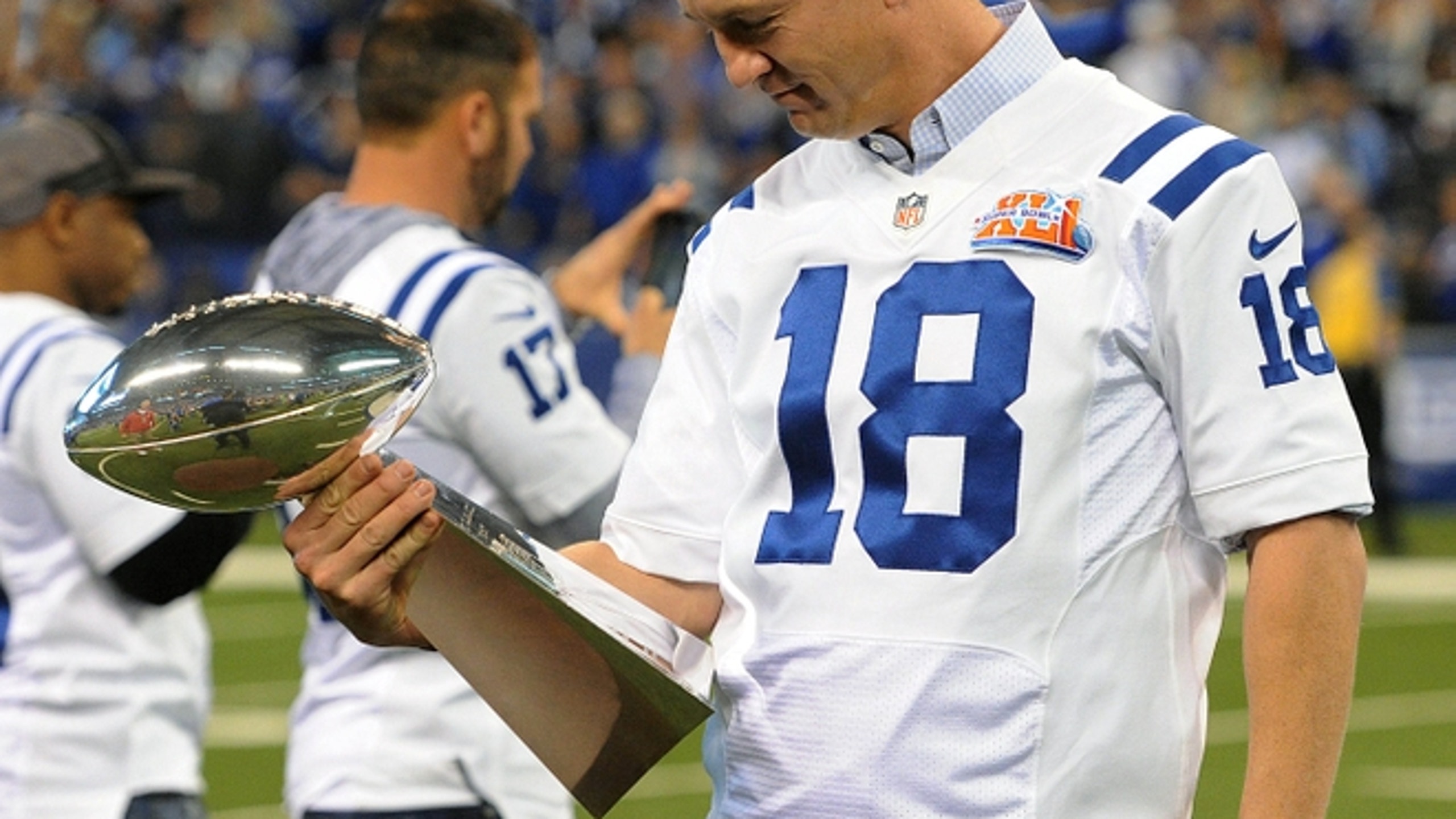 Rumors Grow that Jon Gruden, Peyton Manning Could Pique Interest of Colts
BY Fansided and Luke Schultheis/FanSided via Horseshoe Heroes • December 30, 2016
With the Indianapolis Colts season coming to a disappointing close, speculation is now swirling of a potential offseason shakeup.
Specifically, there is now an increasing number of rumors that team owner Jim Irsay could be interested in bringing a 'big name' such as head coach Jon Gruden in or even Peyton Manning back into the organization–only this time as a general manager in the latter's case.
Mar 18, 2016; Indianapolis, IN, USA; Indianapolis Colts owner Jim Irsay speaks with retired quarterback Peyton Manning standing behind him during a press conference at Indiana Farm Bureau Football Center. Mandatory Credit: Brian Spurlock-USA TODAY Sports
As a potential disclaimer, these are still rumors and should be treated purely as such–nothing more, nothing less. Nevertheless, where there's typically some smoke, there's generally at least a small fire.
According to WTHR 13's Bob Kravitz, who recently appeared on 'The Ride with JMV' on 1070 The Fan, there's been whispers floating out of W. 56th Street that the Colts could potentially be looking to employ either Gruden or Manning for a soon-to-be offseason opening:
JMV:

How much do you think he (Jim Irsay) would really like to bring Peyton Manning back? 

Bob Kravitz:

Yeah, I think a whole lot. I think a whoooole lot, and again, let me preface this by saying, I don't know for sure, but it would not shock me. It would not shock me if Peyton Manning came back on a white horse. It wouldn't shock me to find out later down the line that Jim (Irsay) has been putting the full court press on him. Yeah, it wouldn't surprise me in the least. Yeah, because it's one of the things that has come across my desk.

JMV: 

Clearly, you've heard the stories of the reunion weekend and the late night conversations about this that are leading us down this particular path.

Bob Kravitz:

Yeah, that and there's a lot of stuff going on. Another guy to keep your eye on and again, these guys are still employed so I feel a little weird talking about it, but I know Jon Gruden, who I know comes up every year for every opening, has made it very clear that the one quarterback he'd be interested in coming back for is Andrew Luck. 
Obviously, Kravitz reporting on the rumors gives them some clear credibility, as he was the first to report of potential in-house dissatisfaction with the late Polian regime in 2012–before their eventual dismissal and even more recently, the 'Deflate Gate' controversy in 2014.
It doesn't mean that these rumors will come true, but it also doesn't mean that they can be completely discounted as such either.
Potentially adding fuel to the fire Friday is that longtime Indianapolis Colts blog editor Brad Wells has reported that a dinner occurred recently between Colts owner Jim Irsay and Tom Condon–Peyton Manning's longtime agent:
Again, right now, no one knows for sure what Irsay's next move will be–maybe not even the Colts boss himself at this time. In fact, there may not ultimately be a move all together.
However, these rumors can't be completely ignored either.
Jan 23, 2015; Scottsdale, AZ, USA; ESPN broadcaster and Tampa Bay Buccaneers and Oakland Raiders former coach Jon Gruden at Team Irvin practice at Scottsdale Community College in advance of the 2015 Pro Bowl. Mandatory Credit: Kirby Lee-USA TODAY Sports
Regarding Gruden, the former Super Bowl XXXVII winning head coach with the Tampa Bay Buccaneers has a lifetime 95-81 (.540) career coaching record with both the Buccaneers and Oakland Raiders (1998-2008).
The now popular Monday Night Football analyst and host of 'Gruden's QB Camp' with ESPN has expressed an interest in coaching Colts quarterback Andrew Luck in the past–having taught the young phenom a thing or two about 'Spider 2 Y Banana' in the past as a 'camp counselor':
It's worth noting that he has had prior success with former Oakland Raiders quarterback Rich Gannon and Tampa Bay Buccaneers quarterback Brad Johnson–both of whom were Pro Bowlers 3x and 1x under his offensive system and tutelage respectively.
Meanwhile, Peyton Manning is a man who needs no introduction regarding the Colts franchise, as unquestionably the greatest Indianapolis Colt of all-time.
Nov 20, 2016; Indianapolis, IN, USA; Indianapolis Colts former quarterback Peyton Manning signs a doll of himself for a fan before the game between the Indianapolis Colts and the Tennessee Titans at Lucas Oil Stadium. Mandatory Credit: Trevor Ruszkowski-USA TODAY Sports
While Manning has no prior experience as a member of a professional team's front office, like Denver Broncos general manager John Elway, he figures to be a quick learner given his overall football intelligence and cerebral approach to the game of football as a former quarterback great.
There's no question that he would bring considerable national buzz to the Colts, as one of the most iconic players to ever play in the National Football League, as well as from being a Super Bowl winning 'Horseshoe Hero' in Indianapolis.
Manning could help reconnect what appears to a disenchanted portion of the Colts fanbase that is simply frustrated with the status quo of the Colts leadership and has longed for change.
If anyone knows that it takes for Luck to be successful in the NFL, it could be Manning–who's coming off a Super Bowl championship with the Denver Broncos and is one of the greatest quarterbacks to ever play football.  He could provide much needed guidance to Luck–knowing the nuances of the quarterback position better than anyone, while theoretically surrounding him with a stronger supporting cast of talent.
Earlier, we dreamt of the possibility of punching the ticket for 'Polian & Peyton' for the Colts front office, which may not be as quite of a distant possibility as it once seemed.
Granted, these rumors are still rumors. However, it's possible that such speculation could actually be growing some legs. It's hard to know for sure, but it's well worth monitoring as Colts fans are set to enter the offseason.
More from Horseshoe Heroes
This article originally appeared on
---
---