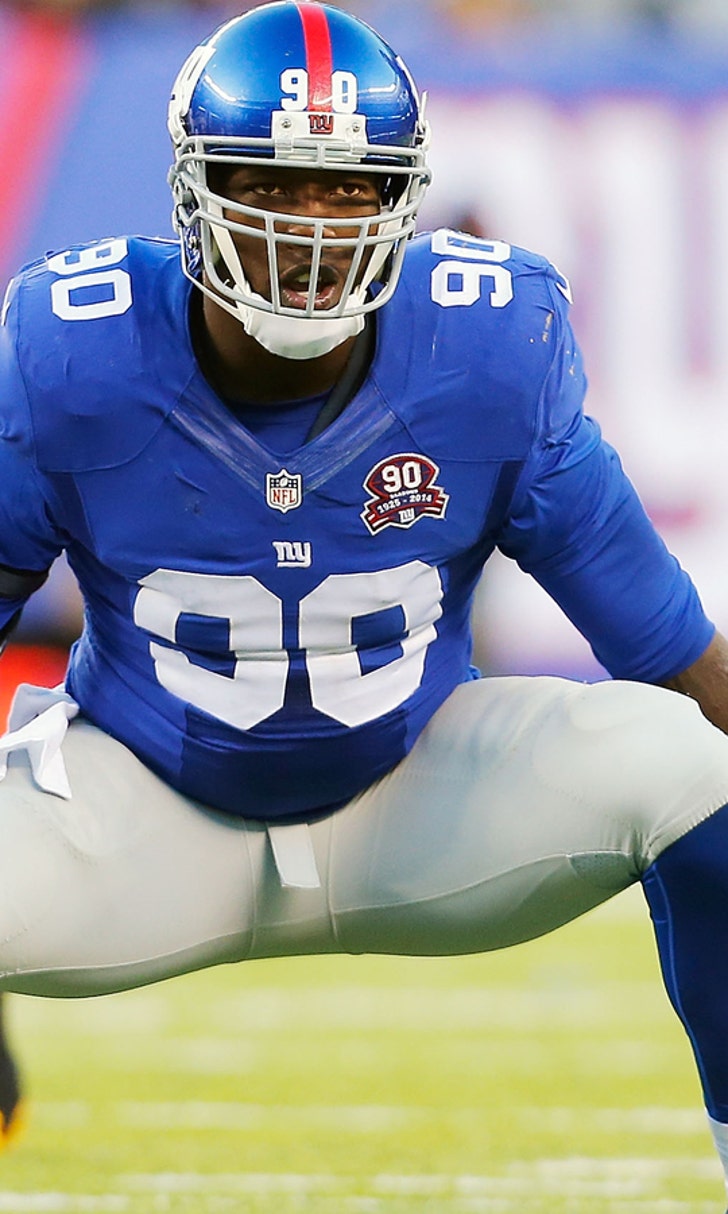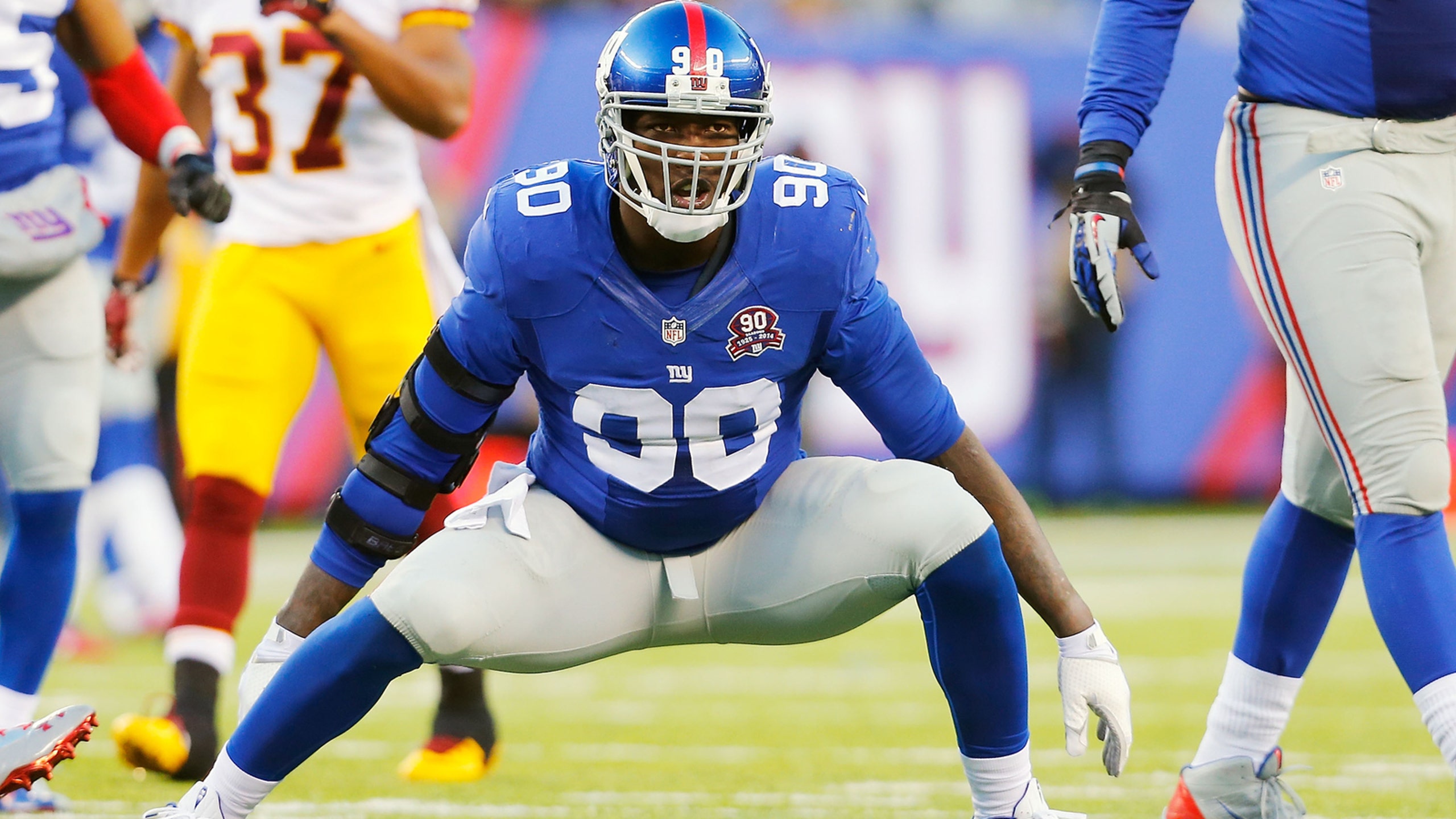 Giants' Pierre-Paul signs one-year deal, could be back in Week 10
BY Mike Garafolo • October 27, 2015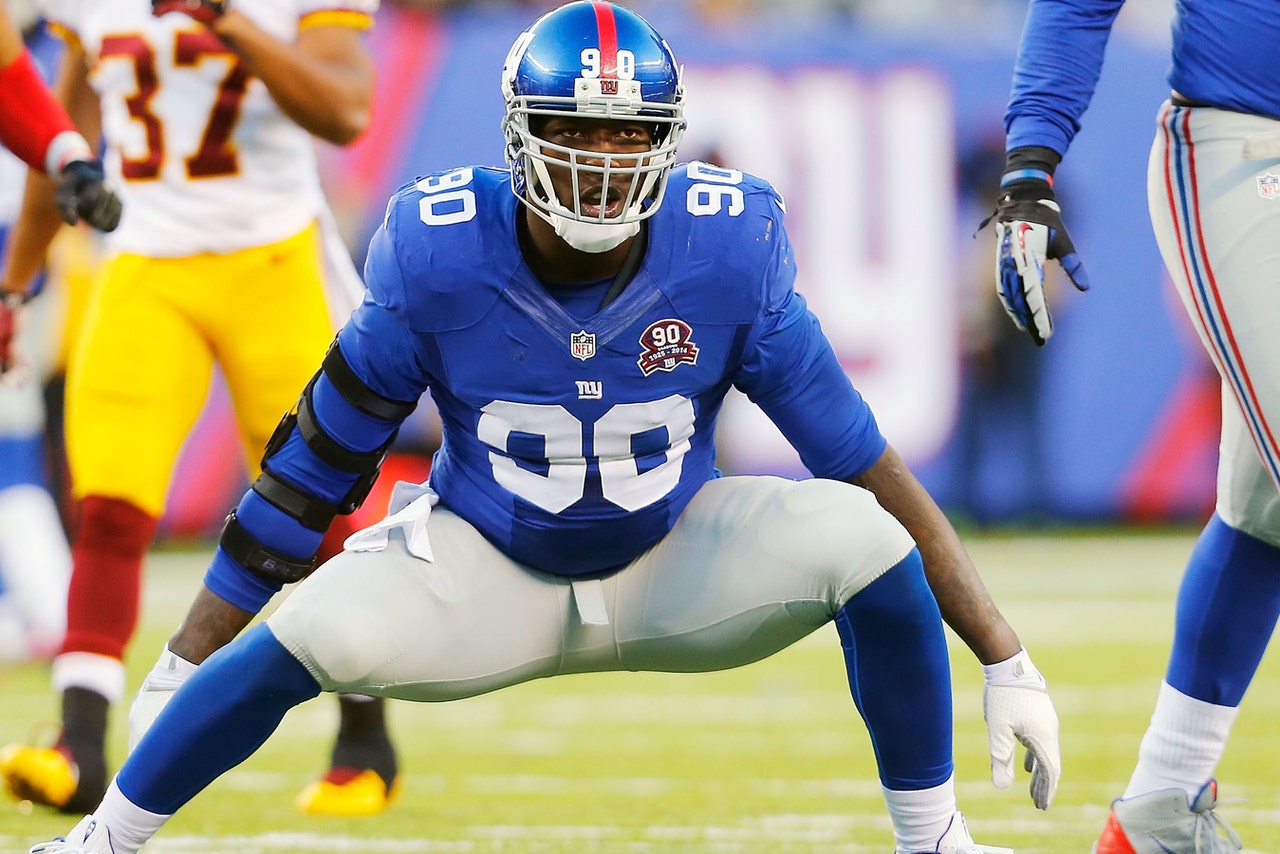 Nearly four months removed from a fireworks accident that resulted in his losing a finger and portions of his right hand, defensive end Jason Pierre-Paul agreed to a one-year deal with the New York Giants and is working his way back toward the field, sources told FOX Sports on Tuesday.
The Giants insisted on a contract that will be reduced from the roughly $870,000-per-week rate of the franchise tender they gave Pierre-Paul back in February, and it appears they will get their wish. The contract will include incentives for performance to allow Pierre-Paul to recoup some of the money he lost because of his fireworks accident.
Once the deal is signed, Pierre-Paul will begin an evaluation process with the team's athletic training and strength staff to check his conditioning and see whether he is close to football shape before he returns to practice.
One source said the hope inside the building is Pierre-Paul will spend this week getting into shape, return to practice next week and then spend Week 10 preparing for his return to the field.
If so, it would mean Pierre-Paul's first game would be in a rematch of Super Bowls XLII and XLVI — the Giants vs. Tom Brady and the New England Patriots at MetLife Stadium on Nov. 15.
There are still many things that must fall into place for Pierre-Paul to be on the field that day, and no one is expecting him to immediately return to a full role. Still, returning to the facility, being back with his teammates and working toward being in uniform is huge progress for the 26-year-old Pierre-Paul, who faced a harrowing situation over the Fourth of July weekend.
Pierre-Paul met with the team over the past two days and was given the OK to play by team doctors. 
A two-time Pro Bowler, Pierre-Paul had his right index finger amputated following the accident, and he also damaged his thumb and had burns on his hand. The six-year veteran has been working out and rehabbing in his home state of Florida.
The Giants have a two-game roster exemption on Pierre-Paul, and the team probably will not rush him since he missed training camp and the first seven games. He also hasn't played in defensive coordinator Steve Spagnuolo's new system.
Pierre-Paul will begin working with the team's medical staff and then return to the field and begin football drills.
"We all are excited to see Jason," general manager Jerry Reese said. "He has worked very hard to get himself back into position to join the team and work toward getting on the playing field on Sundays."
Pierre-Paul said he was excited to be back.
"I'm getting ready to do what I have to do," he said. "I've been training down in South Florida with my trainer. Every day, I got up at 7:30 and lifted weights; I've been doing what I have to do to stay in football shape."
The Giants (4-3) have not generated much of a pass rush without Pierre-Paul, who led the team with 12 1/2 sacks last season. But they are in first place in the weak NFC East heading into Sunday's game at New Orleans.
Coach Tom Coughlin was upset that Pierre-Paul did not report to the team after his injury, saying he would have had access to some of the best medical care in the country.
"It is just good to have Jason back in our building," Coughlin said. "You can feel his energy and his desire to overcome what he has had to endure since July. His spirit is undeniable, and he is anxious to get to work with (defensive line coach) Robert Nunn and Spags, as well as our medical and strength and conditioning people."
Pressuring the quarterback is Pierre-Paul's specialty. In his first five seasons, he had 42 sacks, placing him eighth on the Giants' career list. That includes 16 1/2 sacks in 2011, when he helped the Giants win Super Bowl XLVI and was selected to his first Pro Bowl. He was also a Pro Bowler in 2012.
"I'm just here to help the team out," Pierre-Paul said. "I'm blessed to play the game, and I'm excited about the opportunity to play again."
In 75 regular-season games, Pierre-Paul has 319 tackles, eight forced fumbles, four fumble recoveries, two interceptions (each returned for a touchdown) and 32 passes defensed.
Pierre-Paul had one of his finest seasons in 2014. He started all 16 games at right defensive end, and finished third on the team with 77 tackles. He also had 16 tackles for losses, 21 quarterback hits, three forced fumbles, a fumble recovery and six passes defensed.
After the season, the Giants designated him as their franchise player. He had not signed his one-year tender offer when he was injured, and was without a contract.
The Associated Press contributed to this report.
---
---