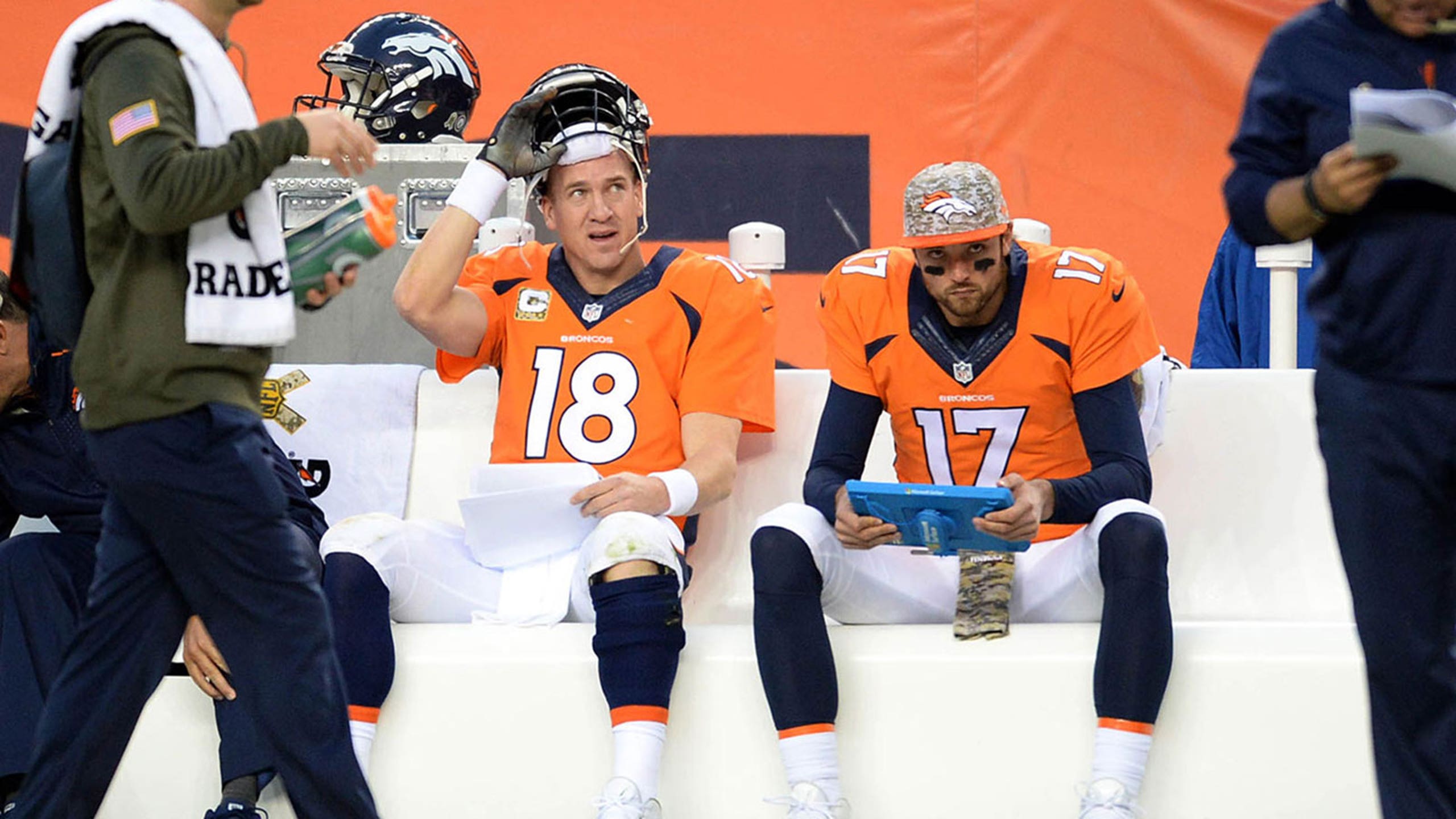 AFC West Notebook: Peyton Manning's era of dominance is over
BY foxsports • November 17, 2015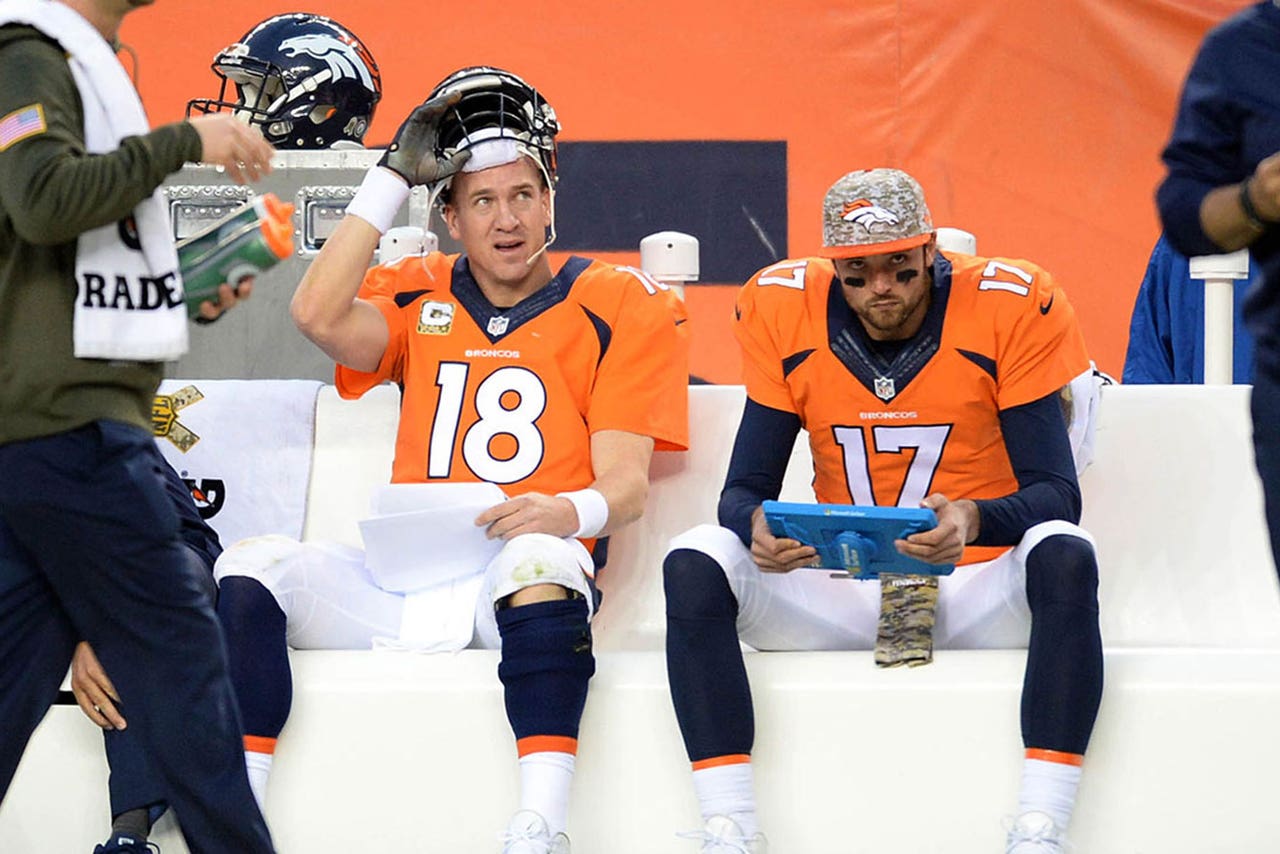 Will John Fox even recognize this Broncos offense when he sees the game tape?
It's a fair question to ask of the man who guided Denver to 38 wins from 2012-14 -- especially now that Fox will coach on the opposite sideline this weekend.
"I think somebody asked me about, well, you know, the familiarity (with the Broncos) and all of that," the first-year Bears coach told Dan Weiderer of the Chicago Tribune. "When you've been doing this for 26 years, you kind of run into a lot of people you know (often). I think that becomes maybe the hardest thing to do."
It has to be hard for Fox to see what's happened to his quarterback who led his former team to the Super Bowl. Now, with a torn foot ligament, a hazy future, and a spot on the bench, Peyton Manning is just a stark example of how time has sped by since Fox left Dove Valley.
He's not the only example, though. Free agency and attrition have claimed all but two offensive starters from Fox's Super Bowl XLVIII squad -- receiver Demaryius Thomas and right guard Louis Vasquez.
Gone is tight end and red-zone target Julius Thomas (Jaguars). Gone are receivers Eric Decker (Jets) and Wes Welker (Rams). And gone is the brand of spread-out football that Manning and Fox set passing records with over their three-season run.
That run has long-since ended under Gary Kubiak's watch. But in some ways, Fox will still have a hand in Denver's new era --  the one that could be quarterbacked by backup Brock Osweiler starting in Week 11.
He'll just be tasked with stopping it, not letting it grow. And some Broncos fans might not like what comes next.
Chargers could use their own Charcandrick West-like approach
Charcandrick West has undoubtedly been a season-saver in Kansas City. He's third in scrimmage yards (412) since Oct. 25 -- trailing only Antonio Brown (622) and Adrian Peterson (578).
But just how the Chiefs propped him up is something special, too. The rival San Diego Chargers ought to take notice before their Week 11 showdown.
Consider the Chiefs' offseason options. They could've easily spent a high draft selection on a back to balance Jamaal Charles workload. Many draftniks suggested it, in fact.
They opted for defense (Rookie of the Year candidate Marcus Peters) and a center to anchor their new offensive line (Mitch Morse) instead. Then, they kept West around after the undrafted rookie showed promise from a year before.
Their AFC West rivals went in a flashier, and ultimately unsuccessful direction. The Chargers traded up to grab running back Melvin Gordon and rid themselves of late-round picks needed to fix a thinning defense. Offensive line went unaddressed in the draft.
Every Chargers decision ended up being the wrong call. So, they'd be wise to sample Kansas City's blueprint, fortify lines and defense with young talent, and worry about ballcarriers much, much later.
QUICK HITS: Despite a down season, Lions wide receiver Calvin Johnson (740 yards) has still outgained Raiders rookie extraordinaire Amari Cooper (732) ... Oakland's pass rush (4.0 sacks last week vs. Vikings) needs to hit home against a Lions line that prevented a sack for only its second game in Week 10 ... Raiders center Rodney Hudson (back) still might not be available ... Oakland's terrible run defense (263 total rushing yards allowed against the Vikings) gets a break against the league's worst running team (Lions averaging 66.9 rushing yards per game) ... Chargers QB Philip Rivers has taken 21 sacks this season. Chiefs' star linebacker Justin Houston (2.0 sacks against the Broncos) is just warming up ... KC-SD was originally slated as Week 11's Thursday night game. It was flexed out ... QB Brock Osweiler had completed just 17 career passes before last Sunday's Broncos game ... The Broncos return shutdown cornerback Aqib Talib (suspension) to their strong secondary.
---
---