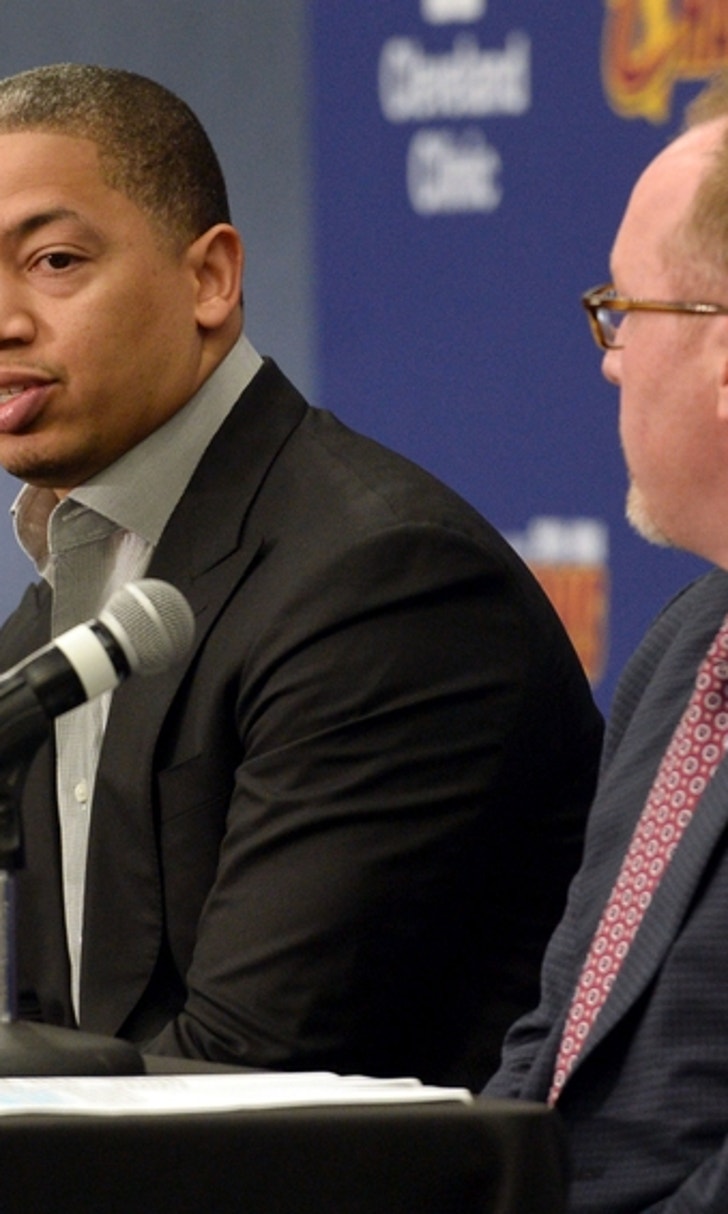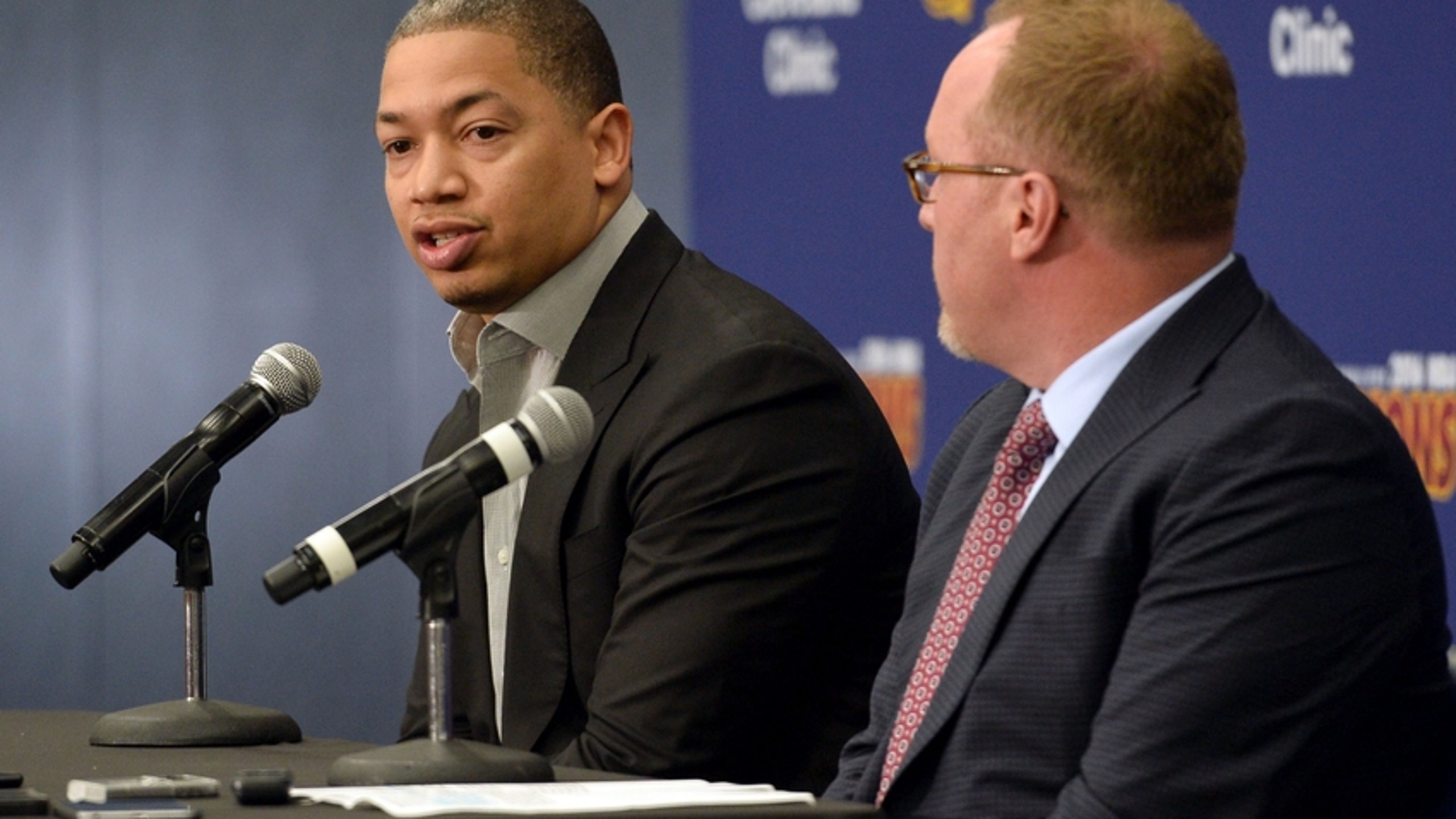 Catching Up With Eric Moreland: Assessing His Fit With The Cleveland Cavaliers
BY Fansided and Quenton Albertie/FanSided via King James Gospel • December 30, 2016
Eric Moreland has still been on the radar for King James Gospel. He should be on the radar for the Cleveland Cavaliers as well.
Sep 26, 2016; Cleveland, OH, USA; Cleveland Cavaliers head coach Tyronn Lue and general manager David Griffin talk to the media during media day at Cleveland Clinic Courts. Mandatory Credit: Ken Blaze-USA TODAY Sports
The Cleveland Cavaliers do need a point guard. However, they also need a big man. That big man should be Eric Moreland, an affiliate player for the Cavs who plays for the Canton Charge, the Cavs' exclusive NBA D-League affiliate.
While the trade market is fun to speculate about, like the stock market it's hard to say with certainty what will be borne out of a franchise's attempt to attain more talent. Meanwhile, in free agency there's a simplicity present that's not possible in trying to come up with trade packages for players. While the franchise will have to waive one player if the team's roster is full, the team signs a player that they have interest in with certainty.
While signing Moreland likely wouldn't come until January 5th, the date that players can start signing 10-day contracts, he should garner significant interest from a team that's exclusively affiliated and has a major void to fill in their frontcourt. While already thin in the frontcourt, reserve center Chris Andersen went down with a torn ACL this month and is out for the season.
That leaves just Tristan Thompson, Channing Frye and Kevin Love as the only true frontcourt players. Although LeBron James, Richard Jefferson and others will play power forward in small ball lineups, there's little the team can do to defend opposing team's big, burly and athletic systems besides alternate Thompson and Frye as defenders.
Thompson, who seems stronger this year, has improved his post defense and Frye is about as lanky as they come. Nonetheless, Thompson is still a 6-foot-9 center and undersized while Frye lacks the strength and athleticism to battle against some of the better centers in the league.
The two biggest factors that come with Moreland being signed are that he's able to play center and allows the Cleveland Cavaliers to rest Thompson more than they can when the less mobile Frye is their only option against an athletic center.
Resting Tristan Thompson
Resting Thompson, the NBA's ironman, doesn't often seem necessary because fans see that Thompson can handle whatever the workload is and still excel in his role as a hustle player and rebounder. However, this isn't the recipe for success. Especially when Thompson is the only player with that role.
The demands put on Thompson's body may not be seen now but it will wear on him by the time the playoffs start and the games become more physical as teams adopt an all-or-nothing attitude to accompany their current style of play. In addition, although Thompson has played four consecutive seasons without an injury (not including this season) or showing any sign of slowing down, it's in part due to his youth. However, as Thompson gets older it's far less likely that he'll be able to play at his relentless pace and never miss a game.
Moreland, though unproven in the NBA, has proven in significant time with the Canton Charge of the NBA Development League that he's not only a player with a relentless motor when it comes to crashing rebounds but that he'll run up and down the court, playing both sides of the ball, as long as possible. To be fair, Thompson is still the player proven to do that at the NBA level and would certainly dive on the floor for loose balls.
However, Moreland isn't any different.
That bodes well for the Cavs who should be giving Thompson games to rest just like the Big Three but won't and instead should be given more of an opportunity to rest in-game.
Jun 16, 2015; Cleveland, OH, USA; Cleveland Cavaliers center Tristan Thompson (13) fights for a rebound against Golden State Warriors forward Draymond Green (23) during the second quarter in game six of the NBA Finals at Quicken Loans Arena. Mandatory Credit: Bob Donnan-USA TODAY Sports
Situational Advantage
Those opportunities will come naturally, as Frye is the backup center. However, Frye, though a tremendous matchup problem for other centers, can be taken out of the game by both athletic centers and smaller small-ball lineups. Not only does that mean Thompson will have to play more minutes. The two games in which Thompson played the most minutes came against the Los Angeles Clippers and the Philadelphia 76ers. Facing off against DeAndre Jordan and Joel Embiid, Frye was at a disadvantage because of both the size of these players and their athleticism.
While Thompson isn't the most athletic center in the NBA, he's the most versatile center in the NBA on the defensive end due to the combination of his size and mobility. Size and mobility is what the 6-foot-10, 250 pound Moreland possesses.
Having Moreland on the bench will prevent the Cleveland Cavaliers from having to play Frye against the quicker and more athletic players in the NBA.
Against these centers, Moreland will hold his own. The Canton Charge have experienced a defensive rebirth since Moreland entered the fray, and have a defensive rating of 98.8 in nine games for the month of December. Last month, the Charge had a defensive rating of 105.6. Opponents' points in the paint went from 53.7 per game to 47.8 per game between November and December while their second chance points were from 17.1 per game to 14.9 per game.
With Moreland on the court, the Charge have a defensive rating of 96.7. With him on the bench that number jumps to 102.7. Averaging 1.8 steals and 1.5 blocks per game, Moreland is often in a great position to make an impact play. He's gathered plenty of strips and took away a lot of soup in just 10 games.
While the bench will lose some of its firepower with Frye on the bench, it doesn't mean that Moreland will prevent the team from playing against small-lineups. Moreland will be able to keep up with the quicker frontcourt players in the league on both ends.
Moreland can also play in tandem with Frye at times, cross-matching if necessary on the defensive end, so that the Cleveland Cavaliers have a player that's drawing attention on the inside offensively.
Two-Way Potential
That's more likely to come if Kyrie Irving is playing point guard for the second unit instead of James, as Irving is more likely to shoot from outside the lane. Nonetheless, Moreland is a terrific option in the pick-and-roll and no matter who plays point guard, will be efficient. In 10 games for the Charge, he's converted 66.2 percent of his shots from inside of 5 feet. He's also knocked down 4-7 (57.1 percent) jumpers from 10-14 feet away from the paint.
Spacing won't be an issue because Moreland will draw attention inside and defenders will both gravitate to him as he works inside. Currently scoring 10.0 points in the paint per game, Moreland gets it done with a surprisingly vast array of offensive moves.
The only thing Irving and James have to do is get Moreland the ball. While some may look at Moreland's averages and try to minimize them so that they match the level of competition in the NBA, Moreland's averages are lower than they should be as he plays with guards who are volume shooters. There are countless times when they don't pass to Moreland as he has a free run to the hoop. That won't happen with the Cleveland Cavaliers. Thus, his points per game average should only be adjusted for the minutes he plays.
He won't be playing 30.8 minutes per game with the Cavs. Therefore, he won't be averaging 11.9 points per game. However, assume there's four shots per game that Moreland would get on another team. His points per game would be around 15. As he's likely to only average around 10 minutes per game for the Cavs, Moreland would be averaging about 5 points per game as a reserve center.
Seem low? Iman Shumpert is averaging 7.2 points per game while playing 20.7 minutes per game. Imprecise math involved, yet, put in perspective of other bench players, it's safe to say that Moreland will have an offensive impact just as he can have a defensive one.
Moreland, who is shooting 26.5 percent on his free-throw attempts, won't be the player in the end of close games as the Cavs try to protect their lead because he's going to get hacked. Until he works on his free throw shooting that's just going to be the case.
Nonetheless, Moreland is still a highly useful player for the Cleveland Cavaliers. As James said earlier this week, you have to play the first two minutes of a game just like the last two minutes. In the 44 minutes in between, there's still plenty of game to impact. The Cavs should sign Moreland because of the significant impact he'll have on the team whether it comes through his play on the court or the energy Thompson gets to conserve off the bench.
Do you think Eric Moreland is a fit on the Cleveland Cavaliers roster? Let us know in the comments section or Twitter?
*All stats referenced from stats,nbadleague.com
More from King James Gospel
This article originally appeared on
---
---