Major League Baseball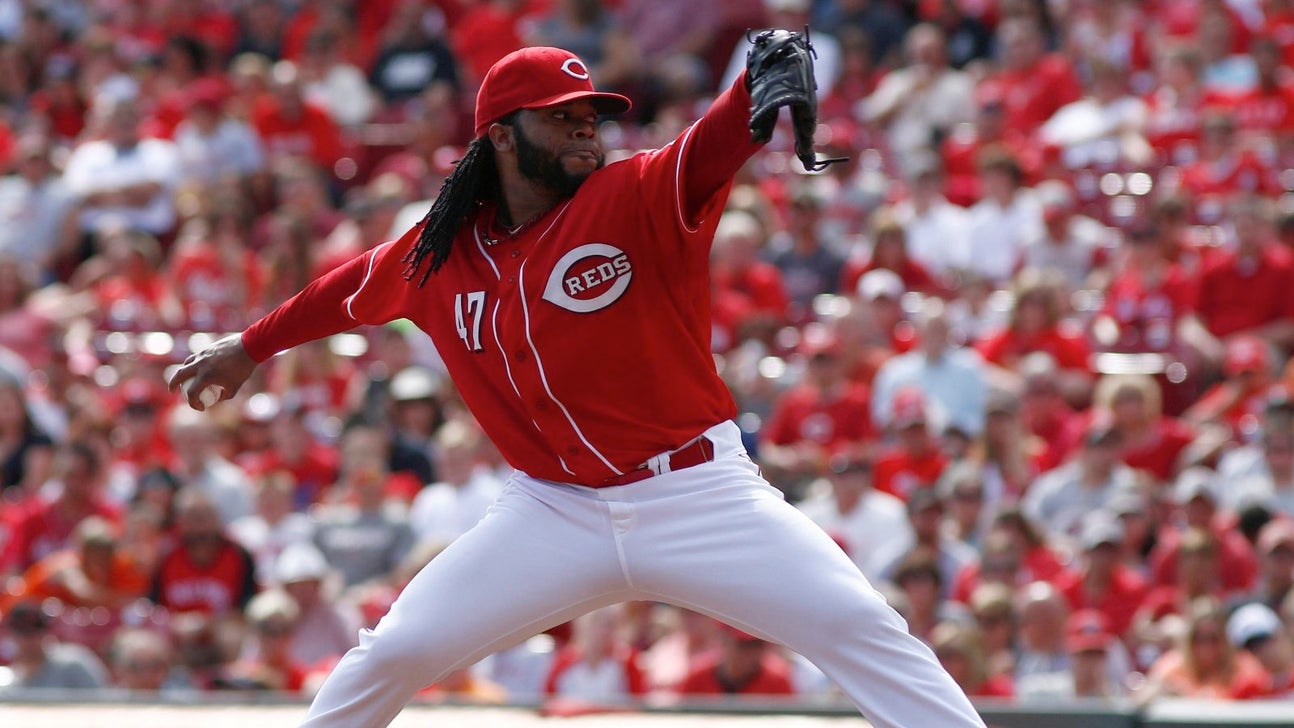 Major League Baseball
Reds pick up Johnny Cueto's option, decline Ryan Ludwick, Jack Hannahan
Published
Oct. 30, 2014 5:02 p.m. ET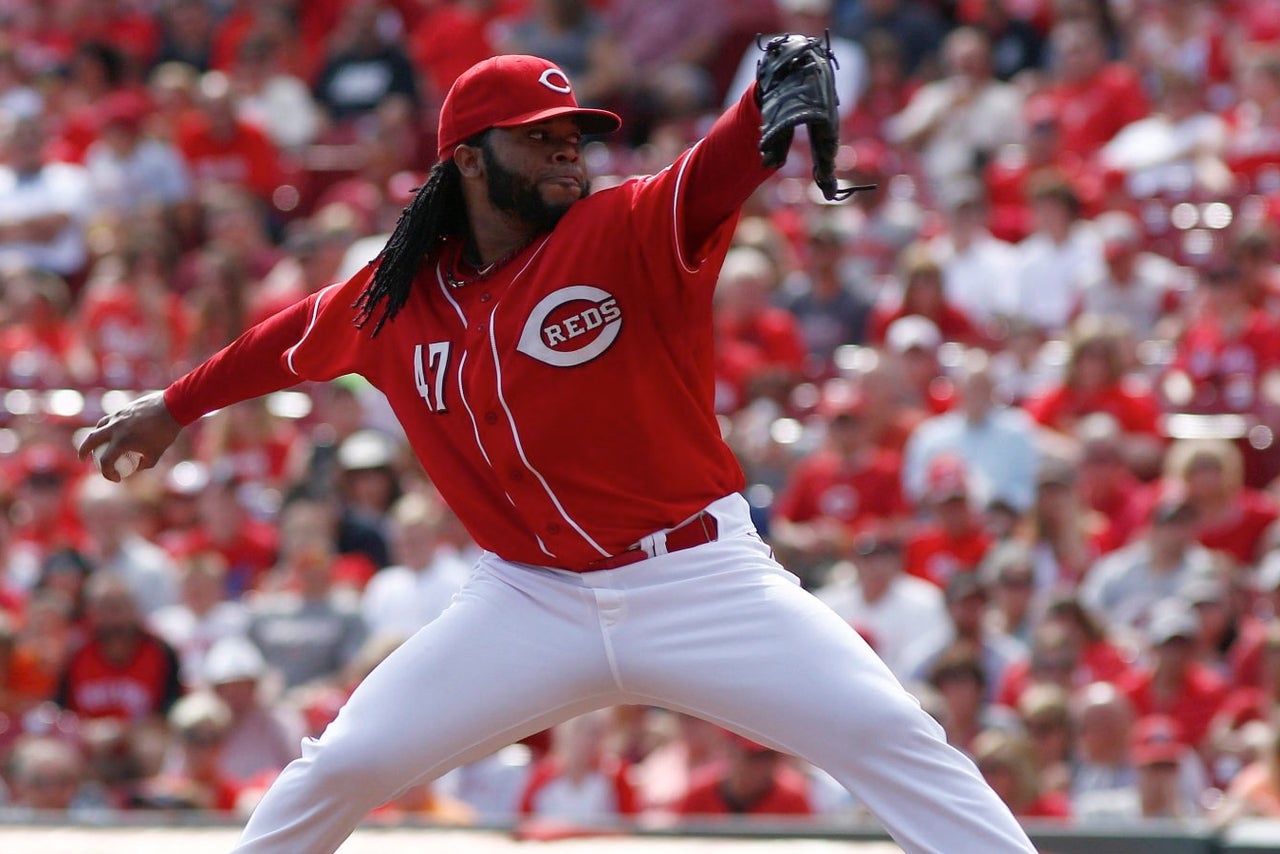 The Reds exercised Johnny Cueto's $10 million contract option on Thursday but decided to let outfielder Ryan Ludwick and infielder Jack Hannahan become free agents.
Cueto also made $10 million last season, when he went 20-9 with a 2.25 ERA, the Reds' first 20-game winner since Danny Jackson in 1988. Cueto had been guaranteed $27 million over four years and can become a free agent after next season.
Cincinnati had a $9 million option on Ludwick but chose to pay a $4.5 million buyout. Half will be paid by Nov. 15, 2015, and the other half by Nov. 15, 2016. Ludwick batted .244 with nine homers and 45 RBI.
Hannahan played only 26 games because of injuries. The Reds declined his $4 million option and will pay a $2 million buyout, half by this Nov. 15 and half by Nov. 15, 2015.
The Reds also outrighted right-hander Trevor Bell and infielder Neftali Soto off their 40-man roster. Infielder Ramon Santiago chose to become a free agent.
The Boston Red Sox have signed closer Koji Uehara for two more years.
The All-Star reliever will earn $18 million through 2016.
Uehara joined the Red Sox in 2013 and earned the closer's role midway through the season. He was a key part of the team that won the franchise's third World Series in 10 years, striking out Matt Carpenter for the final out in Game 6 on this date last year.
He reached the All-Star Game last year but struggled at times. He finished with a 6-5 record and an ERA of 2.52 that was more than twice the previous season's.
The Washington Nationals have exercised their $9 million option for 2015 on center fielder Denard Span, while declining options on first baseman Adam LaRoche and reliever Rafael Soriano, who become free agents.
Span, Washington's leadoff hitter, batted .302 with 31 steals and tied for first in the NL with a Nationals-record 184 hits. He is a Gold Glove Award finalist.
The 34-year-old LaRoche's deal included a $15 million mutual optional for next season, but Washington instead chose to pay him a $2 million buyout.
Dodgers pitcher Dan Haren exercised his $10 million player option for next season.
The right-hander was 13-11 with a 4.02 ERA in his first season with the Dodgers.
Last month, Haren activated the option guaranteeing the big payday by going seven innings in a loss to the San Francisco Giants, who won the World Series.
"I've pitched good enough to deserve that," he said at the time. "It's a ton of money."
At that point in September, he wasn't sure whether he would return next year.
The Los Angeles Angels have exercised their $7 million contract option on closer Huston Street, the team announced.
Street was an immediate hit after the Angels acquired the veteran right-hander from San Diego on July 19. He picked up 17 saves with a 1.71 ERA for the Angels, shoring up an inconsistent bullpen and playing a major role in Los Angeles' surge to the majors' best regular-season record.
Street and setup man Joe Smith are signed for next year, while seventh-inning specialist Kevin Jepsen is eligible for arbitration.
The AL West champions declined their $4.5 million option on reliever Sean Burnett, who missed most of the season after elbow ligament replacement surgery.
The Orioles have exercised a $4.75 million option on left-hander Wei-Yin Chen and a $4.25 million option on right-hander Darren O'Day.
Chen, 29, was 16-6 with a 3.54 ERA in 31 starts, setting a career best for wins. He had 54 starts in the past two seasons, two shy of the amount needed for his 2015 salary to become guaranteed at $6 million.
O'Day, 32, was 5-2 with four saves and a career-low 1.70 ERA in 68 games.
The San Diego Padres have declined right-hander Josh Johnson's $4 million option for 2015.
Johnson didn't throw a pitch for the Padres in 2014 while making $8 million. He suffered an elbow injury during spring training and underwent reconstructive surgery.
Johnson could return to the Padres for a lesser deal.
Johnson and right-hander Tim Stauffer are San Diego's only free agents. 
Iwakuma's vesting option kicks in
The Seattle Mariners will have right-hander Hisashi Iwakuma under contract for the 2015 season.
The Mariners announced that Iwakuma's $7 million option was vested based on his on-field performance. Iwakuma missed the first month of the 2014 season but went 15-9 with a 3.52 ERA in 28 starts. In 91 career games with Seattle, Iwakuma is 38-20 with a 3.07 ERA.
General manager Jack Zduriencik said at the end of the season that Iwakuma would be returning for 2015.
The Oakland Athletics have declined to exercise their $5.5 million contract option for shortstop Hiroyuki Nakajima and instead owe him a $500,000 buyout.
The highly touted Nakajima, 32, never played a major league game after receiving a $6.5 million, two-year contract in December 2012. He missed time in his first season of 2013 because of a strained left hamstring, and the A's didn't have the same need for a shortstop once they acquired Jed Lowrie from Houston in early February of 2013.
Nakajima, a seven-time Pacific League All-Star, becomes a free agent. He had a .302 batting average with 149 home runs, 664 RBI and 134 stolen bases over 11 seasons with the Seibu Lions.
The Chicago Cubs have declined their option for next season on reliever Kyuji Fujikawa, making him a free agent.
A longtime closer in Japan, the right-hander signed with the Cubs before the 2013 season but never delivered the way the organization hoped. He tore a ligament in his pitching elbow in his first year with the Cubs and underwent Tommy John surgery.
The Phillies have declined a $6 million club option on pitcher Mike Adams, allowing the relief pitcher to become a free agent. Adams had a 2.89 ERA in 22 games with the Phillies last season, with 21 strikeouts over 18-2/3 innings.
Adams earned $5 million in 2013 and $7 million in 2014. The 2015 option would have been guaranteed at $6 million had he pitched in 65 games this year. It would have been $6.5 million had he pitched 120 games combined in 2013 and 2014 with 60 games in 2014.
Adams has a career ERA of 2.41 across 10 seasons with four clubs, including stints with Texas, San Diego and Milwaukee.
---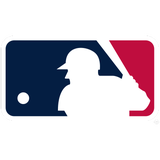 Get more from Major League Baseball
Follow your favorites to get information about games, news and more
---