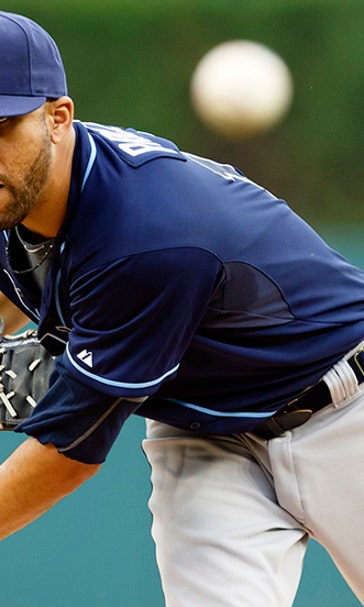 Price is right: Mariners should step up and trade for Tampa ace
BY Ken Rosenthal • July 11, 2014
Heaven knows, the Mariners' biggest need is a right-handed slugger.
They passed on Nelson Cruz. They failed to sign switch hitter Kendrys Morales. They're 12th in the American League in runs, last by a considerable margin in OPS against left-handed pitching.
Here's the problem: Giancarlo Stanton isn't walking through the clubhouse door. Neither is Troy Tulowitzki. And the rest of the available or likely-to-be-available right-handed bats – Alex Rios, Marlon Byrd, Dayan Viciedo, Carlos Quentin, Josh Willingham, et al – are not true difference-makers.
The solution?
David Price.
That's right, a starting pitcher. The best available starting pitcher. If the Mariners can't enhance their run production, they might as well upgrade their run prevention. The idea is to outscore your opponent, any way you can.
Imagine a rotation featuring right-hander Felix Hernandez, the left-handed Price and right-hander Hisashi Iwakuma. The M's barely would need to score – and if they also added a complementary hitter such as Byrd, they might actually do so every so often.
The cost of all this, of course, would be prospects. Precious prospects. Previously untouchable prospects. You know, the kind that Athletics general manager Billy Beane had no problem trading for right-handers Jeff Samardzija and Jason Hammel while sitting on the best record in the majors and best rotation ERA in the AL.
Et tu, Jack Zduriencik?
The Mariners, who currently lead the race for the second AL wild card, stand a 36.3 chance of reaching the postseason, according to Fangraphs. And yes, there is urgency: Second baseman Robinson Cano will provide diminishing returns during his 10-year, $240 million contract. Better for the M's to load up now, while ranking third in the AL in run differential.
The Rays, mind you, still aren't certain to trade Price. They're at least entertaining the idea, however – they've talked about it with the A's and other clubs. And let's face it, even with their recent improvement, they stand – gasp - only a 5 percent chance of reaching the postseason.
That estimate might be overly pessimistic, considering that the AL East is weak and getting weaker by the day. But the Rays are nothing if not realistic.
So if I had to guess on Price, I'd quote that noted famous baseball philosopher, Ken "Hawk" Harrelson:
He gone.
Price, 28, is owed about $6 million for the rest of this season. He could earn as much as $20 million next season, in his final year of arbitration. Mariners executives keep telling rival clubs that their financial flexibility is limited, but apparently that is not the case.
At least, not according to new team president Kevin Mather.
"I've heard national reporters have said that Jack has no flexibility, that's why he's trading like (salaries) for like." Mather recently told the Seattle Times. "One day, I called him and said, 'You know, we have flexibility.' He said, 'I know, Kevin, it's just part of the negotiation."
Mather went on to add, "The one thing that gives us an advantage – we have flexibility. I'll take that player and I don't have to give up as much because I'm taking the money as well. Because we have flexibility, we're in a pretty good spot."
All right then!
The Mariners can afford Price. They won't get a discount on the acquisition cost, not with other teams certain to be bidding. But they have the players to pull off a deal with the Rays, if Zduriencik and ownership are willing to take a bold stand.
Mather, intentionally or not, put pressure on Zduriencik to make a splash – and Zduriencik, who has presided over four straight losing seasons, already was under pressure to save his job.
I know the Mariners' sorry history of trading prospects under previous front offices – Adam Jones and Chris Tillman for Erik Bedard, Shin-Soo Choo for Ben Broussard, Asdrubal Cabrera for Eduardo Perez, etc.
I also know that the M's would stand little or no chance of keeping Price long-term – the pitcher's agent, Bo McKinnis tried to thwart the Mariners' pursuit of his client during the winter meetings by telling me that Price would not sign an extension if traded to Seattle. 
So what?
The Mariners would control Price this season and next. They then could make him a qualifying offer and land a high draft pick if he departed as a free agent. Beane used that as part of his rationale for getting Samardzija, knowing he would get something on the back end.
Yes, the Mariners would need to give up legitimate pieces for Price – one rival executive suggested a package of right-hander Taijuan Walker, infielder Nick Franklin and third baseman D.J. Peterson, the 12th overall pick in the 2013 draft.
Most Mariners fans probably would say, "Too steep!" but is it? Walker missed the first 2½ months with a right shoulder impingement. He isn't Jose Fernandez; his ceiling might only be as a No. 2 or 3. Franklin, who is more of a second baseman than a shortstop, is expendable behind Cano. Peterson, after crushing the California League, is off to a good start at Double A, but his future might be at first base, lowering his value.
Sorry, you're not getting David Price by offering outfielder Endy Chavez and two bags of balls. I can't blame the Mariners if they prefer to wait for a shot at Tulowitzki. But who knows if they could get him? And who knows if Tulo would stay healthy, a major concern considering that he is owed $118 million from 2015 to '20.
If the M's can unearth the right bat, someone currently off the radar, then by all means, they should go get him. But heaven knows, this is not the time to settle. Beane wasn't looking to make a low-impact move. The Mariners shouldn't be, either.
---
---