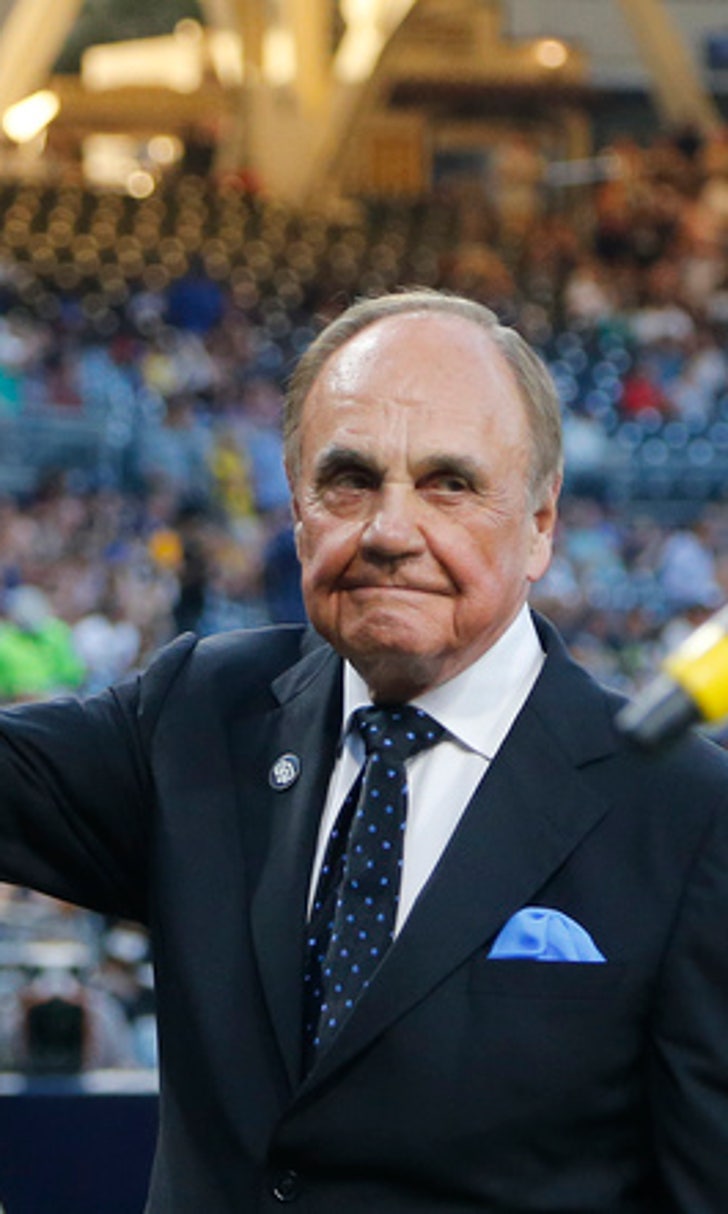 Oh my! Enberg in final innings of long broadcasting career
BY foxsports • September 30, 2016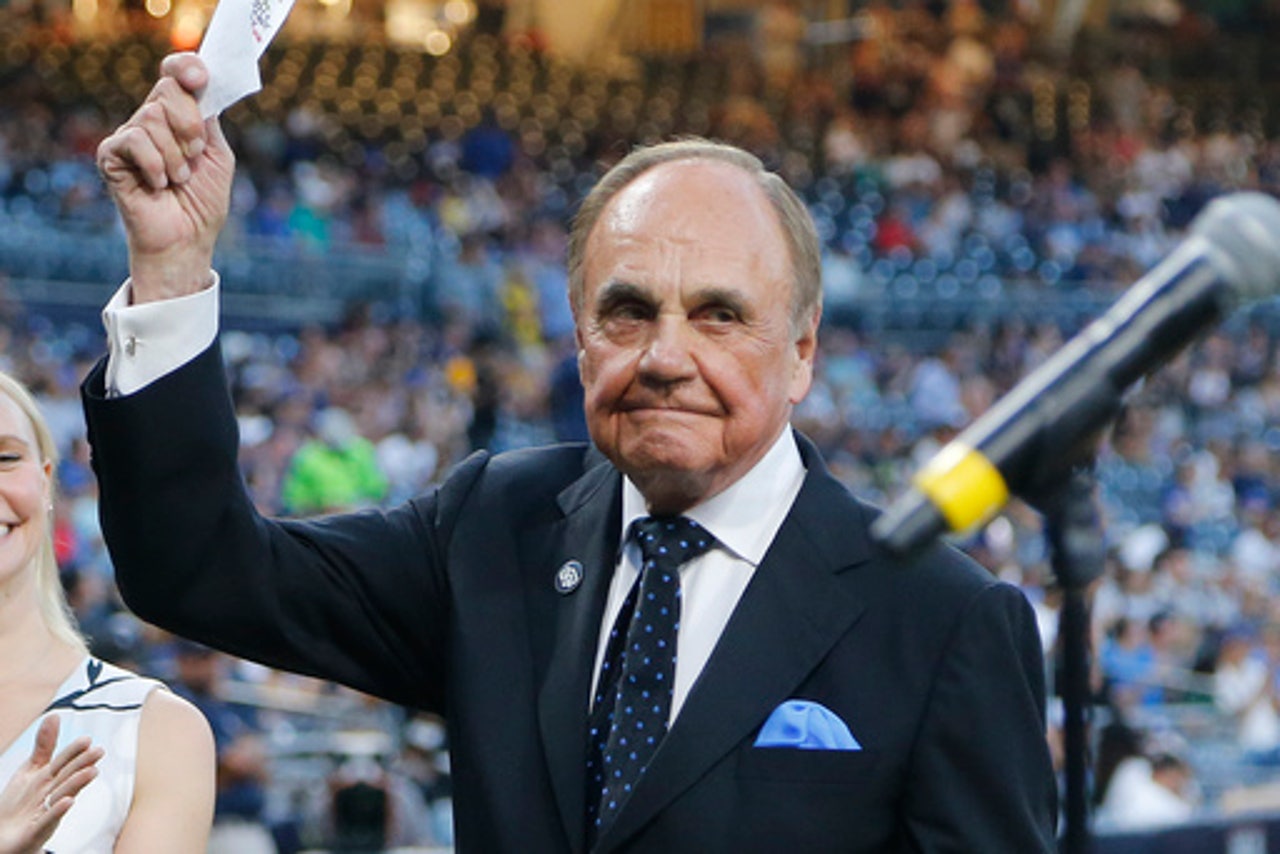 SAN DIEGO (AP) Dick Enberg spent many Midwestern nights and Saturday afternoons listening to baseball and football broadcasts on the radio. As soon as he could, he got behind a microphone himself.
It was a vastly different era, one that helped shape a distinguished broadcasting career that spanned six decades and included covering pretty much every big sporting event there is.
Enberg, 81, is down to his final few innings in the booth. It's up to the San Diego Padres to do something this weekend that will evoke an ''Oh my!'' or ''Touch `em all!'' call from Enberg, who will retire after Sunday's game at Arizona.
Enberg will step away from the microphone for good on the same day Vin Scully ends his remarkable 67-year career calling Dodgers games.
Is it the end of an era?
''That's an era only in that we all got old and we grew up in a different system,'' Enberg said. ''I go back to Harry Wismer calling football and Bill Stern. They fabricated sometimes, but it didn't matter to me. I was listening as a kid and imagining in my own memory bank of what might be happening on the field, and then Red Barber and Mel Allen in baseball
''Vin and I talked about that a couple of weeks ago, how fortunate we were to grow up in the era of black and white radio,'' Enberg said ''The television picture now is the dominant part of any broadcast. It's like giving away the punchline to the joke. It's already there. Whereas on radio you can have 10 different people in a room listening to the same radio play-by-play broadcast and they're seeing 10 different games the way their mind wanted to interpret it and receive it. We grew up in that era, not confused by television. That's what's really different between growing up in radio where you paint the entire canvas and now where television is the dominant aspect of any game.''
Enberg's first radio job was actually as a radio station custodian in Mount Pleasant, Michigan, when he was a junior at Central Michigan. He made $1 an hour. The owner also gave him weekend sports and disc jockey gigs, also at $1 an hour. From there he began doing high school and college football games.
He ended up in TV, doing Super Bowls, Olympics, Final Fours, Wimbledon, the U.S. Open and many other big assignments.
Enberg said he's not sad as his career ends. He's working on another book, hopes to get back into teaching and is building a vacation home in McCall, Idaho.
''At the time you're so involved in your work and you've done a great game, maybe a historically important game, but the next week you have another game,'' he said. ''That goes by. You almost push that aside because you've got another game next week. It's now being able to step back and realize how fortunate I've been to be in the right place in the right time.''
During his nine years broadcasting UCLA basketball, the Bruins won eight NCAA titles. Enberg broadcast nine no-hitters, including two by San Francisco's Tim Lincecum against the Padres in 2013 and 2014.
He said the most historically important event he covered was ''The Game of the Century,'' Houston's victory against UCLA in 1968 that snapped the Bruins' 47-game winning streak.
''That was the platform from which college basketball's popularity was sent into the stratosphere,'' Enberg said. ''The '79 game, the Magic-Bird game, everyone wants to credit that as the greatest game of all time That was just the booster rocket that sent it even higher. ... UCLA, unbeaten; Houston, unbeaten. And then the thing that had to happen, and Coach Wooden hated when I said this, but UCLA had to lose. That became a monumental event.''
Enberg gave a shout-out to some of his many former broadcast partners, including Merlin Olsen, Al McGuire, Billy Packer, Don Drysdale and Tony Gwynn. He even worked a few games with Wooden, whom he called ''The greatest man I've ever known other than my own father.''
''When you add up just those alone, you think about a kid from a farm who dreamed about wanting to be a good athlete and trying hard but falling far short,'' said Enberg, who has called Padres games for seven seasons and went into the broadcasters' wing of the Hall of Fame in 2015. ''But to be with the greatest in the history of the game and sit next to them and pick their brain every day, and they pay me for it and they put me in a good seat, too, behind home plate or midcourt or at the 50-yard line. It's an incredibly privileged life and part of it is because of those who you were able to share a broadcast with.''
---
Follow Bernie Wilson on Twitter at http://twitter.com/berniewilson
---
---