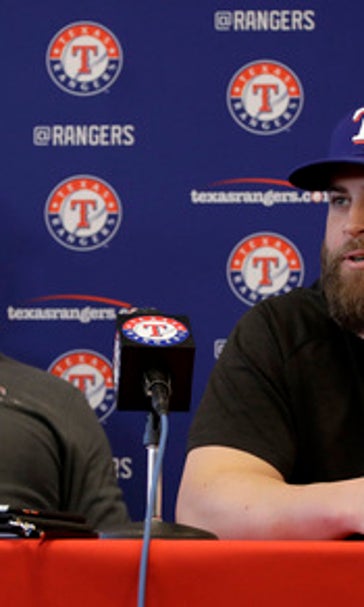 Nap time: Rangers, Napoli finally reunited for 3rd stint
February 16, 2017

SURPRISE, Ariz. (AP) Mike Napoli's return to Texas certainly didn't come out of left field.
The slugger's long-anticipated reunion with the Rangers , and a third stint with his first World Series team, finally became a reality Thursday when he was re-introduced after finalizing an $8.5 million, one-year contract.
''This is obviously a place I wanted to be,'' Napoli said. ''I knew it was a great opportunity to be able to come back here.''
Napoli, who has played in three World Series for three different teams over the past six seasons, will be the primary first baseman and provide a needed big bat in the middle of the Texas lineup.
In his first time with the Rangers in 2011 and 2012, Napoli was an All-Star catcher with some games at first base and designated hitter. There was that experiment with 11 games in left field, a way to keep him in the lineup, when he rejoined them for the last two months of the 2015 season.
''I've been fortunate enough in my career to be on a lot of winning ballclubs,'' Napoli said. ''Coming back here is definitely something that I saw was a chance to do that.''
Napoli will get a $6 million salary this season from the team that has won the AL West title the past two seasons. The agreement includes an $11 million club option for 2018 with a $2.5 million buyout.
''No intro needed,'' Rangers general manager Jon Daniels said. ''Obviously a guy that has been part of some big moments for the Rangers over the years here, and looking forward to some big moments with him again, and glad to have him back.''
In his first season with Texas in 2011, Napoli hit .320 with 30 homers in 113 regular-season games and had 10 RBIs in the World Series against St. Louis. He was the starting catcher for the AL All-Star team in 2012 before going to Boston as a free agent and then that brief return to Texas in 2015.
Napoli was part of Boston's World Series championship in in 2013 and helped the Indians reach Game 7 in his only season with Cleveland last year, when he had career highs with 34 home runs and 101 RBIs.
When the Indians signed free-agent slugger Edwin Encarnacion to a $60 million, three-year deal in January, another reunion with Texas became much more viable. The two sides had been talking throughout the offseason about the possibility.
''An eternity,'' Daniels joked when Napoli was asked how long they had been talking. ''Born to be a Ranger.''
The 35-year-old Napoli, going into his 12th major league season, is a .252 career hitter with the Los Angeles Angels (2006-10), Texas (2011-12, 2015), Boston (2013-15) and Cleveland.
Manager Jeff Banister plans for Napoli to be his everyday first baseman, with some games as the designated hitter.
Mitch Moreland won a Gold Glove as the Rangers' first baseman last season. He became a free agent and agreed to a $5.5 million, one-year deal with Boston.
Despite only having Napoli for the end of the 2015 season, Banister saw the slugger's relentless pursuit of wanting to win a World Series.
''It was an absolute joy to be around him,'' Banister said. ''Another part of the glue that puts together, in my mind, when we start thinking about a championship run.''
Rangers right fielder Shin-Soo Choo, whose time together with Napoli was also that short stint in 2015, said Thursday that Napoli is ''probably the top teammate I've had had in my career.
''He always plays hard. I enjoy watching him play,'' Choo said. ''I think especially, young players he'll help them a lot. ... He's got so much experience, playing big games, he play in World Series. He can teach young players how to play at this level.''
---
---