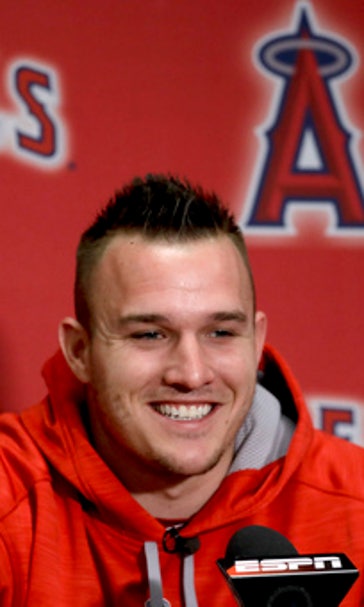 Mike Trout stays humble and hungry in new season with Angels
February 18, 2017

TEMPE, Ariz. (AP) Although Mike Trout is a fairly well-known baseball player at this point, he still made his way around the Los Angeles Angels' clubhouse on Saturday morning to introduce himself to several new teammates.
The two-time AL MVP arrived in Arizona this week with slightly longer hair and a renewed goal to steal 40 bases this season. He also has two companions at spring training for the first time: His high school sweetheart and new fiancee, Jessica Cox, and their miniature American Eskimo dog, Juno.
While a few things change every year, Trout's teammates and coaches say he has been the same unassuming, upbeat guy throughout one of the greatest half-decades in recent big league history.
''Mike hasn't changed a bit from the first day he stepped up here on a major league field,'' Angels manager Mike Scioscia said. ''Probably hasn't changed since he was in high school.''
The Angels have plenty of new faces this spring, including left fielder Cameron Maybin at Trout's side. Trout acknowledges the importance of becoming a veteran leader alongside Albert Pujols, but doesn't plan to allow it to hinder his potential to do something spectacular in any game.
''I wouldn't say (I'm) changing,'' Trout said. ''(But) I've been here five, six years now. If the younger guys have questions, people know me. I talk to everybody, so they can ask me anything. I wouldn't say (I'm) vocal, but I don't think I need to change. I like my game to talk, the majority of the time.''
Trout spent a good chunk of the offseason planning his wedding to Cox next December, but maintained the same aggressive workout schedule after accepting his second MVP award. About the only thing he changed was his hair - which isn't exactly long, but it's longer.
''Some of my teammates were complaining (that) I had the same buzz cut since third grade,'' Trout said. ''A couple of the guys are growing it out, so I said, `Hey, maybe I should try it.' And I did, and Jess liked it, and I just kept it.''
The Angels' first full-squad workout of spring was curtailed by steady rain Saturday across the Phoenix area, but Trout used the time to settle in for the next chapter in his remarkable story.
He won his second MVP award last fall, outdistancing Boston's Mookie Betts and Houston's Jose Altuve in the voting despite playing for the fourth-place Angels, who finished 74-88 in their worst performance of Trout's career. Trout batted .315 with 29 homers, 100 RBIs, 30 stolen bases and a .991 OPS while playing solid defense in center field last season.
Yet he still couldn't lead the Angels into contention in the AL West, largely thanks to a staggering series of injuries to their starting rotation.
''The name of the game is staying healthy,'' Trout said. ''When you have a bunch of pitchers go down, and guys in our lineup go down, we just couldn't put it all together. It's frustrating for sure. You want to get to the playoffs. It's fun. You've seen the World Series last year. You want to be in that atmosphere.''
Indeed, Trout has a jaw-dropping list of achievements, but he still hasn't won a playoff game. The Angels were swept by Kansas City in 2014 in his only postseason appearance.
He has four seasons remaining on his current contract, and Angels general manager Billy Eppler has adamantly declared Trout won't be traded. That means he'll spend at least the bulk of his 20s trying to bring a World Series title to Anaheim.
Trout has ample optimism this spring, particularly citing Maybin and Ben Revere as a possible solution to the Angels' long-standing woes in left field. Trout believes the club has the leaders in place to add team success to his individual superlatives within the next four years.
''I love Billy,'' Trout said. ''He's great, and he's just trying to do everything he can to help us improve. Our mindset is to get to the playoffs and try to win a ring, obviously.''
NOTES: Trout said he was asked to play for the U.S. team at the World Baseball Classic next month, but declined for personal reasons. He also declined to elaborate. ... Pujols was excused from camp for a personal commitment, but he will return Sunday. ... The Angels worked out in their indoor batting cages while rain hit Tempe Diablo Stadium. More rain is expected Sunday. ''We will catch up,'' Scioscia said. ... Big-league veteran Dustin Ackley is in camp after the Angels signed him two weeks ago. The former Mariners slugger, who had shoulder surgery last year, can't throw well enough to play in the outfield just yet. The left-handed-hitting Ackley could play first base, second base or the outfield this season if he makes the Angels' roster.
---
---